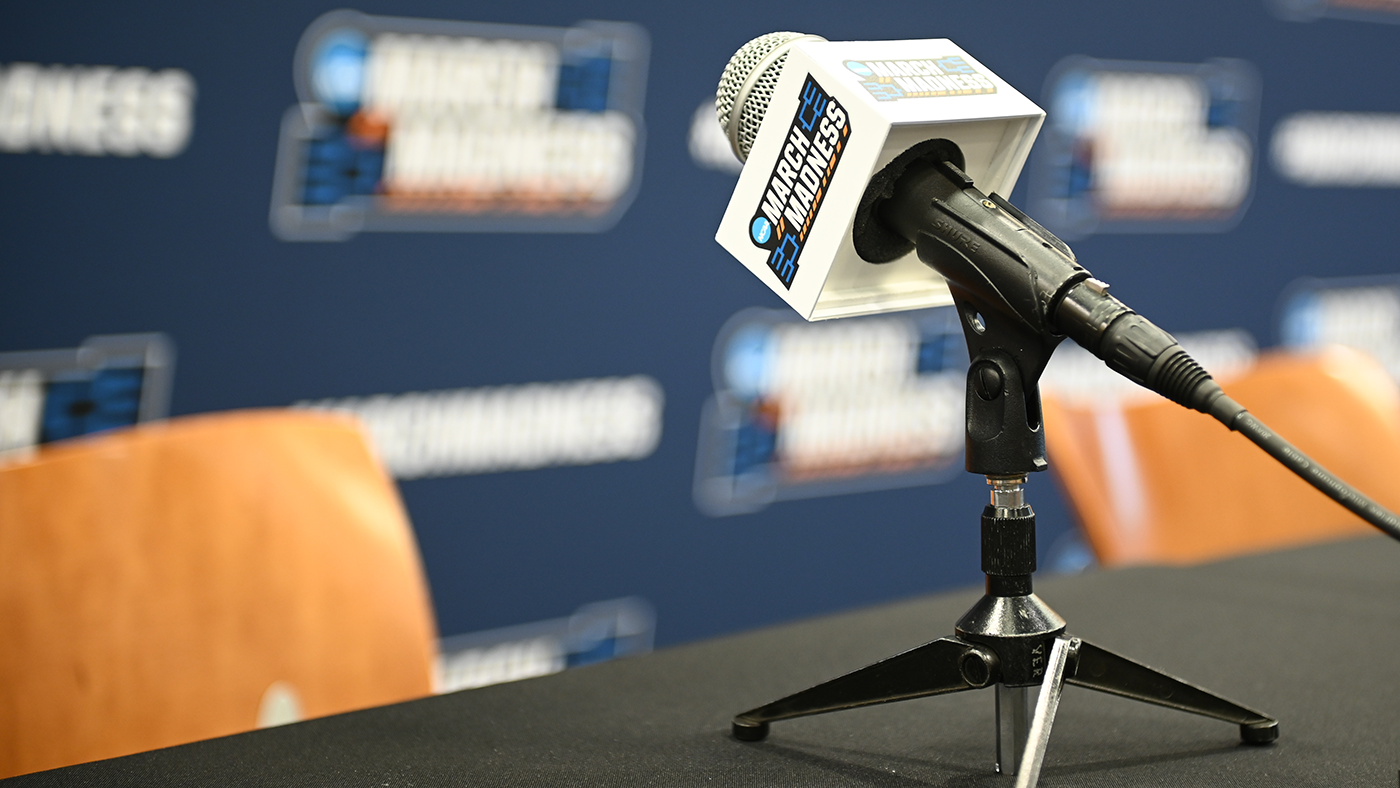 Are you ready for the madness that will be taking placing during the 2023 NCAA Tournament? You better be as March Madness is just about ready to tipoff in earnest with the First Four games taking center stage in Dayton, Ohio, this week. The NCAA Tournament kicks into gear with 68 teams all vying to become the 2022-23 national champion. On the call for the March Madness festivities this year will be a number of notable voices along with some new names in visible roles.
This NCAA Tournament mark the last for an icon of the event's TV coverage. Lead play-by-play announcer Jim Nantz will step away from his college basketball broadcasting role after calling his 32nd Final Four. Nantz will remain with CBS for coverage of golf and the NFL, but he will be handing off his college basketball role to Ian Eagle, who will be the Final Four play-by-play voice starting in 2024.
A couple new names in prominent positions are longtime NBA coach and current TNT television analyst Stan Van Gundy, who will serve as an analyst for game action, and former Villanova coach Jay Wright, who will step in as a studio analyst for the first time. Those who have been watching CBS college basketball coverage throughout the regular season have seen Wright in his new role already, but this will be his first Big Dance in the studio since his 21-year run with the Wildcats that featured two national titles.
Brackets are here! Get back in your pools and join our Men's and Women's Challenges for the chance to win a new SUV and a college basketball dream trip!
Let's take a look at the 2023 March Madness announcing teams as well as the complete schedule for the 2023 NCAA Tournament.
2023 March Madness announcing teams
Play-by-Play / Analyst // Reporter
Jim Nantz / Bill Raftery / Grant Hill // Tracy Wolfson*
Brian Anderson / Jim Jackson // Allie LaForce*
Ian Eagle / Jim Spanarkel // Evan Washburn*
Kevin Harlan / Dan Bonner / Stan Van Gundy // Lauren Shehadi*
Lisa Byington / Steve Smith / Avery Johnson // Andy Katz
Andrew Catalon / Steve Lappas // Jamie Erdahl
Spero Dedes / Deb Antonelli // AJ Ross
Brad Nessler / Brendan Haywood // Dana Jacobson
Tom McCarthy / Avery Johnson // Jon Rothstein
* Regional Weekend announce teams
2023 NCAA Tournament schedule, dates
First Four
Tuesday, March 14
UD Arena, Dayton
6:40 p.m.
(16) SE Missouri State vs. (16) Texas A&M-CC
Tom McCarthy / Avery Johnson // Jon Rothstein
truTV (watch live)
9:10 p.m.
(11) Pittsburgh vs. (11) Mississippi State
Tom McCarthy / Avery Johnson // Jon Rothstein
truTV (watch live)
Wednesday, March 15
UD Arena, Dayton
6:40 p.m.
(16) Fairleigh DIckinson vs. (16) Texas Southern
Tom McCarthy / Avery Johnson // Jon Rothstein
truTV (watch live)
9:10 p.m.
(11) Nevada vs. (11) Arizona State
Tom McCarthy / Avery Johnson // Jon Rothstein
truTV (watch live)
First round
Thursday, March 16
Legacy Arena — Birmingham | Wells Fargo Arena — Des Moines | Amway Center — Orlando | Golden 1 Center — Sacramento
12:15 p.m.
(9) Maryland vs. (8) West Virginia
Jim Nantz / Bill Raftery / Grant Hill // Tracy Wolfson
CBS (watch live)
12:40 p.m.
(13) Furman vs. (4) Virginia
Kevin Harlan / Dan Bonner / Stan Van Gundy // Lauren Shehadi
truTV (watch live)
1:40 p.m.
(10) Utah State vs. (7) Missouri
Brad Nessler / Brendan Haywood // Dana Jacobson
TNT (watch live)
2 p.m.
(16) Howard vs. (1) Kansas
Brian Anderson / Jim Jackson // Allie LaForce
TBS (watch live)
2:45 p.m.
(16) Play-in vs. (1) Alabama
Jim Nantz / Bill Raftery / Grant Hill // Tracy Wolfson
CBS (watch live)
3:10 p.m.
(12) College of Charleston vs. (5) San Diego State
Kevin Harlan / Dan Bonner / Stan Van Gundy // Lauren Shehadi
CBS (watch live)
4:10 p.m.
(15) Princeton vs. (2) Arizona
Brad Nessler / Brendan Haywood // Dana Jacobson
TNT (watch live)
4:30 p.m.
(9) Illinois vs. (8) Arkansas
Brian Anderson / Jim Jackson // Allie LaForce
TBS (watch live)
6:50 p.m.
(9) Auburn vs. (8) Iowa
Jim Nantz / Bill Raftery / Grant Hill // Tracy Wolfson
TNT (watch live)
7:10 p.m.
(12) Oral Roberts vs. (5) Duke
Kevin Harlan / Dan Bonner / Stan Van Gundy // Lauren Shehadi
CBS (watch live)
7:25 p.m.
(15) Colgate vs. (2) Texas
Brian Anderson / Jim Jackson // Allie LaForce
TBS (watch live)
7:35 p.m.
(10) Boise State vs. (7) Northwestern
Brad Nessler / Brendan Haywood // Dana Jacobson
truTV (watch live)
9:20 p.m.
(16) Northern Kentucky vs. (1) Houston
Jim Nantz / Bill Raftery / Grant Hill // Tracy Wolfson
TNT (watch live)
9:40 p.m.
(13) Lousiana vs. (4) Tennessee
Kevin Harlan / Dan Bonner / Stan Van Gundy // Lauren Shehadi
CBS (watch live)
9:55 p.m.
(10) Penn State vs. (7) Texas A&M
Brian Anderson / Jim Jackson // Allie LaForce
TBS (watch live)
10:05 p.m.
(15) UNC Asheville vs. (2) UCLA
Brad Nessler / Brendan Haywood // Dana Jacobson
truTV (watch live)
Friday, March 17
MVP Arena — Albany | Nationwide Arena — Columbus | Ball Arena — Denver | Greensboro Coliseum — Greensboro
12:15 p.m.
(10) USC vs. (7) Michigan State
Andrew Catalon / Steve Lappas // Jamie Erdahl
CBS (watch live)
12:40 p.m.
(14) Kennesaw State vs. (3) Xavier
Ian Eagle / Jim Spanarkel // Evan Washburn
truTV (watch live)
1:30 p.m.
(14) UC Stanta Barbara vs. (3) Baylor
Lisa Byington / Steve Smith / Avery Johnson // Andy Katz
TNT (watch live)
2 p.m.
(12) VCU vs. (5) Saint Mary's
Spero Dedes / Deb Antonelli // AJ Ross
TBS (watch live)
2:45 p.m.
(15) Vermont vs. (2) Marquette
Andrew Catalon / Steve Lappas // Jamie Erdahl
CBS (watch live)
3:10 p.m.
(11) Play-in vs. (6) Iowa State
Ian Eagle / Jim Spanarkel // Evan Washburn
truTV (watch live)
4 p.m.
(11) NC State vs. (6) Creighton
Lisa Byington / Steve Smith / Avery Johnson // Andy Katz
TNT (watch live)
4:30 p.m.
(13) Iona vs. (4) UConn
Spero Dedes / Deb Antonelli // AJ Ross
TBS (watch live)
6:50 p.m.
(16) Play-in vs. (1) Purdue
Andrew Catalon / Steve Lappas // Jamie Erdahl
TNT (watch live)
7:10 p.m.
(11) Providence vs. (6) Kentucky
Ian Eagle / Jim Spanarkel // Evan Washburn
CBS (watch live)
7:25 p.m.
(12) Drake vs. (5) Miami
Spero Dedes / Deb Antonelli // AJ Ross
TBS (watch live)
7:35 p.m.
(14) Grand Canyon vs. (3) Gonzaga
Lisa Byington / Steve Smith / Avery Johnson // Andy Katz
truTV (watch live)
9:20 p.m.
(9) FAU vs. (8) Memphis
Andrew Catalon / Steve Lappas // Jamie Erdahl
TNT (watch live)
9:40 p.m.
(14) Montana State vs. (3) Kansas State
Ian Eagle / Jim Spanarkel // Evan Washburn
CBS (watch live)
9:55 p.m.
(13) Kent State vs. (4) Indiana
Spero Dedes / Deb Antonelli // AJ Ross
TBS (watch live)
10:05 p.m.
(11) Play-in vs. (6) TCU
Lisa Byington / Steve Smith / Avery Johnson // Andy Katz
truTV (watch live)
Second round
Saturday, March 18 — 12:10 p.m. start (CBS, TBS, TNT, truTV)
Legacy Arena — Birmingham | Wells Fargo Arena — Des Moines | Amway Center — Orlando | Golden 1 Center — Sacramento
Sunday, March 19 — 12:10 p.m. start (CBS, TBS, TNT, truTV)
MVP Arena — Albany | Nationwide Arena — Columbus | Ball Arena — Denver | Greensboro Coliseum — Greensboro
Sweet 16
Thursday, March 23 — 6:30 p.m. start (CBS, TBS)
Madison Square Garden — New York | T-Mobile Arena — Las Vegas
Friday, March 24 — 6:30 p.m. start (CBS, TBS)
T-Mobile Center — Kansas City | KFC Yum! Center — Louisville
Elite Eight
Saturday, March 25 — 6:09 p.m. start (CBS, TBS)
Madison Square Garden — New York | T-Mobile Arena — Las Vegas
Tuesday, March 26 — 2:20 p.m. start (CBS, TBS)
T-Mobile Center — Kansas City | KFC Yum! Center — Louisville

Final Four
Saturday, April 1 — 6:09 p.m. start (CBS)
NRG Stadium — Houston
National Championship
Monday, April 3 — 9:20 p.m. (CBS)
NRG Stadium — Houston
Best NFL Jersey Shop – #March #Madness #schedule #announcers #watch #NCAA #Tournament #tipoff #times #channels #bracket
Publish Date:2023-03-13 20:45:18