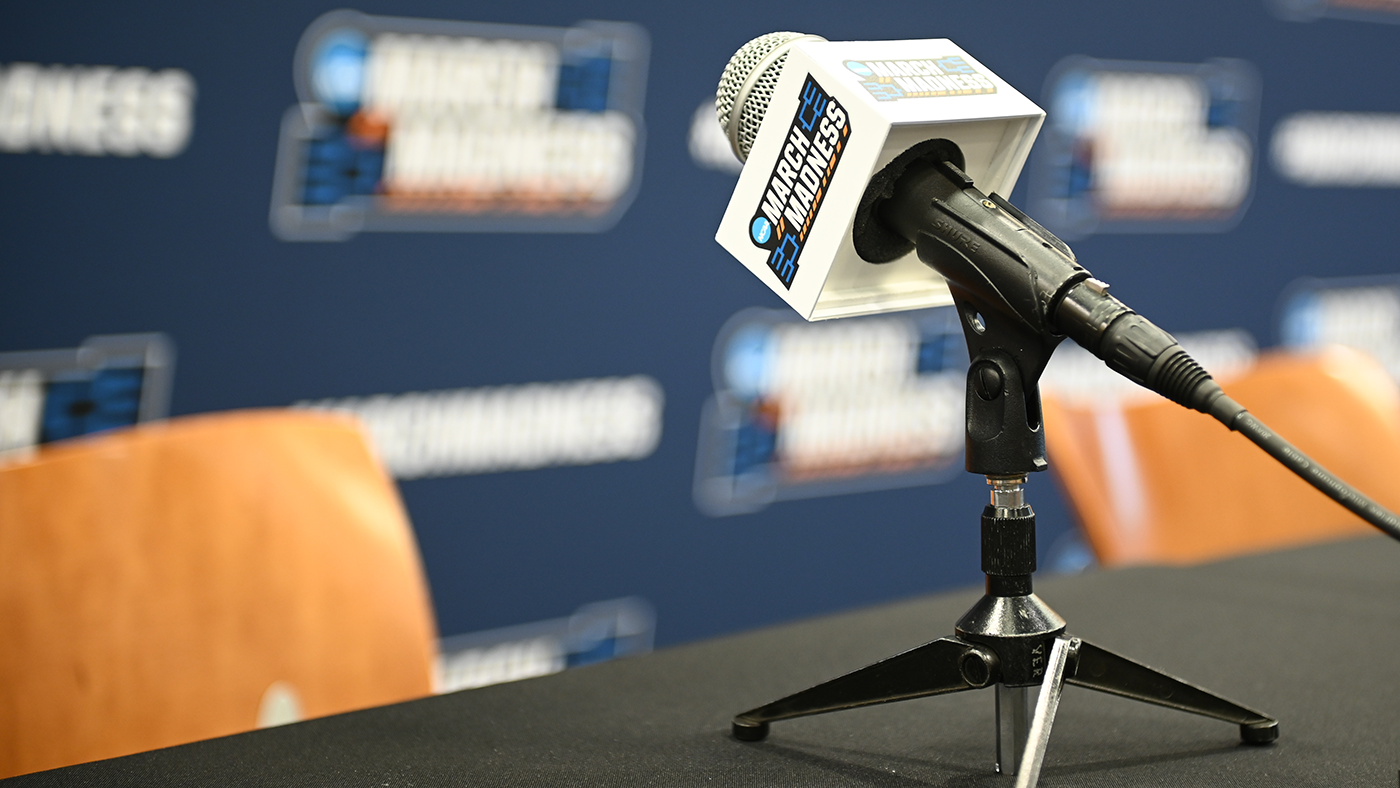 March Madness is officially upon us. The 2023 NCAA Tournament kicks off with a bang Thursday with more than a dozen first-round games to start the week from early afternoon to late in the evening across multiple channels in multiple time zones.
Action tips Thursday at 12:15 p.m. ET with No. 8 seed Maryland and No 9 seed West Virginia battling in the first game of the first round in a battle in the South Region, where the winner likely draws No. 1 overall seed Alabama. Thursday action finishes with No. 2 seed UCLA in the West Region looking to advance to the second round with a meeting with No. 15 seed UNC-Asheville. In between, there are 14 glorious games scattered about the day as teams look to inch one step closer to a championship.
Three No. 1 seeds will be among the 32 teams in action to kick off this year's tourney with a banger as No. 1 overall seed Alabama, No. 1 seed Houston and No. 1 seed Kansas are set to go off. Each of the three are heavy favorites to advance into Round 2. There's also a grand total of three No. 2 seeds starting their respective runs Thursday with No. 2 seed Texas, No. 2 seed UCLA and No. 2 seed Arizona all on the board as the week kicks off with a bang.  
Let's take a look at the 2023 March Madness announcing teams as well as the complete schedule for the 2023 NCAA Tournament.
2023 March Madness announcing teams
Play-by-Play / Analyst // Reporter
Jim Nantz / Bill Raftery / Grant Hill // Tracy Wolfson*
Brian Anderson / Jim Jackson // Allie LaForce*
Ian Eagle / Jim Spanarkel // Evan Washburn*
Kevin Harlan / Dan Bonner / Stan Van Gundy // Lauren Shehadi*
Lisa Byington / Steve Smith / Avery Johnson // Andy Katz
Andrew Catalon / Steve Lappas // Jamie Erdahl
Spero Dedes / Deb Antonelli // AJ Ross
Brad Nessler / Brendan Haywood // Dana Jacobson
Tom McCarthy / Avery Johnson // Jon Rothstein
* Regional Weekend announce teams
2023 NCAA Tournament schedule, dates
First round

Thursday, March 16
Legacy Arena — Birmingham | Wells Fargo Arena — Des Moines | Amway Center — Orlando | Golden 1 Center — Sacramento
4:10 p.m.
(15) Princeton vs. (2) Arizona
Brad Nessler / Brendan Haywood // Dana Jacobson
TNT (watch live)
4:30 p.m.
(9) Illinois vs. (8) Arkansas
Brian Anderson / Jim Jackson // Allie LaForce
TBS (watch live)
6:50 p.m.
(9) Auburn vs. (8) Iowa
Jim Nantz / Bill Raftery / Grant Hill // Tracy Wolfson
TNT (watch live)
7:10 p.m.
(12) Oral Roberts vs. (5) Duke
Kevin Harlan / Dan Bonner / Stan Van Gundy // Lauren Shehadi
CBS (watch live)
7:25 p.m.
(15) Colgate vs. (2) Texas
Brian Anderson / Jim Jackson // Allie LaForce
TBS (watch live)
7:35 p.m.
(10) Boise State vs. (7) Northwestern
Brad Nessler / Brendan Haywood // Dana Jacobson
truTV (watch live)
9:20 p.m.
(16) Northern Kentucky vs. (1) Houston
Jim Nantz / Bill Raftery / Grant Hill // Tracy Wolfson
TNT (watch live)
9:40 p.m.
(13) Lousiana vs. (4) Tennessee
Kevin Harlan / Dan Bonner / Stan Van Gundy // Lauren Shehadi
CBS (watch live)
9:55 p.m.
(10) Penn State vs. (7) Texas A&M
Brian Anderson / Jim Jackson // Allie LaForce
TBS (watch live)
10:05 p.m.
(15) UNC Asheville vs. (2) UCLA
Brad Nessler / Brendan Haywood // Dana Jacobson
truTV (watch live)
Friday, March 17
MVP Arena — Albany | Nationwide Arena — Columbus | Ball Arena — Denver | Greensboro Coliseum — Greensboro
12:15 p.m.
(10) USC vs. (7) Michigan State
Andrew Catalon / Steve Lappas // Jamie Erdahl
CBS (watch live)
12:40 p.m.
(14) Kennesaw State vs. (3) Xavier
Ian Eagle / Jim Spanarkel // Evan Washburn
truTV (watch live)
1:30 p.m.
(14) UC Stanta Barbara vs. (3) Baylor
Lisa Byington / Steve Smith / Avery Johnson // Andy Katz
TNT (watch live)
2 p.m.
(12) VCU vs. (5) Saint Mary's
Spero Dedes / Deb Antonelli // AJ Ross
TBS (watch live)
2:45 p.m.
(15) Vermont vs. (2) Marquette
Andrew Catalon / Steve Lappas // Jamie Erdahl
CBS (watch live)
3:10 p.m.
(11) Play-in vs. (6) Iowa State
Ian Eagle / Jim Spanarkel // Evan Washburn
truTV (watch live)
4 p.m.
(11) NC State vs. (6) Creighton
Lisa Byington / Steve Smith / Avery Johnson // Andy Katz
TNT (watch live)
4:30 p.m.
(13) Iona vs. (4) UConn
Spero Dedes / Deb Antonelli // AJ Ross
TBS (watch live)
6:50 p.m.
(16) Play-in vs. (1) Purdue
Andrew Catalon / Steve Lappas // Jamie Erdahl
TNT (watch live)
7:10 p.m.
(11) Providence vs. (6) Kentucky
Ian Eagle / Jim Spanarkel // Evan Washburn
CBS (watch live)
7:25 p.m.
(12) Drake vs. (5) Miami
Spero Dedes / Deb Antonelli // AJ Ross
TBS (watch live)
7:35 p.m.
(14) Grand Canyon vs. (3) Gonzaga
Lisa Byington / Steve Smith / Avery Johnson // Andy Katz
truTV (watch live)
9:20 p.m.
(9) FAU vs. (8) Memphis
Andrew Catalon / Steve Lappas // Jamie Erdahl
TNT (watch live)
9:40 p.m.
(14) Montana State vs. (3) Kansas State
Ian Eagle / Jim Spanarkel // Evan Washburn
CBS (watch live)
9:55 p.m.
(13) Kent State vs. (4) Indiana
Spero Dedes / Deb Antonelli // AJ Ross
TBS (watch live)
10:05 p.m.
(11) Play-in vs. (6) TCU
Lisa Byington / Steve Smith / Avery Johnson // Andy Katz
truTV (watch live)
Second round
Saturday, March 18 — 12:10 p.m. start (CBS, TBS, TNT, truTV)
Legacy Arena — Birmingham | Wells Fargo Arena — Des Moines | Amway Center — Orlando | Golden 1 Center — Sacramento
Sunday, March 19 — 12:10 p.m. start (CBS, TBS, TNT, truTV)
MVP Arena — Albany | Nationwide Arena — Columbus | Ball Arena — Denver | Greensboro Coliseum — Greensboro
Sweet 16
Thursday, March 23 — 6:30 p.m. start (CBS, TBS)
Madison Square Garden — New York | T-Mobile Arena — Las Vegas
Friday, March 24 — 6:30 p.m. start (CBS, TBS)
T-Mobile Center — Kansas City | KFC Yum! Center — Louisville
Elite Eight
Saturday, March 25 — 6:09 p.m. start (CBS, TBS)
Madison Square Garden — New York | T-Mobile Arena — Las Vegas
Sunday, March 26 — 2:20 p.m. start (CBS, TBS)
T-Mobile Center — Kansas City | KFC Yum! Center — Louisville

Final Four
Saturday, April 1 — 6:09 p.m. start (CBS)
NRG Stadium — Houston
National Championship
Monday, April 3 — 9:20 p.m. (CBS)
NRG Stadium — Houston
Best NFL Jersey Shop – #March #Madness #schedule #announcers #watch #NCAA #Tournament #tipoff #times #channels #stream
Publish Date:2023-03-17 05:57:06