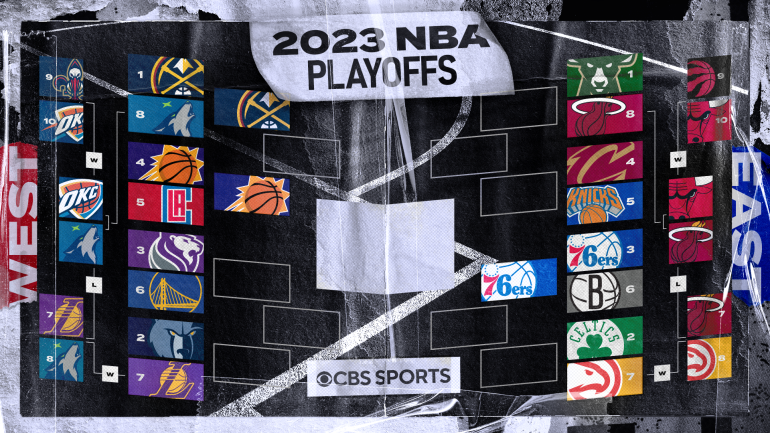 Kim O'Reilly, CBS Sports
The 2023 NBA playoffs rolled on Tuesday night, but two teams were eliminated by the time the evening's slate was over. In what was supposed to be one of the most competitive first-round series, the Suns eliminated the Clippers, who were without Kawhi Leonard without Games 3, 4 and 5. The Nuggets also advanced after defeating the Timberwolves in Game 5. In the East, the Hawks, who were without Dejoiunte Murray (suspension), got a monster game from Trae Young to stun the Celtics and force a Game 6 in Atlanta on Thursday.
Wednesday night will feature four games with three potential closeouts. The Knicks are up 3-1 on the Cavaliers, the Lakers have a 3-1 advantage on the Grizzlies and the Heat could oust the top-seeded Bucks. The nightcap will be the Warriors facing the Kings in Sacramento. Game 6 of that series will be Friday.
Below is the daily playoff schedule as well as the results that are in so far, the playoff bracket, dates, times and TV info. 
2023 NBA playoff bracket
All games on ESPN, ABC and NBA TV can be streamed on fuboTV (try for free). All times Eastern.
Tuesday, April 25

Game 5: Hawks 119, Celtics, 117 (Boston leads 3-2)
Game 5: Nuggets 112, Timberwolves 109 (Denver wins 4-1)
Game 5: Suns 136, Clippers 130 (Phoenix wins 4-1)
Wednesday, April 26
Game 5: Knicks at Cavaliers, 7 p.m., NBA TV (New York leads 3-1)
Game 5: Lakers at Grizzlies, 7:30 p.m., TNT (Los Angeles leads 3-1)
Game 5: Heat at Bucks, 9:30 p.m., NBA TV (Miami leads 3-1)
Game 5: Warriors at Kings, 10 p.m., TNT (Series tied 2-2)
Thursday, April 27
Game 6: Celtics at Hawks, TBD
Friday, April 27
Game 6: Bucks at Heat, TBD (if necessary)
Game 6: Cavaliers at Knicks, TBD (if necessary) 
Game 6: Grizzlies at Lakers, TBD (if necessary)
Game 6: Kings at Warriors, TBD
Saturday, April 28
Game 7: Hawks at Celtics, TBD (if necessary)
Sunday, April 29
Game 7: Heat at Bucks, TBD (if necessary)
Game 7: Knicks at Cavaliers, TBD (if necessary) 
Game 7: Lakers at Grizzlies, TBD (if necessary)
Game 7: Warriors at Kings, TBD (if necessary)
NBA playoff results
Monday, April 24
Game 4: Heat 119, Bucks 114 (Miami leads 3-1)
Game 4: Lakers 117, Grizzlies 111 OT (Los Angeles leads 3-1)
Sunday, April 23
Game 4: Knicks 102, Cavaliers 93 (New York leads 3-1)
Game 4: Warriors 126, Kings 125 (Series tied 2-2)
Game 4: Celtics 129, Hawks 121 (Boston leads 3-1)
Game 4: Timberwolves 114, Nuggets 108 (OT) (Denver leads 3-1)
Saturday, April 22

Game 4: 76ers 96, Nets 88 (Philadelphia wins 4-0)
Game 4: Suns 112, Clippers 100 (Phoenix leads 3-1)
Game 3: Heat 121, Bucks 99 (Miami leads 2-1)
Game 3: Lakers 111, Grizzlies 101 (Los Angeles leads 2-1)
Friday, April 21
Game 3: Hawks 130, Celtics 122 (Boston leads 2-1)
Game 3: Knicks 99, Cavaliers 79 (New York leads 2-1)
Game 3: Nuggets 120, Timberwolves 111 (Denver leads 3-0)
Thursday, April 20
Game 3: 76ers 102, Nets 97 (Philadelphia leads 3-0)
Game 3: Warriors 114, Kings 97 (Sacramento leads 2-1)
Game 3: Suns 129, Clippers 124 (Phoenix leads 2-1)
Wednesday, April 19

Game 2: Grizzlies 103, Lakers 93 (Series tied 1-1)
Game 2: Bucks 138, Heat 122 (Series tied 1-1)
Game 2: Nuggets 122, Wolves 113 (Denver leads 2-0)
Tuesday, April 18
Game 2: Celtics 119, Hawks 106 (Boston leads 2-0)
Game 2: Cavaliers 107, Knicks 90 (Series tied 1-1)
Game 2: Suns 123, Clippers 109 (Series tied 1-1)
Monday, April 17
Game 2: 76ers 96, Nets 84 (Philadelphia leads 2-0)
Game 2: Kings 114, Warriors 106 (Sacramento leads 2-0)
Sunday, April 16
Game 1: Lakers 128, Grizzlies 112 (Los Angeles leads 1-0)
Game 1: Heat 130, Bucks 117 (Miami leads 1-0)
Game 1: Clippers 115, Suns 110 (Los Angeles 1-0)
Game 1: Nuggets 109, Timberwolves 80 (Denver leads 1-0)
Saturday, April 15
Game 1: 76ers 121, Nets 101 (Philadelphia leads 1-0)
Game 1: Celtics 112, Hawks 99 (Boston leads 1-0)
Game 1: Knicks 101, Cavaliers 97 (New York leads 1-0)
Game 1: Kings 126, Warriors 123 (Sacramento leads 1-0)
Friday, April 14 (play-in)
Wednesday, April 12 (play-in) 
Tuesday, April 11 (play-in)
Hawks 116, Heat 105
Lakers 108 Timberwolves 102 (OT)
Best NFL Jersey Shop – #NBA #playoffs #schedule #Bracket #times #channels #Nuggets #Suns #advance #face
Publish Date:2023-04-26 13:19:13