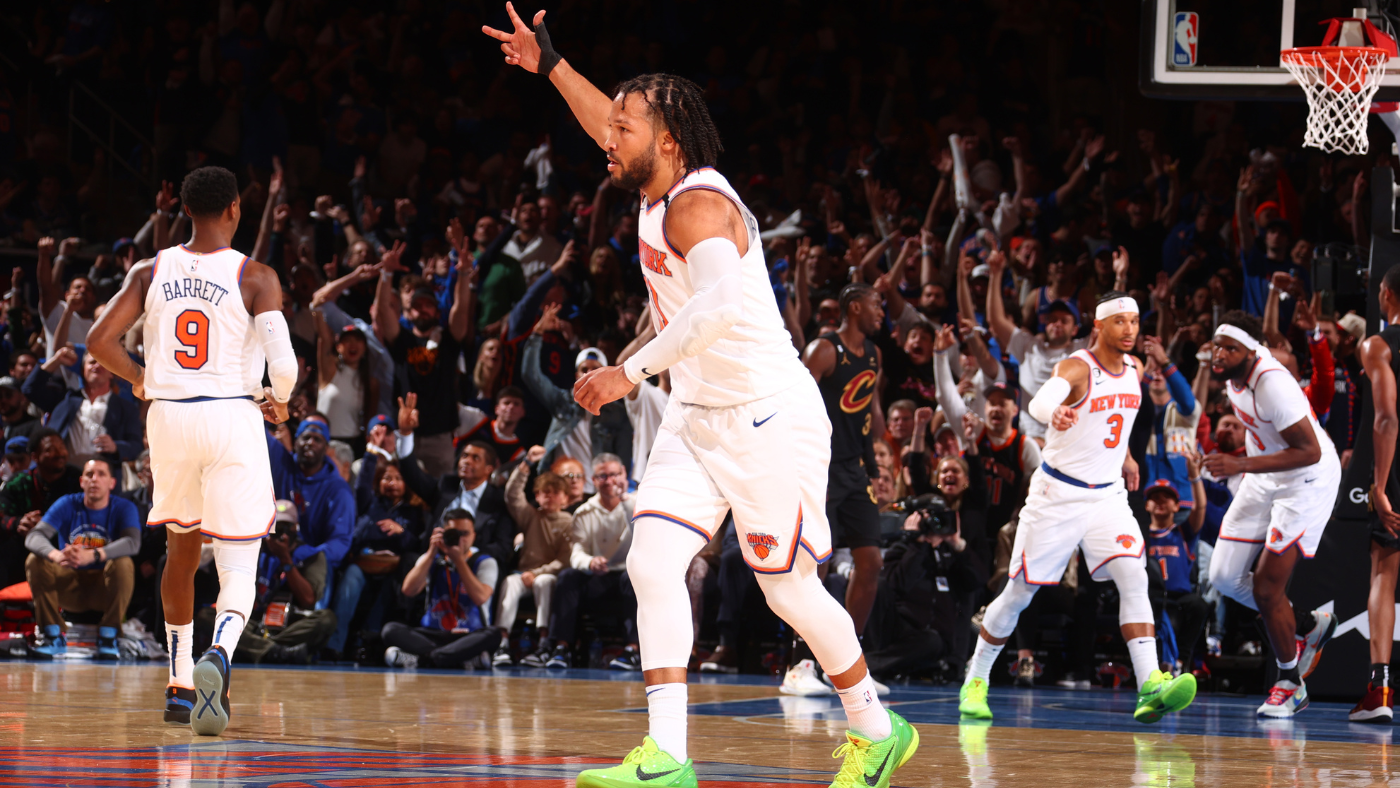 The Knicks claimed the upper hand on the Cavaliers, one of three NBA playoff games Friday night. Host New York now leads the series 2-1 after holding Cleveland to 79 points, the first time a team has failed to score 80 either during this regular season or postseason. The visiting Celtics were stymied by the Hawks, but still hold a 2-1 edge. And in the nightcap, the Nuggets beat the host Timberwolves to take a 3-0 lead.
The weekend's action will open with the first potential close-out game of the postseason when the 76ers, who'll be without MVP candidate Joel Embiid (knee), up 3-0, take on the Nets in Brooklyn Saturday afternoon. Suns-Clippers, Bucks-Heat and Grizzlies-Lakers complete Saturday's slate. On Sunday, the Knicks will look to go up 3-1 on the Cavaliers at Madison Square Garden. The Warriors will get Draymond Green back after his one-game suspension for their Game 4 against the Kings, and Celtics-Hawks and Nuggets-Timbewolves will close the weekend.
All times listed are Eastern. Games on ESPN, ABC and NBA TV can be streamed on fuboTV (try for free).
Friday's results
Game 3: Hawks 130, Hawks 122 (Boston leads 2-1)
Game 3: Knicks 99, Cavaliers 79 (New York leads 2-1)
Game 3: Nuggets 120, Timberwolves 111 (Denver leads 3-0)
Saturday's schedule
Game 4: 76ers at Nets, 1 p.m., TNT (Philadelphia leads 3-0)
Game 4: Suns at Clippers, 3:30 p.m., TNT (Phoenix leads 2-1)
Game 3: Bucks at Heat, 7:30 p.m., ESPN (Series tied 1-1)
Game 3: Grizzlies at Lakers, 10 p.m., ESPN (Series tied 1-1)
Sunday's schedule
Game 4: Cavaliers at Knicks, 1 p.m., ABC (New York leads 2-1)
Game 4: Kings at Warriors, 3:30 p.m., ABC (Sacramento leads 2-1)
Game 4: Celtics at Hawks, 7 p.m., TNT (Boston leads 2-1)
Game 4: Nuggets at Timberwolves, 9:30 p.m., TNT (Denver leads 3-0)
Eastern Conference
No. 1 Bucks vs. No. 8 Heat (Series tied 1-1)
Game 1: Heat 130, Bucks 117
Game 2: Bucks 138, Heat 122
Game 3: Bucks at Heat, Saturday, April 22 (7:30 p.m., ESPN)
Game 4: Bucks at Heat, Monday, April 24 (TBD)
Game 5: Heat at Bucks, Wednesday, April 26 (TBD)
Game 6: Bucks at Heat, Friday, April 28 (TBD)*
Game 7: Heat at Bucks, Sunday, April 30 (TBD)*
No. 2 Celtics vs. No. 7 Hawks (Boston leads 2-1)
Game 1: Celtics 112, Hawks 99
Game 2: Celtics 119, Hawks 106
Game 3: Hawks 130, Celtics 122
Game 4: Celtics at Hawks, Sunday, April 23 (7 p.m. TNT)
Game 5: Hawks at Celtics, Tuesday, April 25 (7:30 p.m. TNT)
Game 6: Celtics at Hawks, Thursday, April 27 (TBD)*
Game 7: Hawks at Celtics, Saturday, April 29 (TBD)*
No. 3 76ers vs. No. 6 Nets (Philadelphia leads 3-0)
Game 1: 76ers 121, Nets 101
Game 2: 76ers 96, Nets 84
Game 3: 76ers 102, Nets 97
Game 4: 76ers at Nets, Saturday, April 22 (1 p.m., TNT)
Game 5: Nets at 76ers, Monday, April 24 (TBD)*
Game 6: 76ers at Nets, Thursday, April 27 (TBD)*
Game 7: Nets at 76ers, Saturday, April 29 (TBD)*
No. 4 Cavaliers vs. No. 5 Knicks (New York leads 2-1)
Game 1: Knicks 101, Cavaliers 97
Game 2: Cavaliers 107, Knicks 90
Game 3: Knicks 99, Cavaliers 79
Game 4: Cavaliers at Knicks, Sunday, April 23 (1 p.m., ABC)
Game 5: Knicks at Cavaliers, Wednesday, April 26 (TBD)
Game 6: Cavaliers at Knicks, Friday, April 28 (TBD)*
Game 7: Knicks at Cavaliers, Sunday, April 30 (TBD)*
Western Conference
Game 1: Nuggets 109, Timberwolves 80
Game 2: Nuggets 122, Timberwolves 113
Game 3: Nuggets 120, Timberwolves 111
Game 4: Nuggets at Timberwolves, Sunday, April 23 (9:30 p.m., TNT)
Game 5: Timberwolves at Nuggets, Tuesday, April 25 (9 p.m., NBA TV)*
Game 6: Nuggets at Timberwolves, Thursday, April 27 (TBD)*
Game 7: Timberwolves at Nuggets, Saturday, April 29 (TBD)*
No. 2 Grizzlies vs. No. 7 Lakers (Series tied 1-1)
Game 1: Lakers 128, Grizzlies 112
Game 2: Grizzlies 103, Lakers 93
Game 3: Grizzlies at Lakers, Saturday, April 22 (10 p.m., ESPN)
Game 4: Grizzlies at Lakers, Monday, April 24 (TBD)
Game 5: Lakers at Grizzlies, Wednesday, April 26 (TBD)
Game 6: Grizzlies at Lakers, Friday, April 28 (TBD)*
Game 7: Lakers at Grizzlies, Sunday, April 30 (TBD)*
No. 3 Kings vs. No. 6 Warriors (Sacramento leads 2-1)
Game 1: Kings 126, Warriors 123
Game 2: Kings 114, Warriors 106
Game 3: Warriors 114, Kings 97
Game 4: Kings at Warriors, Sunday, April 23 (3:30 p.m., ABC)
Game 5: Warriors at Kings, Wednesday, April 26 (TBD)
Game 6: Kings at Warriors, Friday, April 28 (TBD)*
Game 7: Warriors at Kings, Sunday, April 30 (TBD)*
No. 4 Suns vs. No. 5 Clippers (Phoenix leads 2-1)
Game 1: Clippers 115, Suns 110
Game 2: Suns 123, Clippers 109
Game 3: Suns 129, Clippers 124
Game 4: Suns at Clippers, Saturday, April 22 (3:30 p.m., ABC)
Game 5: Clippers at Suns, Tuesday, April 25 (10 p.m., TNT)
Game 6: Suns at Clippers, Thursday, April 27 (TBD)*
Game 7: Clippers at Suns, Saturday, April 29 (TBD)*
* – if necessary
2023 NBA playoff bracket
Best NFL Jersey Shop – #NBA #playoffs #Scores #results #series #schedules #times #Knicks #series #edge #Cavaliers
Publish Date:2023-04-22 13:25:44