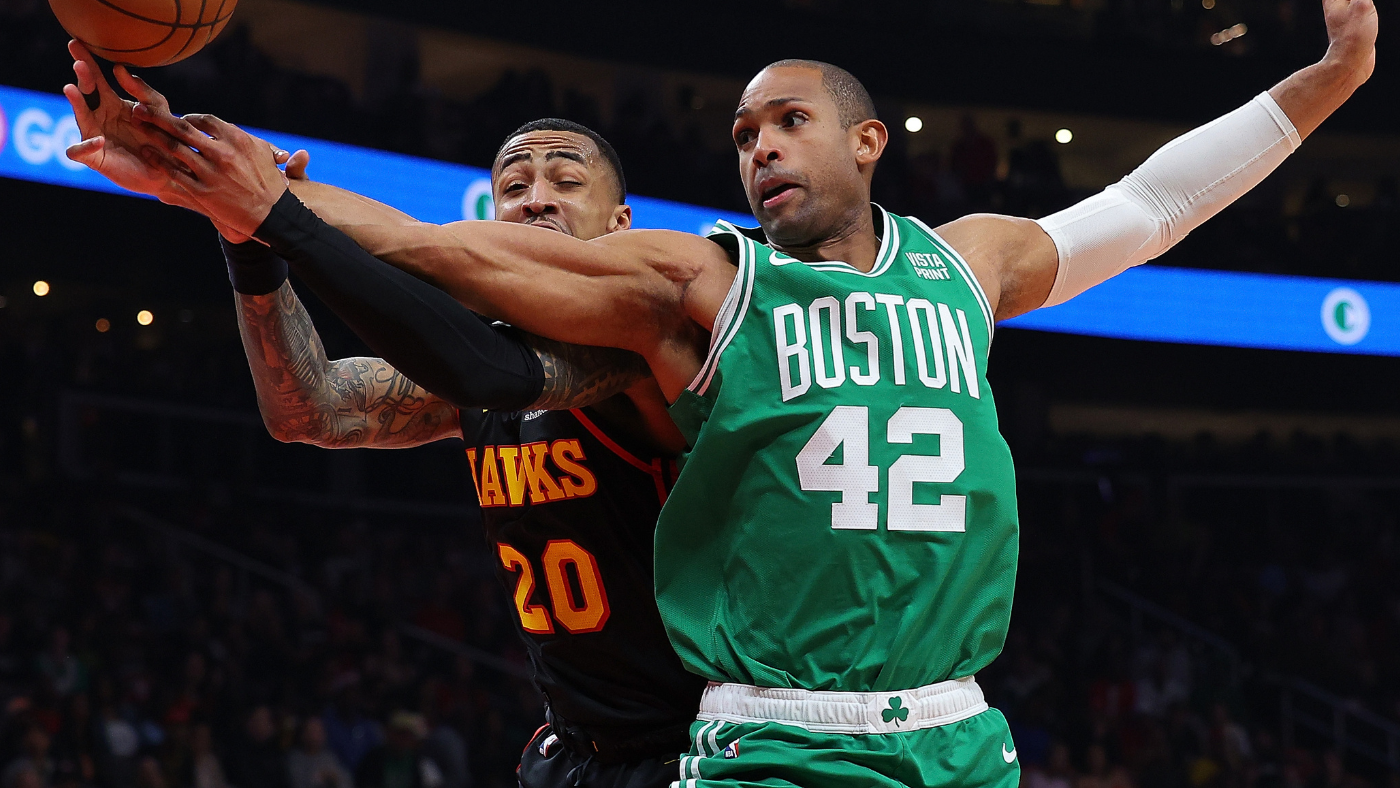 The Los Angeles Lakers took care of business on Friday night in a 40-point win over the Memphis Grizzlies in Game 6 to secure their spot in the Western Conference semifinals. Their opponent, however, is still unclear as the Kings were able to pick up an impressive road win over the Warriors in Game 6 to force a do-or-die Game 7 at Golden 1 Center on Sunday afternoon.
In the East, the Boston Celtics are on their way to the Eastern Conference semifinals after taking down the Atlanta Hawks on Thursday night in what was a highly competitive game. Now, we will get the matchup that all basketball fans wanted as Boston and the Philadelphia 76ers will square off in the second round. 
The biggest playoff shocker thus far took place on Wednesday night as the No. 8 Heat taking out the NBA's best regular-season team in five games. Yes, the top-seeded Bucks are on summer vacation, as are the Cavaliers who had no answer for the Knicks in this matchup. Miami will head to New York for Sunday's Game 1 at Madison Square Garden.
And in the last conference semifinal, the West's top-seeded Nuggets will host the Suns in Game 1 on Saturday.
Trying to keep up with the NBA playoffs? We have the latest results, as well as series-by-series schedules and streaming info below.
All times listed are Eastern. Games on ESPN, ABC and NBA TV can be streamed on fuboTV (try for free).
Saturday's schedule:
Game 1: Phoenix Suns vs. Denver Nuggets
Friday's results:
Kings 118, Warriors 99 (Series tied 3-3)
Lakers 125, Grizzlies 85 (Lakers win series 4-2)
Eastern Conference 
No. 1 Bucks vs. No. 8 Heat (Miami wins 4-1)
Game 1: Heat 130, Bucks 117
Game 2: Bucks 138, Heat 122
Game 3: Heat 121, Bucks 99
Game 4: Heat 119, Bucks 114
Game 5: Heat 128, Bucks 126 (OT)
No. 2 Celtics vs. No. 7 Hawks (Boston wins 4-2)
Game 1: Celtics 112, Hawks 99
Game 2: Celtics 119, Hawks 106
Game 3: Hawks 130, Celtics 122
Game 4: Celtics 129, Hawks 101
Game 5: Hawks 119, Celtics 117
Game 6: Celtics 128, Hawks 120
No. 3 76ers vs. No. 6 Nets (Philadelphia wins 4-0)
Game 1: 76ers 121, Nets 101
Game 2: 76ers 96, Nets 84
Game 3: 76ers 102, Nets 97
Game 4: 76ers 96, Nets 88
No. 4 Cavaliers vs. No. 5 Knicks (New York wins 4-1)
Game 1: Knicks 101, Cavaliers 97
Game 2: Cavaliers 107, Knicks 90
Game 3: Knicks 99, Cavaliers 79
Game 4: Knicks 102, Cavaliers 93
Game 5: Knicks 106, Cavaliers 95
Conference semifinals
No. 5 Knicks vs. No. 8 Heat
Game 1: Heat at Knicks, Sunday, April 30 (1 p.m., ABC)
Game 2: Heat at Knicks, Tuesday, May 2 (TBD)
Game 3: Knicks at Heat, Saturday, May 6 (TBD)
Game 4: Knicks at Heat, Monday, May 8 (TBD)
Game 5: Heat at Knicks, Wednesday, May 10 (TBD)*
Game 6: Knicks at Heat, Friday, May 12 (TBD)*
Game 7: Heat at Knicks, Monday, May 15 (TBD)*
No. 2 Celtics vs. No. 3 76ers
Game 1: 76ers at Celtics, Monday, May 1 (7:30 p.m. TNT)
Game 2: 76ers at Celtics, Wednesday, May 3 (8 p.m. TNT)
Game 3: Celtics at 76ers, Friday, May 5 (7:30 p.m. ESPN)
Game 4: Celtics at 76ers, Sunday, May 7 (3:30 p.m. ESPN)
Game 5: 76ers at Celtics, TBD, (TNT)*
Game 6: Celtics at 76ers, TBD, (ESPN)*
Game 7: 76ers at Celtics, TBD, TBD*
Western Conference
Game 1: Nuggets 109, Timberwolves 80
Game 2: Nuggets 122, Timberwolves 113
Game 3: Nuggets 120, Timberwolves 111
Game 4: Timberwolves 114, Nuggets 108 (OT)
Game 5: Nuggets 112, Timberwolves 109
No. 2 Grizzlies vs. No. 7 Lakers (Los Angeles wins 4-2)
Game 1: Lakers 128, Grizzlies 112
Game 2: Grizzlies 103, Lakers 93
Game 3: Lakers 111, Grizzlies 101
Game 4: Lakers 117, Grizzlies 111 (OT)
Game 5: Grizzlies 116, Lakers 99
Game 6: Lakers 125, Grizzlies 85
No. 3 Kings vs. No. 6 Warriors (Series tied 3-3)
Game 1: Kings 126, Warriors 123
Game 2: Kings 114, Warriors 106
Game 3: Warriors 114, Kings 97
Game 4: Warriors 126, Kings 125
Game 5: Warriors 123, Kings 116
Game 6: Kings 118, Warriors 99
Game 7: Warriors at Kings, Sunday, April 30, 3:30 p.m., ABC
No. 4 Suns vs. No. 5 Clippers (Phoenix wins 4-1)
Game 1: Clippers 115, Suns 110
Game 2: Suns 123, Clippers 109
Game 3: Suns 129, Clippers 124
Game 4: Suns 112, Clippers 100
Game 5: Suns 136, Clippers 130
Conference semifinals
No. 1 Nuggets vs. No. 4 Suns
Game 1: Suns at Nuggets, Saturday, April 29 (TBD)
Game 2: Suns at Nuggets, Monday, May 1 (TBD)
Game 3: Nuggets at Suns, Friday, May 5 (TBD)
Game 4: Nuggets at Suns, Sunday, May 7 (TBD)
Game 5: Suns at Nuggets, Tuesday, May 9 (TBD)*
Game 6: Nuggets at Suns, Thursday, May 11 (TBD)*
Game 7: Suns at Nuggets, Sunday, May 14 (TBD)*
* – if necessary
2023 NBA playoff bracket
Best NFL Jersey Shop – #NBA #playoffs #scores #results #series #schedules #info #Lakers #Grizzlies #Game #advance
Publish Date:2023-04-30 05:00:16