After starting his career at a junior college, Ji'Ayir Brown has come a long way to become one of the top safety prospects in the 2023 NFL Draft. He was an absolute ball-hawk at Penn State, with 10 interceptions over his final two seasons, although he likely won't see so many misthrown balls in the pros. Still, he's versatile and fast, which at minimum gives him value as a rotational defensive back and special teamer.
Ji'Ayir Brown Draft Profile
College: Penn State
Age: 23
Height: 5'11"
Weight: 210
Strengths
A junior college transfer, Brown stepped into a starting role in 2021 and spent two seasons wreaking havoc. In deep zone looks, he broke up a lot of plays late and forced more than a few turnovers (10 interceptions over the past two seasons) due to his explosive speed and ability to close quickly.
As a run defender, he can come downhill from a deep safety spot and make plays or line up in the box and work his way through traffic, and he consistently arrives with a thud as a tackler.
Weaknesses
The splash plays were there, but as an NFL safety, Brown will have to be more consistent and less mistake-prone. He's fast moving in a straight line, but he often gets too high in his backpedal and can be slow to transition when playing in zone coverage.
Many of his interceptions were tips or simply terrible throws. When playing slot receivers as an overhang defender, he typically gave a lot of cushion and allowed catches in front of him.
Summary
Brown will be in the league as a special teamer and versatile third safety at least, but he has to clean some things up before he's a starter for a Cover 2 team.
Final Grade: 3rd/4th Round
(This profile is one of more than 200 featured in the Athlon Sports 2023 NFL Draft Guide. With in-depth scouting reports on the top prospects, position rankings, and more, no source will have you better prepared for draft day. Purchase a copy online today, download the digital edition for instant access, or look for it on newsstands everywhere.)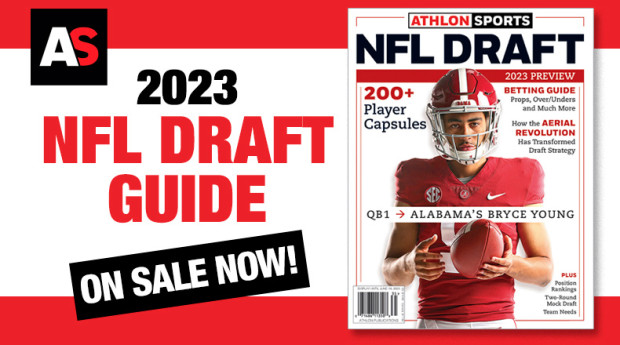 Best NFL Jersey Shop – #NFL #Draft #Profile #Ji039Ayir #Brown
Publish Date:2023-04-29 05:05:52