It's a little unclear what position YaYa Diaby might play in the pros, but he's one of the top pass-rushing prospects in the 2023 NFL Draft because of his upside. The former Louisville Cardinal could line up inside or on the edge, and he has the requisite length to get penetration. Diaby may take time to develop, but there's reason to believe he could be an every-down player.
YaYa Diaby Draft Profile
College: Louisville
Age: 23
Height: 6'5″
Weight: 270
Strengths
Diaby finally turned a unique set of traits into massive production as a senior for the Cardinals. He's a long and explosive athlete. As he's packed on muscle over the past few seasons, he's also maintained his flexible body type.
He won from a variety of spots on Louisville's defensive front last year, powering through gaps as a 5-technique and also showing the necessary bend and speed to come off the edge and finish plays.
Weaknesses
There are a lot of unrefined areas to his game. Diaby needs to become better with his hand usage in the pass rush, especially as he prepares to go up against professional opponents whom he won't simply outclass physically.
He also has to be better at diagnosing keys in the run game and locating the ball. He often plays high in close quarters and gives up ground — he would be a player opponents would target in the run game early in his career.
Summary
He's something of a ball of clay entering the NFL. Diaby's next team could develop him as a pure edge rusher or might simply see him as an interior penetrator. He has a chance to become a three-down player, but he'll enter the league as a rotational pass rusher.
Final Grade: 3rd/4th Round
(This profile is one of more than 200 featured in the Athlon Sports 2023 NFL Draft Guide. With in-depth scouting reports on the top prospects, position rankings, and more, no source will have you better prepared for draft day. Purchase a copy online today, download the digital edition for instant access, or look for it on newsstands everywhere.)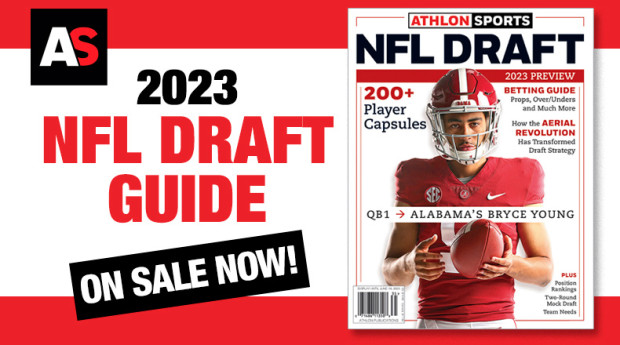 Best NFL Jersey Shop – #NFL #Draft #Profile #YaYa #Diaby
Publish Date:2023-04-29 10:36:57