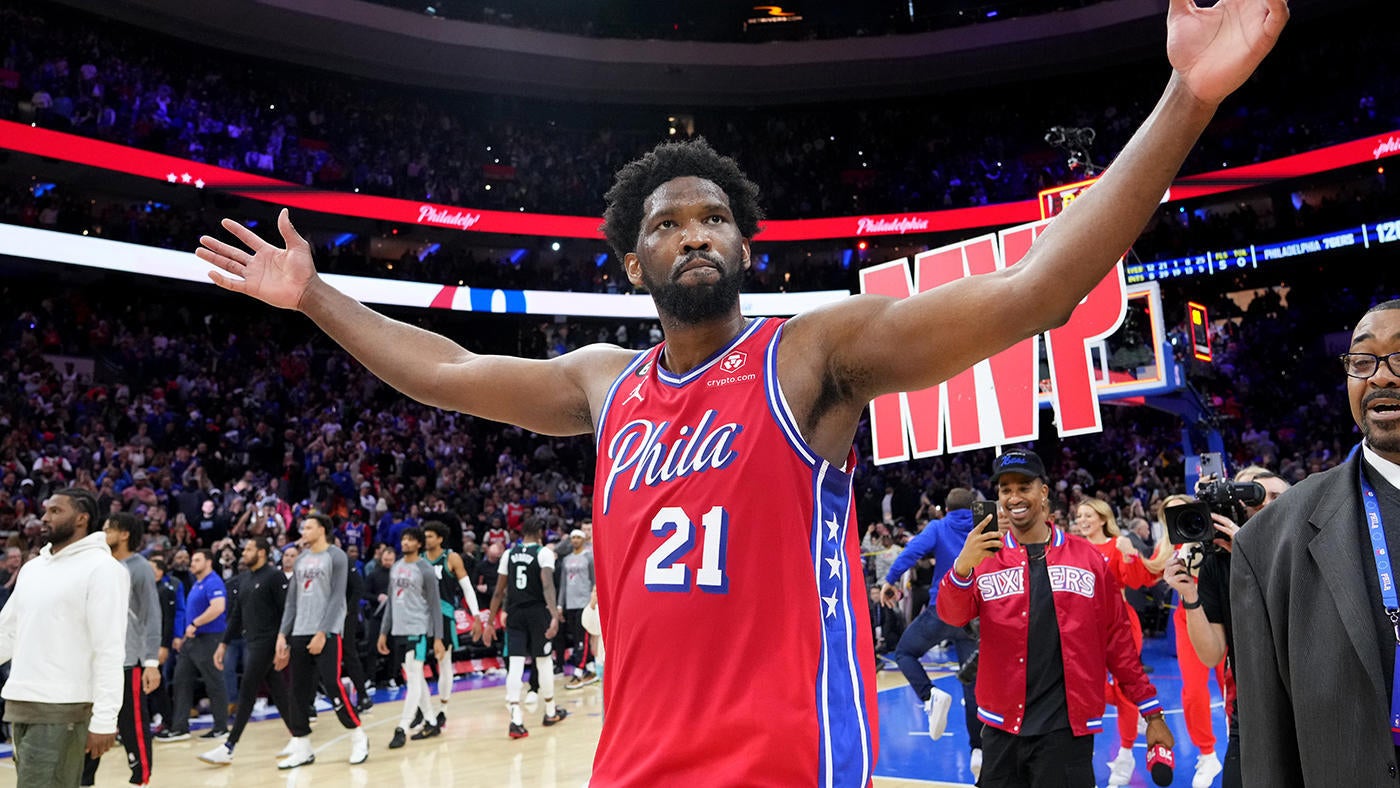 Success at the highest levels of any sport requires a certain amount of self-confidence, even borderline arrogance. Philadelphia 76ers big man Joel Embiid has never been afraid to let people know how good he is, and he's backed it up on the court for his past six All-Star seasons.
After finishing second to Denver Nuggets center Nikola Jokic in the MVP race in each of the past two seasons, Embiid is making a strong push to supplant his awards season rival this time around. While Jokic is still considered the favorite, moments like the one that took place in the 76ers' 120-119 win over the Portland Trail Blazers on Friday night could stick in voters' minds.
Trailing by one with just over seven seconds left in the fourth quarter, Sixers head coach Doc Rivers didn't even think about getting cute. He drew up a play to get his best player the ball in the middle of the floor and let him go to work. That's exactly what Embiid did, knocking down a silky smooth turnaround jumper with one second left on the clock.
The Blazers were unable to get a shot off during the ensuing possession, giving Philly the win and Embiid another feather in the cap of what has been another truly remarkable season. The big man finished with 39 points, seven rebounds, four assists and three blocks on the night, bringing his career-high scoring average to 33.3 points per game.
After the game, Embiid — who sees double-teams on nearly every possession — explained his approach to dissecting defenses while throwing in a dash of trademark bravado:
"I've said it: I think I'm unguardable," Embiid said, via Sam DiGiovanni of ClutchPoints. "It's all about using that and trying to make my teammates better. With that comes a lot of double- and triple-teams every single game. So it's about how do I make my teammates better every game."
The word "unguardable" might seem a bit hyperbolic, but in this context Embiid likely means he can't be guarded by one person, which he's proven throughout his career. Friday night's game-winner perfectly illustrates what makes Embiid nearly impossible to handle for any defender.
Not wanting the 7-foot, 280-pound Embiid to simply bully his way to the basket, Blazers coach Chauncey Billups put 7-foot, 290-pound center Jusuf Nurkic on him during the final possession. Here's where Embiid showcased his first unique skill — mobility. Embiid is as quick and agile as any player of his size we've ever seen, and he easily gets past Nurkic with a couple of strong dribbles.
As expected, Nurkic receives help in the form of Damian Lillard. This is where a normal 7-footer would plow into the smaller guard, picking up a charge to lose the game for his team.
But not Embiid.
He stops his nearly 300-pound frame on a dime, using his superior footwork to perform a picture-perfect pirouette away from the defense. At this point, Nurkic is too far away to contest, so it's simply up to Embiid to hit a fadeaway jumper off one foot with the game on the line. No big deal.
In addition to his other talents, Embiid is making 47 percent of his midrange jumpers this season, putting him on par with midrange maestros such as Devin Booker, Kawhi Leonard and DeMar DeRozan. So for him, this is pretty much a layup.
Put it all together, and it's one of the prettiest game-winners we've seen.
We're not here to litigate the ubiquitous MVP debate between Embiid, Jokic and Giannis Antetokounmpo. But it's safe to say that Embiid has a legitimate chance this season to take home the hardware for the first time, and moments like the one on Friday night only serve to further his case.
Best NFL Jersey Shop – #76ers #Joel #Embiid #hes #unguardable #silky #smooth #gamewinner #Blazers #shows
Publish Date:2023-03-11 14:04:01