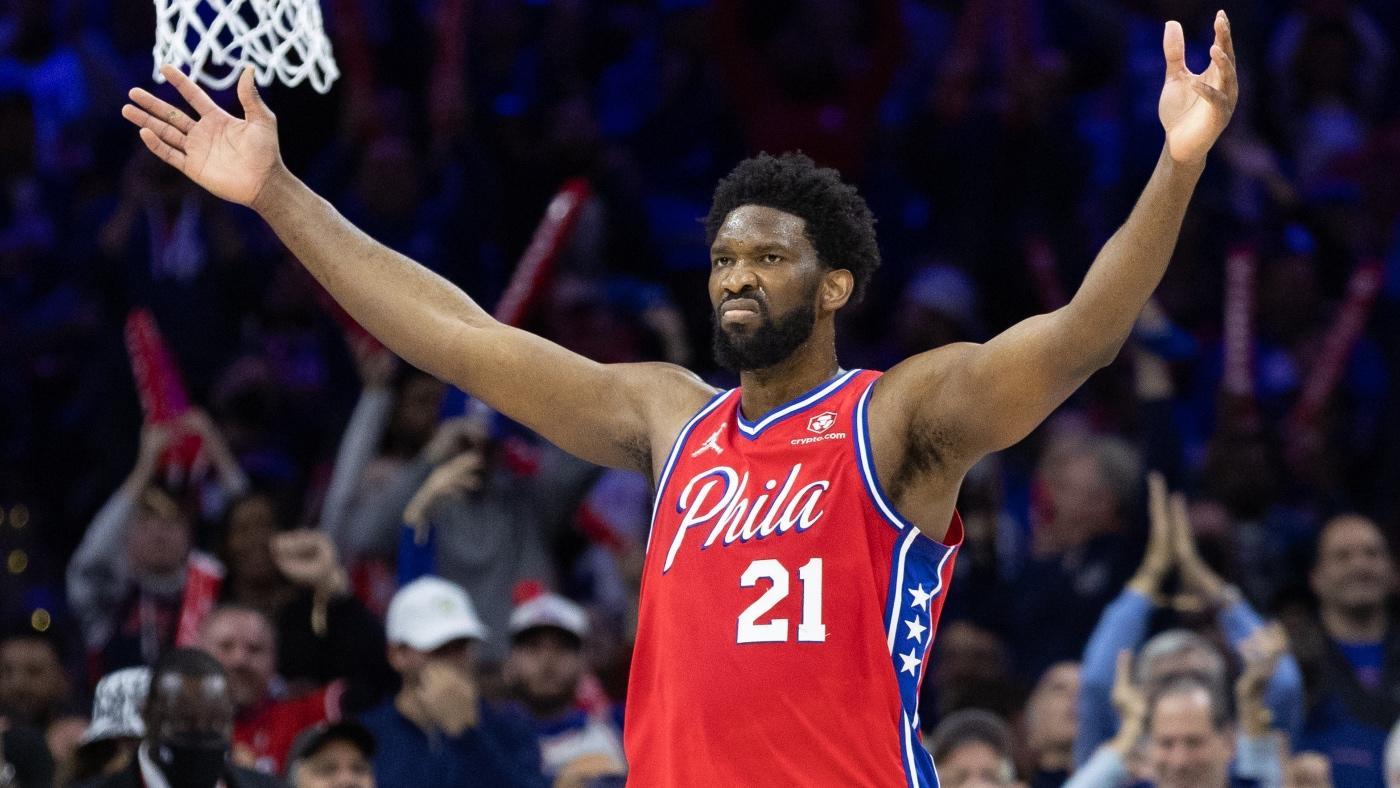 Philadelphia's 133-114 loss to the Oklahoma City Thunder on Thursday night was the team's 41st game of the season, which means they've officially reached the midway mark. With 50 percent of their schedule now in the rearview mirror, the Sixers sit at 25-16, which is good for fifth overall in the competitive Eastern Conference, behind the Boston Celtics, Brooklyn Nets, Milwaukee Bucks and Cleveland Cavaliers. 
That record comes despite the fact that key contributors Joel Embiid, James Harden and Tyrese Maxey all missed some legitimate time with injury issues. The Sixers have been especially formidable at home where they boast a 17-7 record, but they've struggled on the road as they've won just eight of 17 contests away from Philadelphia. Improving their play on the road should be a focus for the team over the second half of the schedule. 
Before moving on to the back end of the season and gearing up for the playoff push, now seems like an appropriate time to take the team's temperature and look at a few positive takeaways, as well as some lingering concerns from the first 41 games. 
Positives 
1. Another MVP-caliber campaign from Joel Embiid 
After finishing as the MVP runner-up behind Nikola Jokic in each of the past two seasons, Embiid is turning in a third straight season that should garner him major attention for the league's top individual award. On the season so far, the big fella is averaging career highs in points (33.6) and assists (4.4) per performance, while also adding 9.9 rebounds, 1.7 blocks and 1.1 steals and anchoring a top-five defense. 
He's second in the NBA in scoring so far this season behind Luka Doncic after leading the league last season, and he's been putting up some insane numbers. 
Not only is Embiid scoring more points per game than he ever has before, but he's also scoring more efficiently than ever, evidenced by the fact that he's averaging career highs in field goal percentage (53) and true shooting percentage (64). He has the fourth-highest PER in the league on the season, and he's second in estimated wins added, behind only, you guessed it, Jokic. Embiid might fall short when it comes to MVP votes again, but his continued elite play has the Sixers in the contender conversation again halfway through the season. 
2. The addition of De'Anthony Melton 
Out of all of Philadelphia's offseason additions, De'Anthony Melton has been the most fruitful so far. Melton has proved to be an excellent fit for Philadelphia as a player capable of providing reliable floor-spacing around Embiid and Harden on one end and tough-nosed perimeter defense on the other. 
Melton started out the season in a reserve role, but he shifted to a starting spot for an extended time due to injuries to Harden and Maxey. He's recently returned to the bench after those guys got healthy, but regardless of where he's played, Melton has produced. He's averaging career highs in minutes (29.8), points (11.7), rebounds (4.7) and steals (1.9) while shooting 42 percent from the floor and 39 percent from long range. He's been everything that the Sixers could have hoped for when they traded for him in June, and he'll continue to be an integral part of the team's approach for the remainder of the season.
3. Team defense 
Heading into the season, the Sixers stated goal was establishing the league's top defense. 
"Our focus is on defense," Embiid said of the team at media day. "We aim to be the best defensive team in the league. That's going to take all of us. I got to get back to not waiting until the fourth [quarter] to be that guy, and then doing it all game… For me, coming into this year we just want to focus on that." 
While the Sixers don't boast the league's top-ranked defense — that distinction currently belongs to the Cleveland Cavaliers — they're close. Philadelphia currently has the league's fourth-best defense behind the Cavs, Grizzlies and Bucks. Their play on that end is highlighted by paint protection and forced turnovers. 
They allow the sixth-fewest points in the paint per game (47.8) league-wide, and they force the seventh-most turnovers per game (15.6). In addition to Embiid's paint patrolling, the versatility of new additions Melton and P.J. Tucker have helped on that end of the floor. There are still questions about the backcourt of Harden and Maxey holding up defensively — especially in a playoff series — but Melton's presence helps to couch those concerns. Overall, the Sixers should feel pretty solid about their defense halfway through the season. 
Lingering concerns 
1. Road play 
We touched on this in the intro, but the Sixers simply have to be better on the road if they want to climb up the standings in the East over the second half of the season, or if they want to make any real noise in the postseason. They're 8-9 away from Philly so far, including losses to the Hornets, Rockets and Wizards (twice). 
Too often it seems like the team just doesn't come out with the requisite energy in away games, and it has cost them. The Sixers played seven more home games than road games over the first half of the season, which means they'll play seven more road games than home games over the back end. How they perform in those games will go a long way toward determining where they ultimately end up in the standings — and what their postseason path will look like.
2. Rebounding 
Rebounding has been an area of concern for the Sixers so far this season. They're 27th in the league in total rebounds per game, which means that only three teams — the Mavericks, Nets and Heat — have snatched fewer boards on a nightly basis. Their inability to end opponent possessions with defensive rebounds often comes back to haunt them. They allow 10.1 offensive rebounds per game, and those are turned into 13 second-chance points. 
Effort is probably a factor, as it often is when it comes to rebounding, but part of the issue is roster construction– the Sixers aren't an especially tall team. At 6'9″ Paul Reed is the team's tallest player behind Embiid, then they have several players who are listed at 6'7″. Also, they don't have a rebounding machine coming off of the bench behind Embiid like they did for the past couple of seasons with Dwight Howard and Andre Drummond. Not much can be done about the team's collective height, but they can look to put an increased emphasis on hitting the glass as a team moving forward. 
3. Bench scoring 
Bench scoring remains a bit of an issue for the Sixers, as it has been in recent seasons. In terms of point production, Philadelphia's bench ranks 27th in the league on the season with 29.4 points per performance. The only teams getting less scoring from their reserves are the Blazers, Heat and Cavaliers. Inconsistency seems to plague Philadelphia's bench corps, both in terms of production and opportunity. Injury issues have certainly played a part in that inconsistency, as Doc Rivers has consistently had to shift players around depending on availability. Moving forward, the Sixers would probably benefit from a more clearly established rotation. 
One player who clearly knows his role off of the bench is Georges Niang. Niang's role is to come in, space the floor around Embiid and Harden and knock down shots when the ball is kicked to him, and he's done exactly that. Niang is shooting — and making — more triples than he ever has before. His 2.3 made threes and 5.6 attempts from long range are both career highs, as is the 9.4 points per game he's averaging. 
Please check the opt-in box to acknowledge that you would like to subscribe.
Thanks for signing up!

Keep an eye on your inbox.

Sorry!

There was an error processing your subscription.

4. Backup big man
Montrezl Harrell and Paul Reed have both shown flashes of solid play over the first 41 games, but neither has definitively secured the role of backup big behind Embiid, and thus it's fair to wonder if the Sixers will look to address that spot heading into the trade deadline, or in the buyout market. It's been shown over the years how important that spot is, as Embiid obviously can't play the full 48. Rivers has experimented with going small at times and using Tucker as a small-ball five, but the Sixers will need size for potential playoff matchups against the likes of the Bucks, Celtics or Cavs. 
What the players are saying 
After Philadelphia's loss to Oklahoma City, I asked Georges Niang for his assessment of the team at the midway point. Here's what he had to say: 
"I think we've done an overall good job of having the next man up mentality. We've played with all of our guys for just eight games, that's kind of a unique situation and that takes time to continue to jell and I think we're working at that. But with that being said, injuries happen and things happen. But I'm proud of the group and how far we've come. [We were] 13-13 and people were saying 'What's going on in Philly?' We've kind of put our head down and just continued to work and focus on us, and I think that's the moral of the story. We're going to keep growing, we're going to keep pushing, getting better and we're going to be clicking at the right time." 
Best NFL Jersey Shop – #76ers #midseason #checkin #MVPcaliber #campaign #Joel #Embiid #highlights #season
Publish Date:2023-01-14 05:28:35