Aaron Rodgers officially introduced himself to Jets fans on Wednesday, shortly after his trade from the Green Bay Packers finally became official.
That introduction included one of the quirky quotes Rodgers has become known for through the years.
For the most part, Rodgers' press conference was pretty tame. He thanked both the Packers and Jets and their respective front offices. He paid his respects to Joe Namath. He seemed genuinely excited to be a Jet and alluded to a goal of winning the franchise's second Super Bowl.
But one comment has a lot of NFL fans scratching their heads.
Rodgers was asked about Packers general manager Brian Gutekunst saying earlier this week that he hadn't been able to reach Rodgers. In response, Rodgers claimed that his house has "very limited cell service," which might have contributed to the communication breakdown.
Rodgers then said that people who know him know that, in order to reach him, they have to FaceTime him.
"I'm fortunate to live in a beautiful house," Rodgers said. "The only downside is I have very limited cell service. So if you want to get ahold of me, I have to see your face. You gotta FaceTime me. So the only response to the communication thing is there's records on your phone about who called you, when, FaceTime, and there wasn't any specific FaceTimes from any of those numbers."
"I have very limited cell service, so if you want to get ahold of me… you gotta FaceTime me."

– Aaron Rodgers on lack of communication with the Packers this offseason pic.twitter.com/CbR9fCh6Oo

— CBS Sports (@CBSSports) April 26, 2023
No surprise, Rodgers' comment has generated quite a bit of chatter on social media. Fans have questioned the accuracy of his claim, while others have noted that it shouldn't be difficult for the multi-millionaire to use WiFi calling, or at least answer a text.
"Maybe carrier pigeon could have worked too?" Carmen Vitali of Fox Sports joked.
"So just to be clear, Adam Schefter can get ahold of Rodgers by text, and Rodgers can respond with 'lose my number,'" one fan tweeted. "But if you're Packers GM Brian Gutekunst, you gotta FaceTime him."
"(Today I learned) that Aaron Rodgers uses his phone like my 13-year old," another wrote. "Only picks up via FaceTime apparently."
While it seems unlikely the cell reception is the real reason Rodgers didn't speak to the Packers brass at the end of his 18-year tenure with the franchise, it's not news that his relationship with the front office had become untenable.
That's now in the past. After Rodgers was classy in saying his goodbyes to Green Bay and the Packers returned the favor on Wednesday, his focus is trying to win a Super Bowl with his new team.
(Purchase the Athlon Sports 2023 NFL Draft Guide here. With in-depth scouting reports on the top prospects, position rankings, and more, no source will have you better prepared for draft day. Purchase a copy online today, download the digital edition for instant access, or look for it on newsstands everywhere.)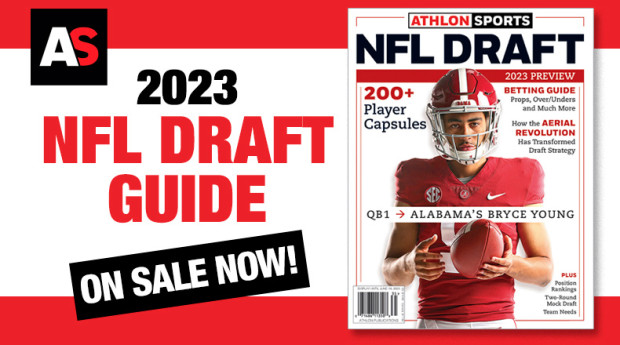 Best NFL Jersey Shop – #Aaron #Rodgers #Lame #Excuse #Reason #Packers #Couldn039t #Contact
Publish Date:2023-04-27 03:28:39