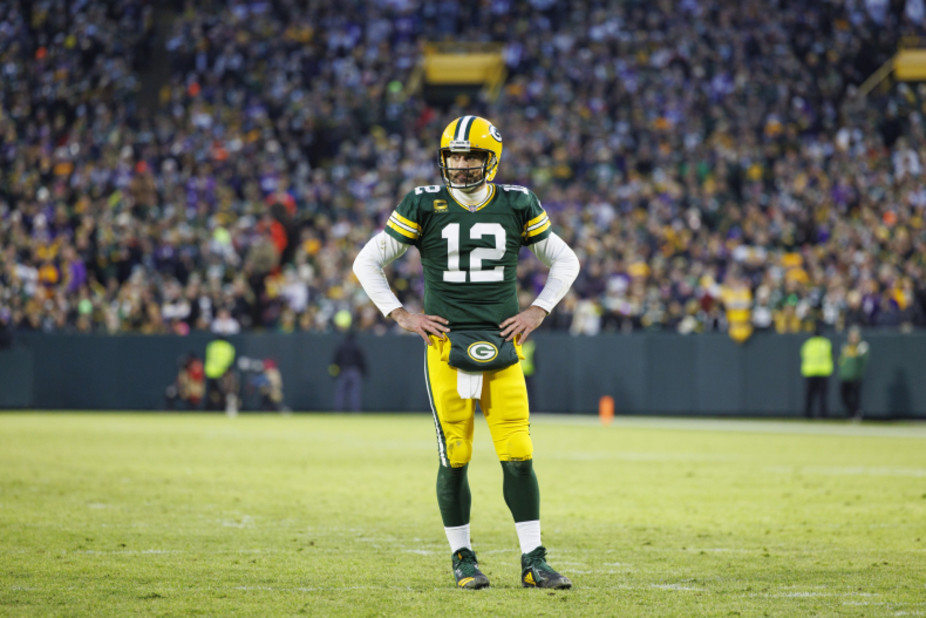 In unsurprising fashion, Aaron Rodgers is keeping his cards close to his chest.
The 39-year-old quarterback likely has an idea of whether or not he will return to the NFL in 2023, but in speaking to former NFL wide receiver Brandon Marshall, Rodgers didn't say a peep on his future plans.
At the RX Flag Football Charity Event in Laguna Beach, Calif., Marshall asked the four-time NFL MVP how much longer it'd be before he announced a decision.
"Well, I think it won't be long," Rodgers said. "There's a time limit for all this."
The Green Bay Packers have continuously said that they'd like a decision from Rodgers before March 15, the start of the new league year. That is potentially the "time limit" Rodgers referred to.
Rodgers' three options are to return to the Packers, retire or accept a trade. Rodgers met with the New York Jets brass on March 7 when team owner Woody Johnson, head coach Robert Saleh, general manager Joe Douglas and offensive coordinator Nathaniel Hackett — Rodgers' past play caller in Green Bay and only tie to New York — flew to Southern California to present their sales pitch to Rodgers in person.
Four days later, SNY's Connor Hughes reported that "everything that needs to be done is essentially done" for the Packers to trade Rodgers to the Jets. The only missing piece is Rodgers' decision itself.
"It's always interesting meeting important figures in the sport," Rodgers said of his time with Johnson. "That's all I'm giving you. Stay tuned."
But Rodgers may have unintentionally given fans a little more than that.
Marshall, who played two years with the Jets (2015-2016), told Rodgers that he considers himself an "all-time Jet," despite not spending a lengthy amount of time in New York, because "numbers don't lie." In 31 games played for Gang Green, Marshall caught for 2,290 yards and 17 touchdowns.
Rodgers countered that a player's "all-time" greatness is tied to the impact he's made on an organization's history. So, if his current plan is to spend one more year in the NFL, with the Jets, he doesn't see himself being an all-time difference maker with the franchise.
"Just like you're an all-time Packer, you can be an all-time Jet," Marshall said.
"Not if you only play one year, you can't be an all-time Jet," Rodgers said.
So, did Rodgers just implicitly reveal his plans to return to the gridiron?
Best NFL Jersey Shop – #Aaron #Rodgers #Pending #Career #Decision #039It #Won039t #Long039
Publish Date:2023-03-13 02:43:53