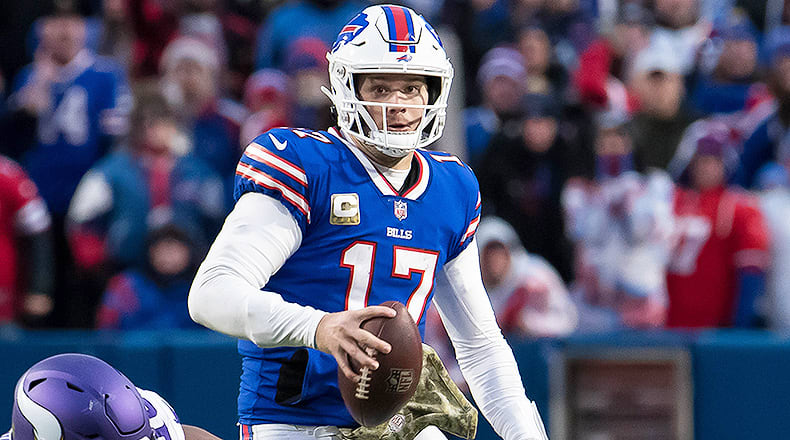 It's not how you start, it's how you finish.
And that's exactly what can be said for the Buffalo Bills, who — despite the frightening Week 17 on-field collapse of safety Damar Hamlin — rallied to win their final seven regular-season games en route to clinching their third consecutive AFC East title and securing the No. 2 seed in the playoffs where they'll collide with the Miami Dolphins for the third time this season.
Related: Expert Picks for Every NFL Super Wild Card Weekend Game
The same magnitude of late-season success certainly cannot also be applied to the Dolphins, who rocked back and forth across a three-game winning streak, three-game losing streak, five-game winning streak, and five-game losing streak over their first 16 games. But in the final week of the regular season, Miami squeaked past the New York Jets 11-6, and — thanks also to Buffalo's 35-23 win over New England — reached the playoffs for the first time since the 2016 season.
Looking at these two teams' recent matchups, one-offs and rare occurrences have been quite common for both in this series. Each came away victorious on their respective home fields as Buffalo bounced back from a Week 3 loss in Miami with a Week 15 win in Orchard Park. The Bills' rebound was a welcome sign after the September loss to Miami was their first against their division rivals in nearly four years, snapping a seven-game winning streak and a march of wins in nine of the last 10 meetings. Additionally, the Bills have dominated the Dolphins on their home field, winning six straight and 10 of the last 11 games played in western New York. 
But the last time that these two AFC East foes squared off in the postseason was more than 34 years ago, another breaking of trends. The Dolphins won that wild-card matchup, 24-17, in January 1999, their lone playoff victory in four tries (and all of these occurring during the '90s).
AFC Wild Card: Miami (9-8) at Buffalo (13-3)
Kickoff: Sunday, Jan. 15, at 1 p.m. ET
TV: CBS
Live Stream: fuboTV (Start your free trial)
Spread: Bills -13.5
Tickets: As low as $130 on SITickets.com*
Three Things to Watch
1. Can Skylar Thompson build on his experience from last week's start?
Tua Tagovailoa remains out after suffering a concussion in the Week 16 loss to Green Bay, and head coach Mike McDaniel announced on Wednesday that Tagovailoa had not progressed sufficiently enough to return to the field. Combine that with the hand injury Teddy Bridgewater suffered the following week at New England, and Thompson — who entered in relief of Bridgewater in the road loss to the Patriots — will start for the second straight week after leading Miami to a win last week against the Jets.
Thompson certainly did not light Hard Rock Stadium on fire last week, completing 20 of 31 passes for 152 yards and failing to find the end zone. But arguably more importantly, one other stat column in which Thompson also posted a 0: turnovers. In a game where points were at such a premium, Thompson's ability to make smart decisions and avoid turning the ball over was extremely vital as he guided the Dolphins to the win. Now the rookie will have to do the same in his first postseason start and in a hostile environment against a defense that's tied for fourth in the league in both takeaways (27) and interceptions (17). Buffalo also finished in the upper half of teams in sacks (40), although its pass rush hasn't been as productive since Von Miller tore his ACL in Week 12. Miller is still tied for the team lead in sacks (eight with Greg Rousseau) even though he's missed six games.
2. Is Buffalo's offensive line going to be able to protect Josh Allen on Sunday?
Throughout this season, Allen has been nothing short of spectacular, especially as of late. Allen has thrown at least two touchdown passes in five of the last six games (14 total) with just four interceptions. He also has added three scores on the ground during this stretch.
But one of his toughest difficulties has been his ability to stay on his feet, and that has been especially true against divisional opponents this season. In six games against AFC East competition, Allen has been sacked 18 times compared to 15 in the remaining 10 games. The Jets tallied eight of those 18 sacks across Weeks 9 and 14, while the Dolphins and Patriots notched six and four, respectively, in their two games apiece against Buffalo. The Bills were able to escape with a three-point win in Orchard Park when Allen was *only* sacked twice, while the Dolphins pulled out a win of their own when they managed to sack Allen four times back in Week 3. Keep an eye on how much pressure Miami can manage to get on Allen because keeping him upright was certainly one of the main factors in the two matchups between these teams this season and could very well be a critical factor in determining which one advances to the Divisional Round.
3. How will the Dolphins fare on the ground?
In the Week 3 home win against Buffalo, Miami ran for a total of 41 yards (albeit with two of its three touchdowns coming on the ground) on 17 carries. In Week 15 it was a different story with Raheem Mostert piling up 136 rushing yards on 17 carries and Salvon Ahmed chipping in 43 yards and a score on six attempts. The Bills had plenty of trouble slowing Mostert down period as he collected 149 all-purpose yards in the first quarter alone, 101 of those on the ground, 20 more in the passing game, and 28 when he returned the opening kickoff.
However, that was somewhat of an uncharacteristic performance for Buffalo's run defense, which gave up 100-plus rushing yards in only five other games. The Bills have the league's fifth-ranked rushing defense in terms of yards allowed per game (104.6), but they are giving up 4.3 yards per carry (14th). So there could still be opportunities for the Dolphins to gain some ground but they will need to make the most of their carries.
Miami is usually pretty successful when it can run the ball effectively (has won four of the last five games when posting 100-plus rushing yards), but there's also a strong chance the backfield will be down a key piece on Sunday. Mostert broke his thumb in last week's win over the Jets and his status is very much up in the air. If he can't go, that will put more pressure on Jeff Wilson Jr. (72 yds. on 16 att. last week) and Ahmed (12 total carries this season) to produce on the ground to take pressure off of Thompson. Even though he has dangerous weapons to throw to, Buffalo would prefer to put the Dolphins into a situation where Thompson has to air it out.
Final Analysis
Buffalo certainly enters on a tear with wins in each of its last seven (completed) games going into the postseason. That momentum, plus the added pride of playing in Hamlin's honor as the safety recovers and carries the football world by his side, ought to provide plenty of feathers in the Bills' cap on Sunday. Add to that Miami's inconsistency over the last several weeks and the question mark of how the rookie Thompson will play in just his third career start, and the AFC East champs simply appear to have way too much for the Dolphins to overcome.
Prediction: Bills 33, Dolphins 20
— Written by Juan Jose Rodriguez, who is part of the Athlon Contributor Network and a 2019 graduate of the University of Notre Dame. Rodriguez was an intern for Athlon during summer 2017 and worked for a variety of media outlets on campus, including as the Editor-in-Chief of Scholastic Magazine. Follow him on Twitter @JuanJoseRG02.
*Price as of publication.
Best NFL Jersey Shop – #AFC #Wild #Card #Prediction #Buffalo #Bills #Home #Cooking #Miami #Dolphins
Publish Date:2023-01-14 02:00:00