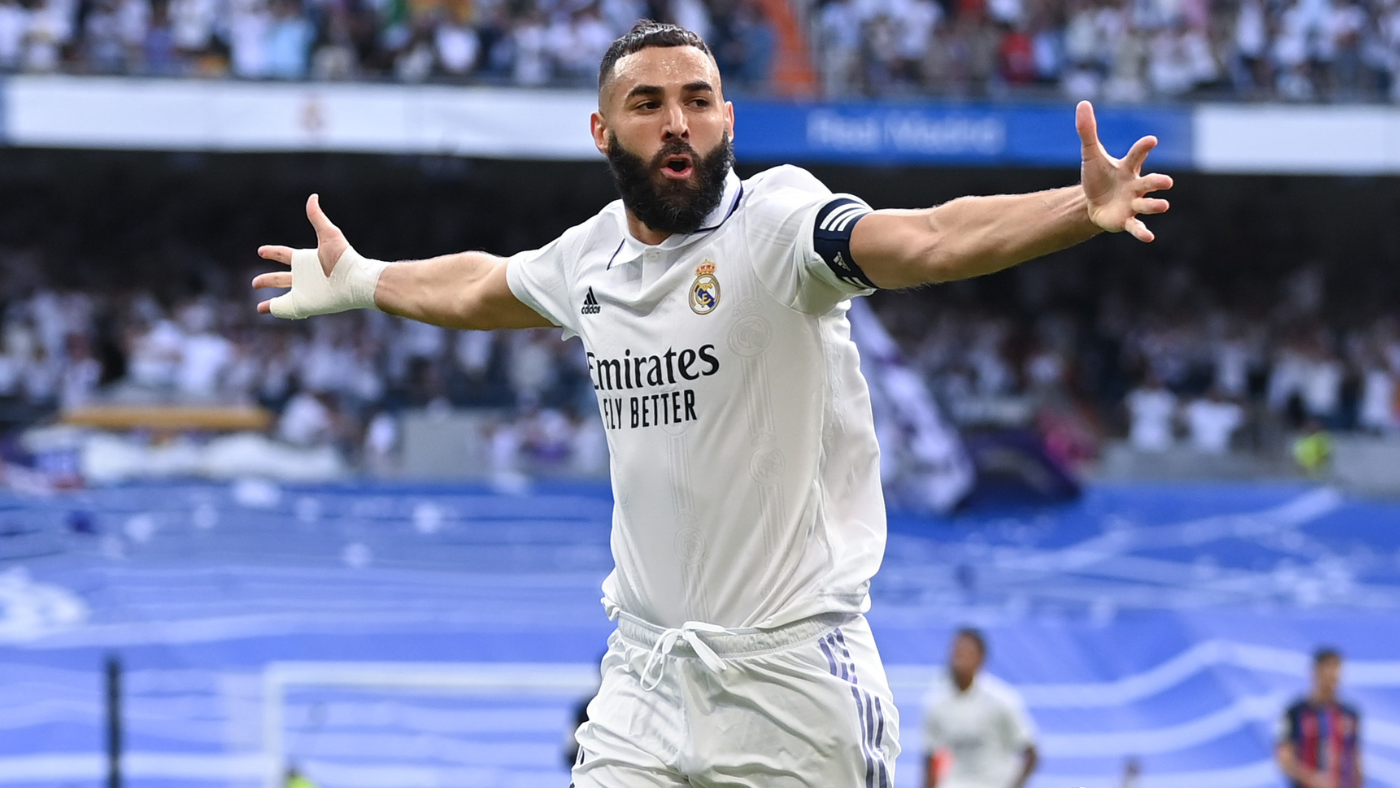 Karim Benzema should lead the line for Real Madrid on Wednesday when they face bitter rivals Barcelona in the second leg of their Copa del Rey semifinal. Los Blancos travel to Camp Nou to take on the Blaugrana in the fifth meeting between these two all season and this latest does of El Clasico will see one team reach the final.
Real are way off the pace being set by Barca in La Liga so Carlo Ancelotti's men need to overcome a 1-0 first leg deficit to have any hope of winning silverware in Spain and Benzema will be key to that. Coming into this midweek encounter, the 35-year-old is eighth for all-time Clasico goal on 13 and is within sight of Madrid legend Raul who sits fourth on the list with 15.
Only Lionel Messi, Alfredo Di Stefano and Cristiano Ronaldo rank higher than that and all are already legendary figures within this fixture. Two more goals in one of the world game's most renowned rivalries — now or potentially next season — would see Benzema write his name in the history books.
As a 2009 debutant in this fixture, the former Olympique Lyonnais man has also shared the field in these matches with a dizzying array of star names. Messi was obviously a fixture from the start up until recently while Benzema and Ronaldo also played alongside each other for a lengthy period of time and enjoyed highlights such as their 2014 and 2016 success — notably the latter on enemy turf at Camp Nou.
But let's take a trip down memory lane and chart the appearances which led Benzema to the brink of Clasico history and look at the rest of the cast of characters he shared the field with.
2009: Zlatan Ibrahimovic
Few soccer-based lists are complete without the imposing Swede and this one is no exception as he scored the only goal of the game in a 1-0 La Liga victory with plenty of star power on both sides. Thierry Henry and Carles Puyol were lining up for Barca while Real had the likes of Kaka and Gonzalo Higuain. In fact, Sergio Busquets — who could line up for the Catalan giants on Wednesday — was present as Benzema came off the bench for his Clasico debut 65 minutes in.
2010: Pep Guardiola's great Barca
Benzema's early years in El Clasico were pretty rough and he did not even score for the first two in the fixture, but part of that is explained by Barca's utter dominance around this period. A glance at the two sides from a 5-0 La Liga thrashing shows Mesut Ozil, Angel Di Maria and Ricardo Carvalho as some of the Frenchman's teammates up against one of the greatest Blaugrana sides in history led by Messi who did not even do the damage on this day with David Villa, now-head coach Xavi, and Pedro inflicting misery upon international teammates like Iker Casillas and Xabi Alonso.
2011: Benzema's first Clasico goal
It took over two years for Benzema to finally score against Barca but he did so in a 3-1 defeat which saw him open the scoring in the first minute, scoring the fastest goal in the history of the rivalry. Unfortunately, Cesc Fabregas, Alexis Sanchez and Xavi hit back to ensure that Benzema and fellow Frenchman Lassana Diarra were on the wrong end of the score line.
2013: Sergio Ramos
Two years later and Benzema scored once in a 2-1 victory over the old enemy with captain Sergio Ramos getting the late winner at Santiago Bernabeu either side of a Messi goal. Luka Modric and Alvaro Morata chipped in with the assists as the Frenchman was decisive in the fixture for the first time.
2013: Neymar
Later that year, it finished 2-1 again as Neymar was on target for Barca as they won in Catalonia with the Brazilian getting an assist for Sanchez too. Jese Rodriguez was Real's unlikely goal source that day with Benzema coming on for Gareth Bale after the hour mark. A 4-3 Barca win later that season would see a Messi hat-trick cancel out Benzema's double from Di Maria's pair of assists.
2014: Pepe
A 3-1 Real win saw Neymar's opener canceled out by Benzema, Ronaldo and Pepe's goal as Los Merengues swept to victory with the likes of James Rodriguez, Keylor Navas, Isco and Chicharito in the capital club's ranks.
2015: Luis Suarez
Barca retooled the following year and Luis Saurez added bite to the attack and scored the decisive goal when the two sides met at Camp Nou. Benzema assisted Ronaldo equalizer but it was ultimately not enough as the Uruguayan saw to it that the Blaugrana were victorious 2-1.
2018: Philippe Coutinho
However, Suarez was even more devastating three years later when Barca ran riot and stuck five goals past Thibaut Courtois in a 5-1 thrashing. The South American scored three times while Philippe Coutinho also got in on the act in a fleeting period as the club's new golden boy.
2020: Vincius Junior and Luka Modric
The Brazilian helped Real to a 2-0 win over Barca when he was teed up by Kroos at Santiago Bernabeu but even better came at Camp Nou with a 3-1 success. Modric came off the bench to add a goal and it was Ramos' final Clasico goal as Benzema assisted Fede Valverde's opener against the likes of Antoine Griezmann, Frenkie de Jong and even USMNT's Sergino Dest.
2021: Toni Kroos and Sergio Aguero
The German had already been delivering for Real for years by this point but he and Benzema both scored in a 2-1 home victory. Significantly, the French star had worked his way up to captaining the side for this one. Another 2-1 win followed with former Atletico Madrid rival Sergio Aguero scoring one of the final goals of his career.
2022: Pierre-Emerick Aubameyang and Robert Lewandowski
A spectacular 4-0 blowout at the hands of Barca saw Benzema-less Real well beaten as Pierre-Emerick Aubameyang scored twice. However, Benzema was back and skippering the side to a 3-1 win earlier this season with Aubameyang replaced by serial scorer Robert Lewandowski who is yet to open his account in the fixture.
Best NFL Jersey Shop – #Barcelona #Real #Madrid #Karim #Benzema #shared #Clasicos #stage #superstars #turn #shine
Publish Date:2023-04-05 00:55:21