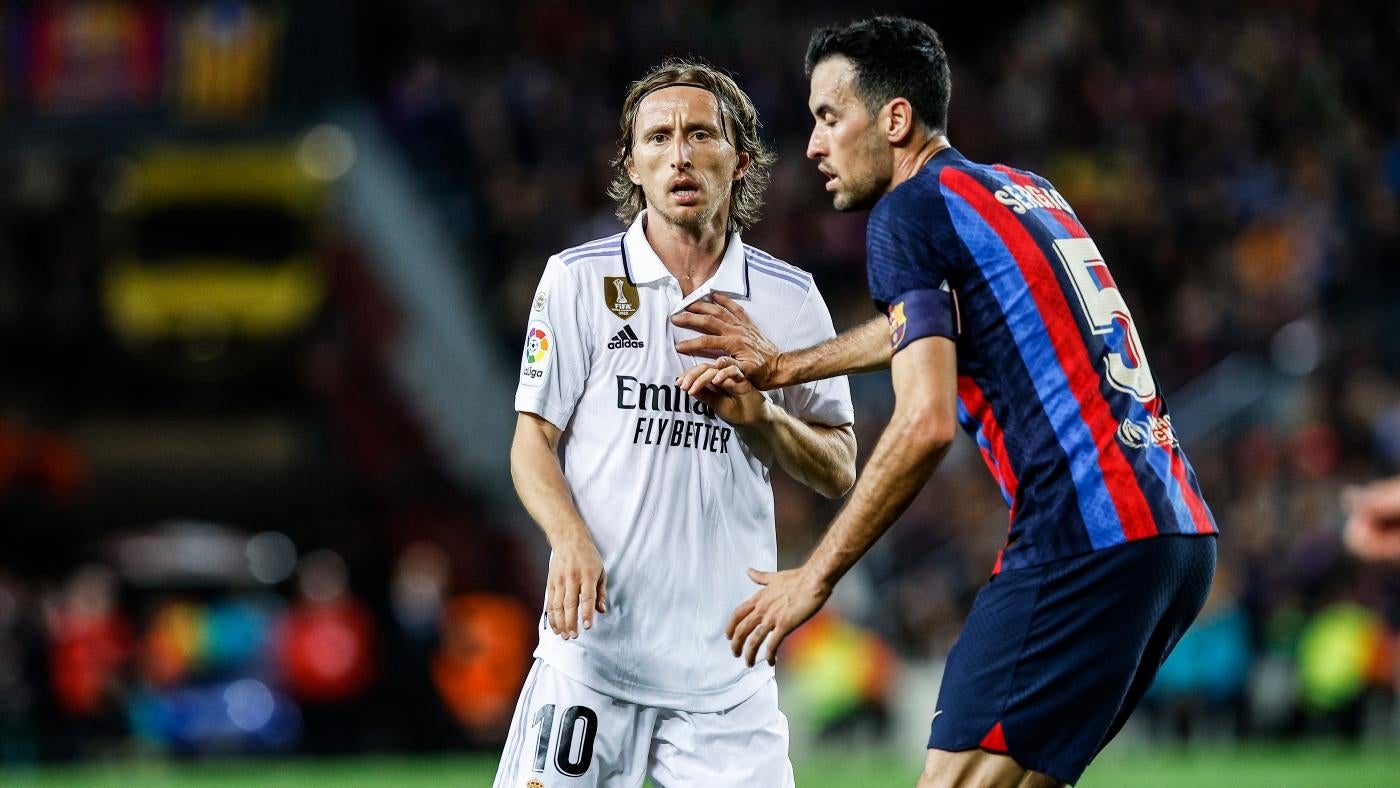 With the fifth El Clasico of the season set for Wednesday, it's beginning to feel like the end of an era for this version of Real Madrid. While Luka Modric is set to extend his contract for another season, things will be different as he turns 38. Modric is never someone who you can bet on slowing down but Real Madrid are a club beginning to turn things over to its youth.
With Aurelien Tchouameni already stepping in for Casemiro and Toni Kroos also rotating, the signs are there for Los Blancos reinventing which is one of the reasons that they're also off the pace of their rivals Barcelona in both La Liga and lost the Spanish Super Cup. Real Madrid can get one step closer to leveling the domestic trophy count with a win in Wednesday's match but it's clear that times are changing. Add in that manager Carlo Ancelotti is being courted by Brazil and the next edition of El Clasico could look quite different.
Even looking at the Barcelona side, Sergio Busquets is 34 and could be leaving in the summer while Real Madrid icons Modric, Kroos and Benzema also aren't getting any younger. We've already seen some of the future in Vinicus Jr, Eduardo Camavinga, Rodrygo, Fede Valverde, and Tchouameni but they haven't shown the consistency of the old guard to carry the Galactico name, at least domestically this season. 
Heading into this match behind by a goal with a chance at another trophy, it is a big chance for that group of young players. If they can spur a comeback that leads to a Copa Del Rey victory it could show that they have what it takes heading into a critical Champions League tie against Chelsea next week while another loss to their rivals just leads to more questions of what Real Madrid should do in the summer.
With the ability to get almost anyone that they want on the market, memories of what a player has done for Real Madrid can be short especially with PSG's instability possibly opening the door to recruit Kylian Mbappe again. But El Clasico is a big enough match to change perceptions of a situation. 
Real Madrid already dominated possession in the first leg of the Copa Del Rey despite losing 1-0, but not getting a shot on target during the match isn't like them. Despite this match taking place at the Camp Nou, Real Madrid could get the chance to dominate possession again in the tie with Frenkie de Jong being an injury doubt.
If they can make more of their possession advantage, it can help turn into the beginning of a nice send-off for the old guard but with a loss, the questions of how Real Madrid can reach Barca's current level will only continue to mount. 
How to watch and odds
Date: Wednesday, April 5 | Time: 3 p.m. ET
Location: Spotify Camp Nou — Barcelona, Spain
TV: None | Live stream: ESPN+
Odds: Barcelona +130; Draw +230; Real Madrid +195 (via Caesars Sportsbook)
Best NFL Jersey Shop – #Barcelona #Real #Madrid #Clasico #season #feels #Los #Blancos #guard
Publish Date:2023-04-05 06:01:19