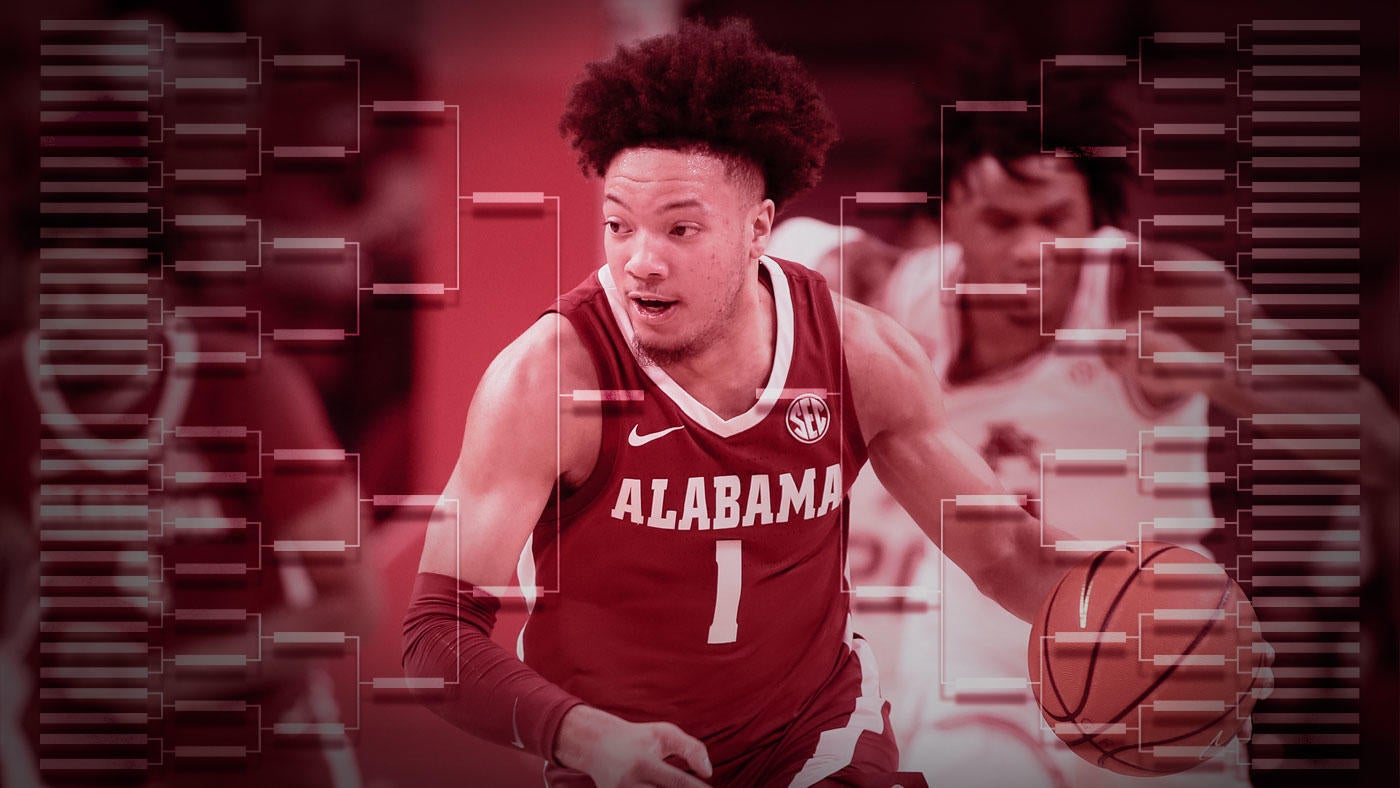 New to the top line of the bracket this week is Alabama, which checks in at No. 4 overall. The Crimson Tide keep stacking quality wins, most recently at Arkansas. That is their fifth Quad 1 win so far this season. Both of their losses are high Quad 1 as well.
There is still plenty of competition for the top of the bracket. UConn is a No. 2 seed despite three conference losses already. The Huskies have lost close games on the road to Xavier, Providence and most recently Marquette. You have to like their prospects going forward with those three games already off the schedule. UConn did so well outside the league that these losses have not damaged its profile significantly.
Kansas State, a new No. 2 seed, is having a remarkable season under first-year coach Jerome Tang. The Wildcats are 15-1 to start the season and have won at Texas and Baylor. Only a loss at Butler has kept them from an undefeated start.
Bracketology top seeds
Check out Palm's latest bracket, full field of 68 and all the teams on the bubble on the Bracketology hub.
Big 12 has big challenge to get all teams in field
I have heard it suggested that all 10 Big 12 teams could make the NCAA Tournament. That is because nine of them are in the top 45 of the NET and Texas Tech is 72nd. The theory is that as the teams play each other, their NET rankings will not suffer too badly and every game is a Quad 1 or Quad 2 game. The problem with that is that unless the last place team is something like 8-12, at least a couple of teams will simply not have good enough records to get picked for the field. Already, Oklahoma State is just two games above .500 overall and the Red Raiders, Oklahoma and West Virginia are only four games over. Those four teams are a combined 2-14 in conference play so far.
Big Ten faces similar issue
There are currently ten Big Ten teams are in this bracket and Indiana just missed. That number is probably not sustainable over the course of the rest of the season for much of the same reason I just talked about regarding the Big 12.
Also, there is a pretty sizeable gap between Purdue and the rest of the league at the moment. The next highest seeded team after the Boilermakers is Rutgers at No. 6. There are seven other teams seeded between Nos. 7 and 10. That pile will eventually sort itself out.
Ohio State would have been in top 25 territory if not for a loss at home to Minnesota, which was ranked 235th in the NET going into that game. Only Iowa's loss to Eastern Illinois and Michigan's loss to Central Michigan are worse losses for a Big Ten team this season.
It feels strange to put together a bracket and Kentucky is nowhere to be found. The Wildcats best win of the season came over Michigan, which is a Quad 2 game and also nowhere to be found in the bracket. They are 0-5 against Quad 1 opponents, but they now also have a Quad 4 loss. That came at home to South Carolina on Tuesday. The SEC will provide Kentucky a lot of chances to crawl out of this hole. Or, dig it even deeper.
Note: Now that college football is over, I will begin the usual schedule of twice-weekly brackets. They will appear on Mondays and Fridays until we get to championship week.
Best NFL Jersey Shop – #Bracketology #Alabama #moves #seed #replacing #Arizona #top #line #NCAA #Tournament #projection
Publish Date:2023-01-14 03:50:02