History repeated itself on Monday, when the New York Jets officially acquired star quarterback Aaron Rodgers in a blockbuster trade with the Green Bay Packers.
Fifteen years ago, the Jets traded for a different former Packers legend in quarterback Brett Favre. The move cleared the way for Rodgers to take over as the Packers' starter behind center after three seasons as a backup, much the same way that this year's move will allow Jordan Love to start following two seasons on the bench.
So if anyone is qualified to speak about what Rodgers is going through and what to expect from him with his new team, it's Favre.
Until Wednesday, Favre had remained mum. But with the deal finally done (Rodgers arrived at the Jets facility Wednesday morning and will be formally introduced this afternoon), Favre broke his silence.
In a text message to ESPN's Ed Werder, Favre expressed confidence in Rodgers and excitement about his fit with the Jets.
Brett Favre weighs in on Aaron Rodgers to the #Jets, via me and @WerderEdESPN. #Packers https://t.co/ZBzvfJU08Y

— Rich Cimini (@RichCimini) April 26, 2023
"Aaron will do great!!!!" Favre said, via Rich Cimini. "He will handle the transition as well as anyone. [He's a] very smart and instinctive person, on and off the field. In other words, you're not going to catch him by surprise very often.
"And I think [he's] the best at making everyone around him better. I would rather not bet at all than bet against him."
null
Favre was traded to the Jets prior to the 2008 season, when he was 38. He started the season strong but struggled down the stretch, due in part to a torn biceps tendon.
Favre threw an NFL-high 22 interceptions and the Jets went 9-7 and missed the playoffs. He retired after the season but ultimately signed with the Minnesota Vikings, where he played two more years.
Rodgers, meanwhile, saw his numbers dip as a 38-year-old in 2022 while the Packers missed the playoffs, but he is only a season removed from back-to-back MVP campaigns.
After their team gave up a lot of draft capital to acquire Rodgers, Jets fans will certainly hope Favre is right and that Rodgers can lead his new team to their first playoff berth since 2010 — and beyond.
(Purchase the Athlon Sports 2023 NFL Draft Guide here. With in-depth scouting reports on the top prospects, position rankings, and more, no source will have you better prepared for draft day. Purchase a copy online today, download the digital edition for instant access, or look for it on newsstands everywhere.)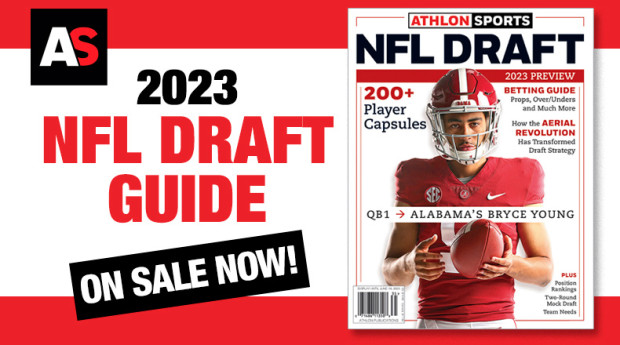 null
Best NFL Jersey Shop – #Brett #Favre #Finally #Reacted #Aaron #Rodgers #Joining #Jets #Good
Publish Date:2023-04-27 01:25:29