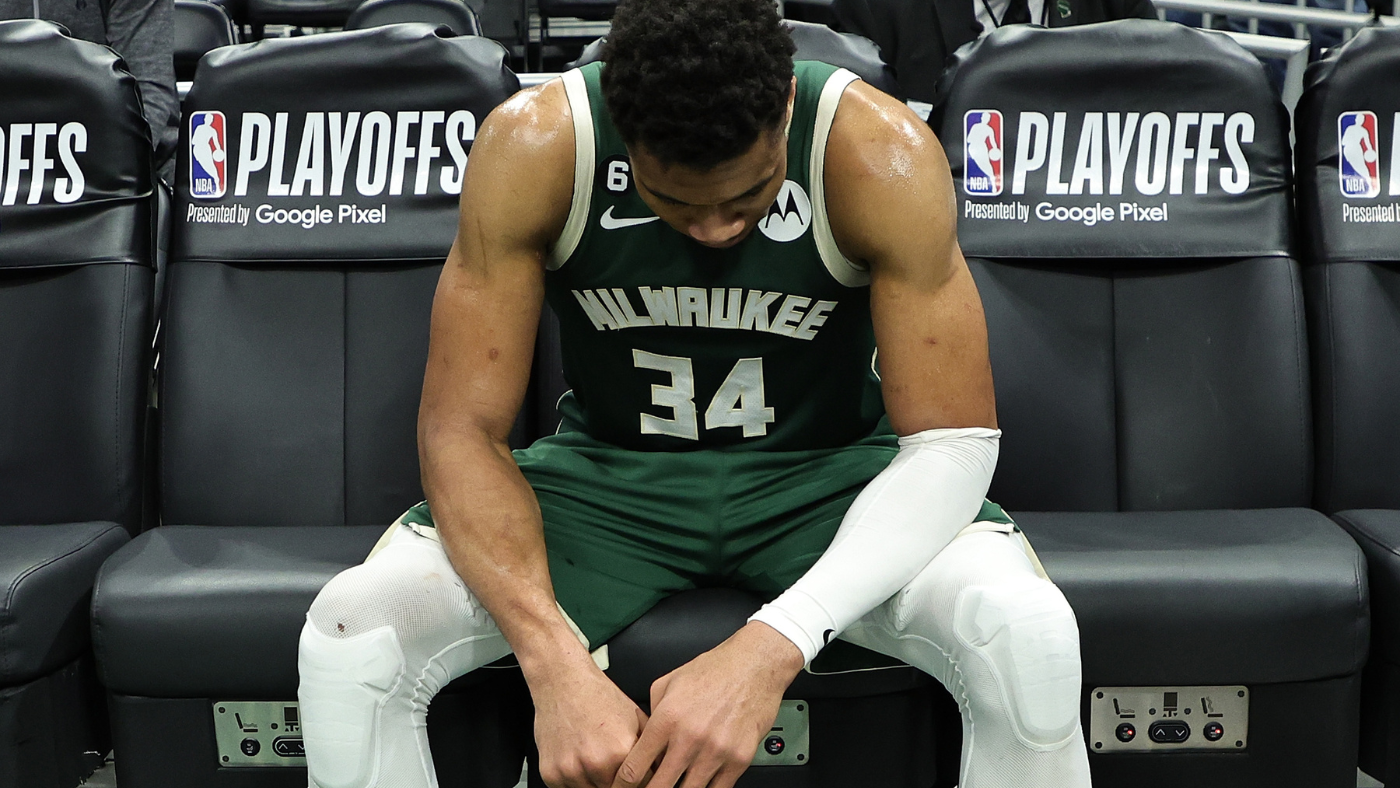 MILWAUKEE — Only one team's season ever ends as planned. The other 29 have to deal with defeat, whether in April, May or June. Whether they would ever admit it or not, many teams can see it coming for months or weeks. Some never see it coming until it's too late. And few have ever been as surprised like the Milwaukee Bucks, who were eliminated from the playoffs by the Miami Heat on Wednesday after a 128-126 overtime loss in Game 5 of their first-round series. 
"I feel like everybody was in shock in the locker room obviously," Giannis Antetokounmpo said. 
After blowing a 14-point lead in the fourth quarter of Game 4 on Monday to fall into a 1-3 hole, the Bucks were up by 16 to start the fourth quarter in Game 5. They seemed to be well on their way to a season-saving victory, until another confounding collapse doomed them to the infamous list of No. 1 seeds to lose in the first round. 
Here is a look back at how it happened:
12:00 — 8:26 (regulation): A scoreless stretch to start the quarter
The Bucks entered the fourth quarter with a 16-point lead — a sizeable advantage but not an insurmountable one, which made the first few minutes of the frame crucial. They needed to come out and, at the very least, maintain the lead over the first few minutes in order to drain the Heat's will (to the extent that is possible). 
Instead, it took them three minutes and thirty-four seconds to score a single point. During that stretch they were 0-of-6 from the field with two turnovers. The Heat weren't even that prolific themselves, but compared to zero points they were cruising and quickly cut the deficit to single digits. 
"To start the quarter we felt like there was a couple good opportunities that I've tried to play back that we didn't convert that felt like good opportunities," Mike Budenholzer said. "Couple turnovers to start the quarter in those first three, four minutes."
7:08 — 3:18 (regulation): The offense disappears again
If a three-plus minute scoreless stretch to start the quarter was bad, another one with just one point in the middle of the frame was a disaster. With just over seven minutes to play, Jrue Holiday hit a step-back 3-pointer to push the Bucks' lead back to 10, and it seemed, perhaps, that were back on track. 
But again, they went cold. Over nearly four minutes their only point came on a Giannis Antetokounmpo free throw, as they went 0-4 from the field and turned the ball over two more times. Again, the Heat were able to cut into the deficit, and made it a five-point game. 
"Obvoiusly it's a tight game, everyone tightens up," Joe Ingles told CBS Sports. "By this point everyone knows each other's s—. There's no secrets at that point. Obviously you're both trying to get stops; it's tough to score, it's tough to get stops. They got more of the stops than we did and were able to capitalize scoring a little bit."
3:05 — 2:11 (regulation): Butler takes over, ties the game
Based on the standards he set earlier in the series, Jimmy Butler's Game 5 was looking rather pedestrian entering the fourth quarter. But he's always capable of flipping a switch, which is what he did late in the fourth when he torched the Bucks for eight points in less than a minute and tied the game at 111-111. 
"Jimmy was a superstar, there's no other way to put it," Meyers Leonard told CBS Sports. "When you've got Jimmy and Bam and the rest of the guys and you roll the ball out, it doesn't matter what it says on paper, you still gotta go win the game."
The Bucks may have had the deeper, more talented squad, but no one in the series had an easier time getting a bucket when they really needed one than Butler, as he proved time and again. An even bigger issue for the Bucks is the speed with which he could go on game-changing bursts. 
0:8.4 (regulation): Vincent steps up
Perhaps the most overlooked aspect of the Heat comeback was Gabe Vincent's clutch 3-pointer with less than 10 seconds to play. For all of the Bucks' issues, they did still have a four-point lead with the shot clock turned off and it looked like they were going to escape. 
Then, Vincent raced down the floor and drained a pull-up triple to cut the deficit to one. He finished with 22 points and six assists, and was the Heat's second-leading scorer behind Butler. 
0:2.1 (regulation): Holiday continues the free throw troubles
For as bad as the Bucks' offense was at times on Wednesday, one thing they did do well was get to the free throw line. They earned a whopping 45 free throws, which was their most in a playoff game since 2001 and tied for the eighth-most free throw attempts in a playoff game in franchise history. 
Making them was the issue. The Bucks shot 28-of-45 from the line, with 13 of those misses coming from Antetokounmpo. By far the biggest miss of the game, though, was from Holiday, who only made one of two after getting fouled with 2.1 seconds to play. That left the Bucks up by just two and gave the Heat far more options on their final possession. 
"It's a hard feeling, it's a disappointing feeling." Budenholzer said of the free throw struggles. "I beleive and trust those guys and we all gotta be better."
0:0.5 (regulation): Butler ties it, Bucks don't call timeout
After Holiday's missed free throw, the Heat had the ball down two with 2.1 seconds to play. While they had limited time, they did have the option to go for the win or the tie, and they opted for the latter. Vincent threw a perfect pass to the rim and Butler caught it and tossed it in all in one motion. 
It was notable that just before the inbound, the Bucks subbed Brook Lopez out of the game, and didn't have anyone in to protect the rim. 
"Down two, you can go for the win with three, or they obviously got the play at the rim," Budenholzer said. "They had five guards or wings, so we matched that."
Butler's shot seemed to stun the Bucks, who simply inbounded the ball and let the last 0.5 seconds run off the clock even though they had a timeout remaining. Even with less than a second left they could have attempted a tip-in or tried to draw a foul. 
"Yeah, we need to call a timeout there," Budenholzer said.
0:0.0 (overtime): Allen runs out the clock
With less than two minutes to play in overtime, the Bucks trailed by seven and seemed to be out of luck. But suddenly their offense came to life, the Heat made a few mistakes, and with less than 10 seconds left they had the ball down by two with a chance to tie. 
They never got a shot off. 
Antetokounmpo's drive was cut off, Middleton didn't like the look he had and the ball wound up in the hands of Grayson Allen, who tried to get to the basket but ran out of time. 
"No [I didn't think about calling a timeout]," Budenholzer said. "Giannis attacked, Giannis got the ball to Khris, Khris attacked. That's how we always play. Khris been very good for us. We weren't able to convert it tonight." 
Epilogue: A failure?
The Bucks won 58 games in the regular season despite various injuries, earned the No. 1 overall seed in the playoffs and were expected to compete for a title. Instead, they joined the ignominious list of No. 1 seeds to lose in the first round. There were some complicating factors involved, namely Antetokounmpo's back injury which kept him out of the majority of the first three games. Still, it was a massive disappointment to lose to a Heat team that barely got through the play-in tournament. 
But does it qualify as a failure? No, according to Antetokounmpo, though he did admit this was his "worst postseason ever."
"Michael Jordan played 15 years, won six championships," Antetokounmpo said. "The other nine years was a failure? That's what you're telling me? Exactly, so why are you asking me that question? It's the wrong question. There's no failure in sports. There's good days, bad days. Some days you're able to be successful, some days you're not. Some days it's your turn, some times it's not your turn. That's what sports is about. Sometimes other people win. This year, somebody else is gonna win. Simple as that. 
"We're gonna come back next year, try to be better, try to build good habits, try to play better, not have a 10 day sretch playing bad basketball. Hopefully we can win a championship. Fifty years — 1971 until 2021 that we didn't win a championship — it was fifty years of failure? No it was not. There were steps to it. We were able to win one, hopefully we can win another one."
Best NFL Jersey Shop – #Bucks #Heat #Milwaukees #stunning #playoffousting #Game #collapse #transpired
Publish Date:2023-04-27 16:13:44