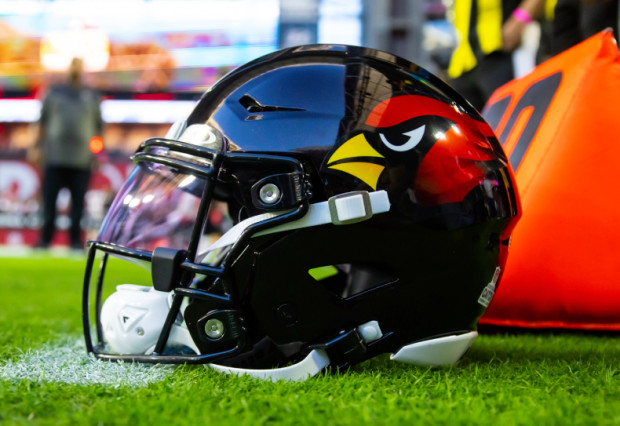 It wasn't bad enough that fans had to wait through a seemingly endless rah-rah session with new head coach Jonathan Gannon before finally getting a glimpse at the Arizona Cardinals new uniforms Thursday night.
When the moment finally came, the new threads were far more whimper than bang.
Despite all the hyped-up PR speak lavished upon the nine players who modeled Arizona's three new uniform combinations during Thursday night's event, the uniforms themselves left much to be desired.
For starters, the fact that black and silver are two of the Cardinals' three colors makes absolutely no sense for a team based in Arizona. How do those colors invoke anything about the desert in the slightest bit? The team missed golden opportunity to refine their color palette with some sort of desert sand or rose gold or something that made you feel like this team knows all about the dry heat.
The moment you've all been waiting for. pic.twitter.com/6Bio5r9KwY

— Arizona Cardinals (@AZCardinals) April 21, 2023
All-black uniforms are usually an easy win, but Arizona's third alternate getup also features "Tough Red" numbers, a dark red that's not the easiest to see on a black jersey, even with silver outlining.
And yes, let's not forget about the "perforated" numbers. Who looked at the Washington Commanders' digits and thought, "Yeah, let's do THAT?" It takes what's supposed to be a "classic" look and makes it look gimmicky.
The numbers themselves don't move the needle, either. Arizona missed another opportunity to have a more stylized font that reflected their nickname, something with flared or otherwise wing-adjacent elements to the digits.
The all-red home uniforms are the only combo that feature the word "ARIZONA" across the front. I'm all for representing the home state/city, but this makes the whole redesign look less . . . uniform. It's also set way too close to the numbers, and makes me feel like I need to click my cursor on it and just drag it up a little.
— Arizona Cardinals (@AZCardinals) April 21, 2023
It's not all bad, though.
The all-white look is solid, especially with a spruced-up helmet that features a bigger, better logo, and silver metal flakes sparkling throughout the shell. The classic striping on the pants and shoulders looks good, and the team branding slogans and word marks on the inside collars are a nice touch.
Obviously, this could have been so much worse (see the Tampa Bay Buccaneers in 2014, or the current New York Jets), but it definitely could have been much better. Arizona missed some opportunities to branch out on the color scheme in a way that was more reflective of their geography, and some of the design elements fall flat instead of giving added flair that was there for the taking.
Overall, it's definitely an improvement over their outdated look that's been ripe for a redesign. But they could have done more with it, and they're not the only team that can say that in recent years.
Best NFL Jersey Shop – #Cardinals #Latest #NFL #Team #Fail #Uniform #Redesign
Publish Date:2023-04-21 21:26:14