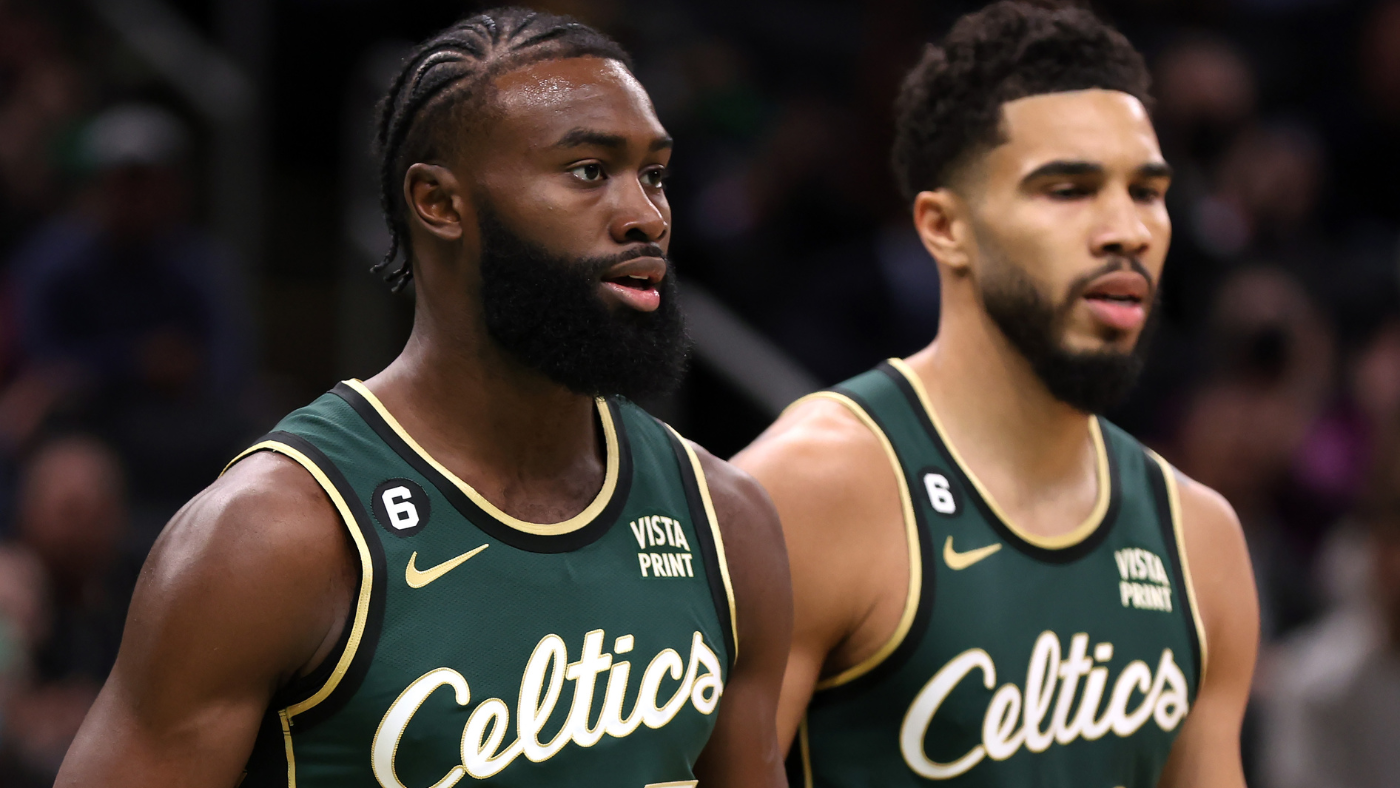 Boston Celtics star Jaylen Brown sat down for yet another lengthy interview on Tuesday, this one with Shams Charania. During the conversation, he discussed his relationship with multiple teammates, including Jayson Tatum, with whom he's been playing alongside for six seasons. 
Tatum and Brown's partnership has long been dissected, in both the local and national media. Though they've made the playoffs together every single season since they started playing together in 2017, there have, at various points, been calls to break them up and try something new. 
"I get why people always try to break up duos," Brown said. "Because so far, [Jayson and I] have been incredibly successful. Hopefully we can be even more, the only thing that would put the ribbon on top would be a championship."
While Tatum has been the proverbial favorite son since his arrival in 2017, and grown into the bigger star in recent years, Brown said that hasn't changed things between them.  
"I think we both love this game tremendously and want to continue to improve," Brown said. "We compete, push each other, we learn from each other. I think a lot of our relationship has been built off of that dynamic of respect. I think that's the beautiful part of it. JT, I get to see him come into work every single day and prepare. He gets to see me come in every day and prepare.
"Jayson being the ultimate version of him doesn't stop me from being the ultimate version of myself. Him scoring 50 points, him being MVP, him being All-Star MVP, all of that is celebrated. Him getting the gold medal, you can see pictures of me celebrating his gold medal with him. That brings genuine joy for me and I appreciate him sharing those moments. At this point, we're a part of each other's destiny in a sense."
Tatum and Brown will indeed be intertwined no matter how long they keep playing together. With Brown signed until 2024, they should have at least two more playoff runs, but beyond that is anyone's guess. 
Brown's contract situation is complicated. Unless he makes an All-NBA team this season, he'll be able to make significantly more money by waiting to hit unrestricted free agency in 2024, at which point he'd be able to sign with any team. Then there are some of his recent comments about his experience in Boston, which has not always been the best. He criticized a portion of the fanbase for being "toxic" and when asked by The Ringer about his future, he said he didn't know how long he'd stay in Boston. 
"We'll see how they feel about me over time and I feel about them over time," Brown said. "Hopefully, whatever it is, it makes sense. I will stay where I'm wanted. I will stay where I'm needed and treated correct."
The possibility of Brown leaving next year only adds to the pressure that the Celtics face heading into the playoffs. This could be one of Tatum and Brown's last opportunities to win a title together. 
Best NFL Jersey Shop – #Celtics #Jaylen #Brown #partnership #Jayson #Tatum #people #break #duos
Publish Date:2023-04-05 08:36:42