The 2023 NFL Draft is almost upon us, and many eyes will be on what the rebuilding Chicago Bears will do this weekend. After trading down from the No. 1 pick, they have 10 total selections for this year's draft, including the 9th overall pick.
The Bears used free agency to boost talent at a handful of key positions, but the draft is where they'll find core players for their future. Draft weekend will be the key to deciding if the Bears can return to the postseason for the first time since 2020. Here are five players that could help push the Bears back in the right direction.
Will Anderson Jr., OLB, Alabama
He'll most likely be the first defensive player chosen in this draft, and some say he's the best prospect of the class, therefore he likely be available when the Bears pick ninth. But should he somehow still be available, choosing Anderson is a no-brainer for the Bears. Anderson was, hands down, the best defensive player in college football over the last two seasons as evidenced by his back-to-back SEC Defensive Player of the Year selections (2021-22), three All-SEC honors (2020-22), two All-America selections (2021-22), and six individual awards with the 2020 CFP National Championship.
That's on top of the fact that he racked up 204 tackles, 58.5 tackles for loss, and 34.5 sacks in a Crimson Tide uniform. He's a machine against both the run and pass, and it would be no surprise if he's next season's Defensive Rookie of the Year. He can rush the QB from two- and three-point stances. And while the Bears run a 4-3 defense as opposed to Alabama's 3-3-5 alignment, it's easy to see the Bears using Anderson the same way the Dallas Cowboys use Micah Parsons.
Jalen Carter, DT, Georgia
Carter is considered the No. 2 defensive prospect behind Anderson, but there's a chance he'll still be available when the Bears pick at No. 9 in part due to off-the-field issues. On the field, though, Carter's talent is undeniable. During his three seasons in Athens, Carter accounted for 83 tackles, 18.5 tackles for a loss, 6.0 sacks, four pass deflections, and two forced fumbles. Carter would be a huge force against the run, which would bode well for a Bears team that had the NFL's second-worst run defense last season (157.3 ypg).
Peter Skoronski, OT, Northwestern
Should the Bears choose to boost their offensive line with their first pick, then why not take the player many consider to be the best offensive tackle in this year's draft? Skoronski grew up in the Chicago area before playing at NU, so joining the Bears would allow him to stay home. He played in 33 games at left tackle for the Wildcats, didn't give up many sacks, rarely let pass rushers get by him, was a three-time All-Big Ten selection. Skoronski would shore up Justin Fields' blind side, which is a major key considering the Bears allowed 58 sacks last year, fourth most in the NFL.
Alex Palczewski, OL, Illinois
If Skoronski isn't available, Palczewski would be a good sleeper pick later in the draft for the Bears. During his time with the Fighting Illini, Palczewski started 49 games at tackle, and 16 games at guard. NFL teams these days covet linemen who have the flexibility to play multiple positions. He didn't allow a single sack last year, was named to six different All-America teams, and, like Skoronski is also a lifelong Chicago-area resident.
Tyree Wilson, DE, Texas Tech
If the Bears still want to boost their defense with the No. 9 pick but neither Anderson nor Carter are available, then Wilson should be their pick. At Texas A&M and Texas Tech, Wilson combined to record 121 tackles, 32.0 TFLs, and 17.0 sacks. Although he doesn't have the production of Anderson, or the presence of Carter, Wilson would still give this Bears pass rush a much-needed lift.
— Written by Gabe Salgado, who is part of the Athlon Contributor Network. He's also written for NBC, Fox, The Sporting News, The Sports Journal, The Undefeated and Complex. He can also be heard on WGN Radio. Follow him on Twitter @GabeSalgado82.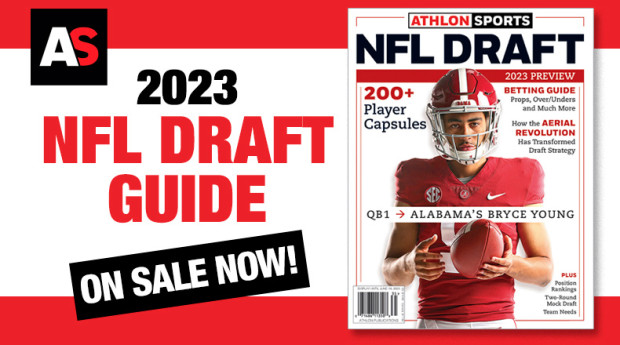 Best NFL Jersey Shop – #Chicago #Bears #Players #Target #NFL #Draft
Publish Date:2023-04-26 21:30:00