Less than a week remains before the 2023 NFL Draft kicks off, which means you should take everything you hear about any of this year's prospects with a gigantic brick of salt.
Smokescreens and false trails are hallmarks of the predraft process every year, but the closer we get to the three-day event itself, it feels like the rumor mill always gets cranked up to 11, and this year appears to be no exception.
The latest target of questionable, 11th-hour rumors is Ohio State quarterback C.J. Stroud, who seems to have gone from potential No. 1 overall pick to a prime candidate for freefall on draft day in a matter of hours.
First, there was the idea that the Houston Texans might not be sold on Stroud at No. 2 overall, and could prefer to go defense instead.
That prompted this "report" from Fox Sports analyst (and former first-round bust) Brady Quinn:
Report: CJ Stroud made a commitment to the Manning Passing Academy but "the night before he ghosted them and didn't show up", per @Brady_Quinn

"When you do that, that's gonna set up alarms for people."

Quinn noted that as one of three concerns with Stroud (h/t @PanthersAnalyst) pic.twitter.com/z2Y9gAPbFe

— Dov Kleiman (@NFL_DovKleiman) April 19, 2023
Denials and criticism came swiftly in the direction of Quinn, from the likes of Miami Dolphins star cornerback Jalen Ramsey, as well as former NFL DB and current ESPN analyst Ryan Clark:
Fake story! Tryna beak a kid down before the draft is lame, especially for not going to a camp that I'm sure he wasn't getting paid for & instead working with his teammates! Plus @Brady_Quinn , you was a bust, shut up! You shoulda went to a passing academy or 2!
God bless tho 🤟🏾 https://t.co/vUZDe57dO4

— Jalen Ramsey (@jalenramsey) April 20, 2023
This is an example of analyst like @Brady_Quinn telling stories of 0 value to diminish a man's character while validating his own. Instead of dissecting film, or speaking to coaches an adult man stooped to gossip while analyzing. It's an immature evaluation of football integrity https://t.co/3ijng1787q

— Ryan Clark (@Realrclark25) April 20, 2023
& he's shown exemplary leadership ability. Former teammates & coaches rave of his unselfishness. I didn't question your work ethic. I pointed out your decision to use gossip as a qualifier instead of ALL the time you put into your craft. That's a YOU decision.

— Ryan Clark (@Realrclark25) April 20, 2023
Then there's the annual leak of "cognition test" scores, a persistent scourge on the predraft process.
S2 Cognition test results per @BobMcGinn:

Bryce Young – 98%
Jake Haener – 96%
Will Levis – 93%
Jaren Hall – 93%
Clayton Tune – 84%
Anthony Richardson – 79%
Hendon Hooker – 46%
CJ Stroud – 18%

— Shane P. Hallam (@ShanePHallam) April 21, 2023
After it looked like we had finally left the dreaded Wonderlic score in the past when trying to determine a the mental prowess of a quarterback prospect, this new test has emerged to have a similar vibe in the predraft world.
At this point, some folks have got to be wondering whether or not any of his teammates came to his birthday party.
If you want to know whether or not Stroud is worthy of consideration for the No. 1 overall pick, or the No. 2 overall pick, or simply the right to be your favorite team's franchise quarterback of both the present and future, I invite you go back and watch him play football.
Watch him carve up the nation's most dominant defense in a College Football Playoff game he should have won, it not for a shanked field goal in the final seconds against the eventual back-to-back national champs.
Watch him dominate Big 10 defenses with poise, anticipation, accuracy, decision-making, and all those other things that actually matter when it comes to playing the game's most important position.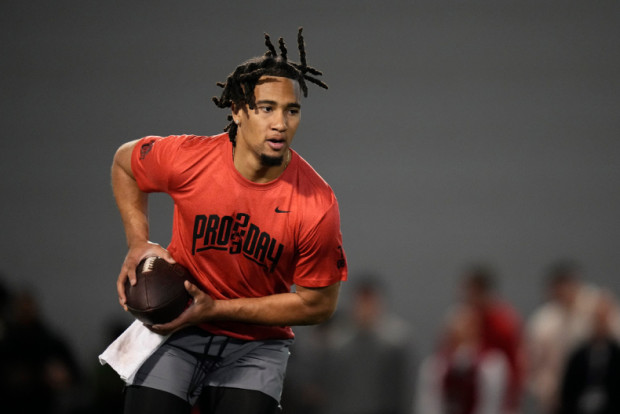 If the Carolina Panthers want to take Bryce Young instead, fine. They're close, but it makes sense.
If the Houston Texans want to take Will Anderson Jr. instead, I get it. I would take the quarterback, but I get it.
Heck, if either of those teams prefers the sky-high upside of Anthony Richardson, I would totally understand.
But if you don't think that after two years of quality film and production, as well as impressive predraft workouts, that Stroud isn't a polished and pro-ready passer who can be a Week 1 starter and massive upgrade for a long list of teams, all because of some last-minute rumors from a TV analyst or Wonderlic 2.0, I don't know what to tell you.
Best NFL Jersey Shop – #Don039t #LastMinute #C.J #Stroud #Rumors #Fool
Publish Date:2023-04-21 23:22:54