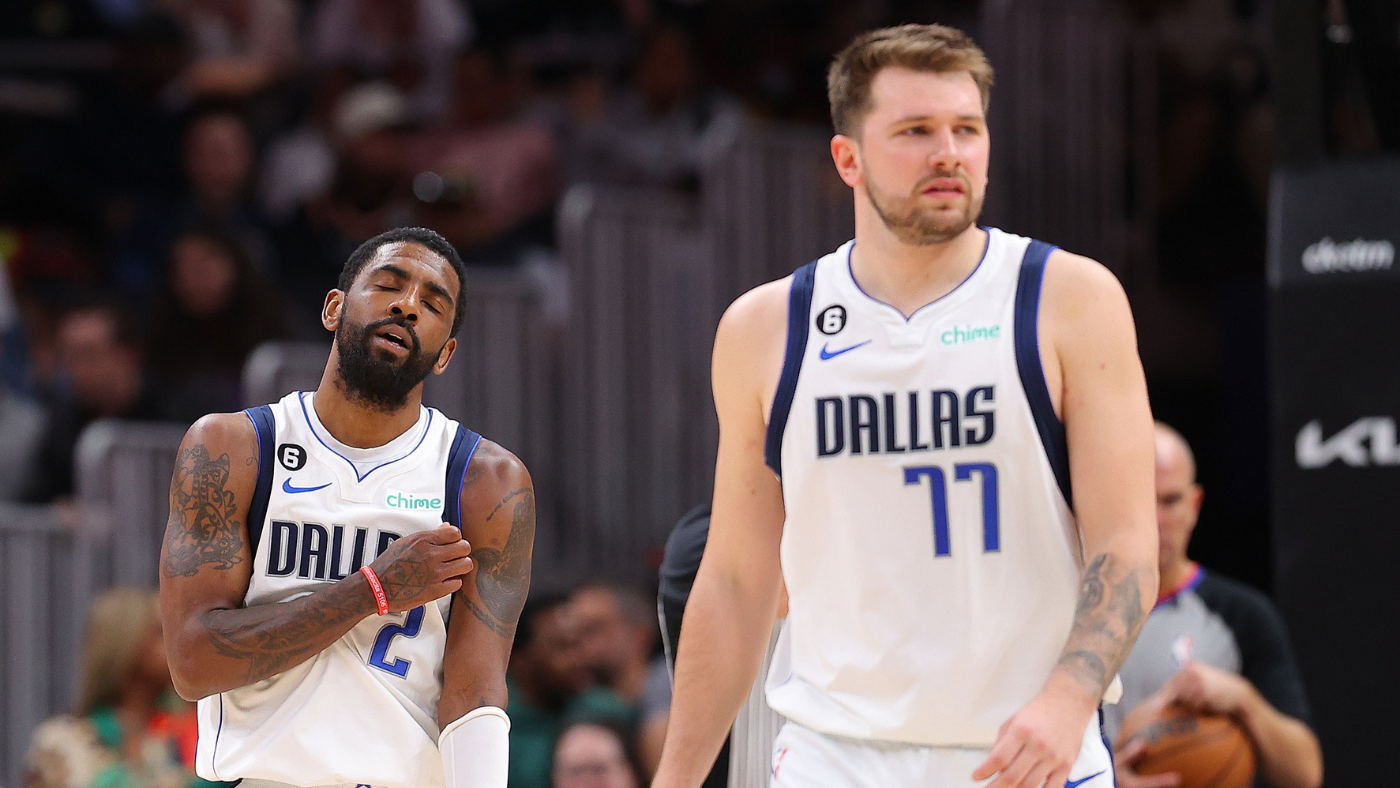 "A, B, C. A – Always. B – Be. C – Closing. Always Be Closing. ALWAYS BE CLOSING."
The famous line by Alec Baldwin's character in "Glengarry Glen Ross" has not been the mantra of the Dallas Mavericks during their late-season collapse that has dropped them to the brink of being eliminated from postseason contention. They are a half-game behind the Thunder for the last play-in spot, with only three games left to play.
Dallas has an 8-16 record since Kyrie Irving made his team debut. That record doesn't seem possible when you consider that 19 of their 24 games have come down to clutch time, when the game is within five points in the final five minutes. 
Almost all of the Mavericks' games have been winnable, with two of the most dangerous offensive weapons in the sport, yet they've consistently fallen short.
The Mavericks had a 20-14 record in clutch time before the Irving trade, tied for the most wins in the NBA. They have a 5-14 record in those situations since, five more losses than any other team.
Their clutch-time record is even worse, 2-11, when both Doncic and Irving play, including six straight losses in those late, close games.
Perhaps the final sequence to end a Mavericks' loss in just their second game as teammates best sums it up.
The blame hardly falls on Irving's shoulders. He's proven plenty capable of making big shots throughout his career. (Game 7 of the 2016 Finals anyone?) This will be the first time one of his teams has had a losing record in clutch time since the 2013-14 Cavaliers, which is before James' return to Cleveland.
Like always, Irving has put up numbers, and clutch time with Dallas has been no exception. He has been the primary playmaker for Dallas down the stretch, while Doncic has been more of a facilitator, scoring roughly 15 points per 36 minutes in the clutch since the trade, making just one-third of his shots. He was scoring over 30 points per 36 minutes in these situations before the trade.
Mavs' clutch time since Irving's arrival
Points per 36 min

30.2

15.7

FG pct

46%

33%

Usage pct

34%

26%
Perhaps playing second fiddle to Irving down the stretch has not suited Doncic. He is 0-9 on game-tying or go-ahead shots in the final three minutes of the fourth quarter, or in overtime, since the deal.
Whatever the reason, the recipe hasn't worked for the Mavericks, who are just 20th in offensive rating during clutch time since the trade, but a top 10 unit the rest of the game. Their offense is not nearly good enough to overcome a defense that can't get stops late in the game. 
Sunday's 132-130 overtime loss to the Hawks may have been the final straw. Doncic and Irving combined to shoot 1 of 6 from the field in the extra session of a virtual must-win game. They combined to miss difficult shots on three straight possessions early in overtime, before ultimately losing on a controversial foul call on Irving, followed by Doncic's missed buzzer-beater. 
"We've just been losing tough ones, emotionally draining, but at the same time we're professionals," Irving told the Dallas Morning News. "So I think the fun part of it is we still have a glimmer of hope, a glimmer of light at the end of the tunnel of where we can still sneak in.
"But at the same time, I'm at peace with just our effort, with spurts throughout the games. We've just got to be able to finish better as a team."
Unfortunately for the Mavericks, they might be out of time to fix their late-game issues. When the margin between winning and losing is razor thin late in games, Dallas' duo hasn't been good enough.
Best NFL Jersey Shop – #Mavericks #woes #highlighted #inability #solve #Luka #DoncicKyrie #Irving #clutchtime #calculation
Publish Date:2023-04-06 00:26:49