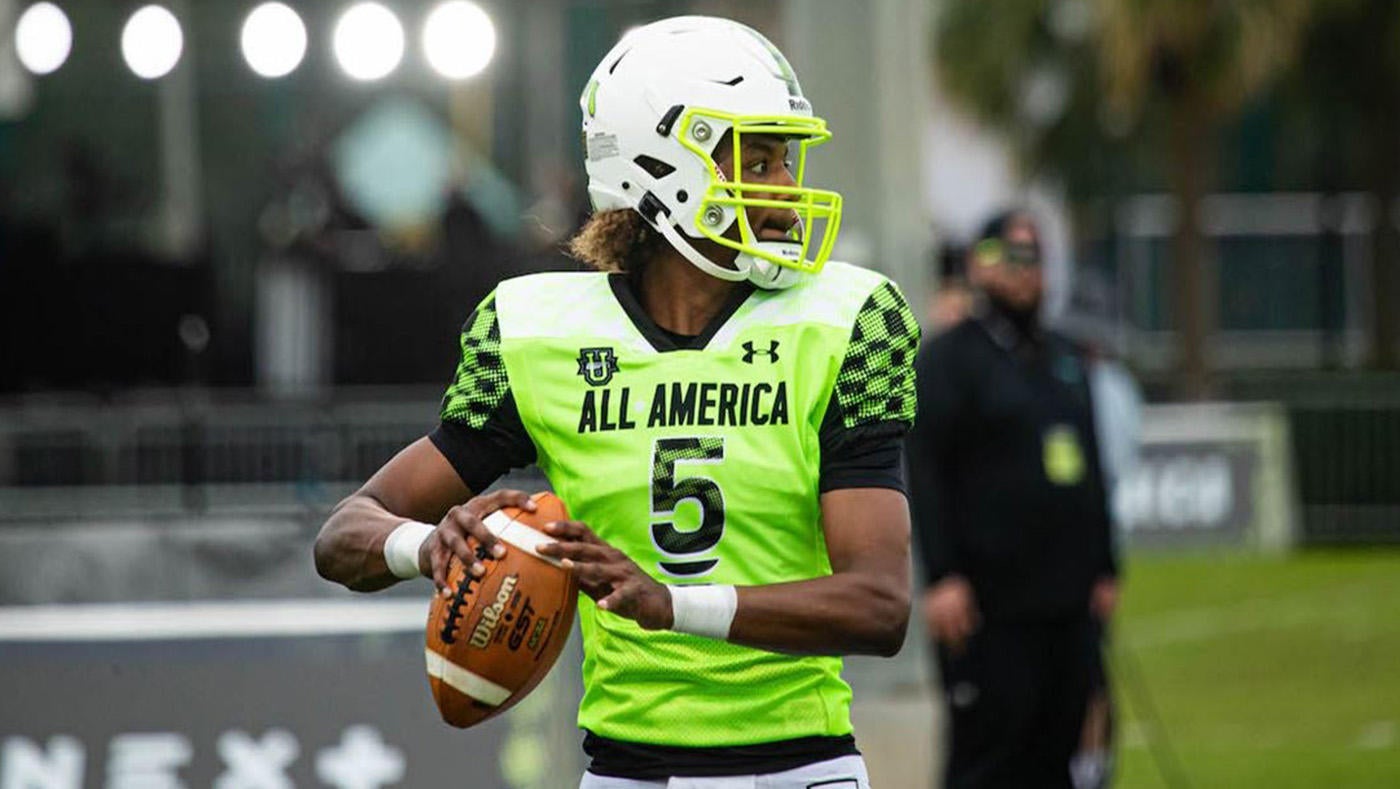 Four-star quarterback Jaden Rashada, the No. 44 overall player and sixth-ranked quarterback in the Class of 2023, announced his commitment to Arizona State during National Signing Day on Wednesday, wrapping up one of the wildest recruiting stories of this cycle. Rashada took an official visit to Tempe, Arizona, to meet with the Sun Devils staff the weekend of Jan. 21. He also visited national runner-up TCU this past weekend, according to 247Sports.
"Just want to keep this short and let it be known I'll be attending Arizona State University, my childhood dream school, my father's alma mater, a place where I'm happy and a school where the Head Coach has always had my back!" Rashada wrote in his announcement.
A 6-foot-4, 175-pounder who signed with Florida as the early signing period opened on Dec. 21, 2022, Rashada began to raise eyebrows when he failed to enroll in classes for the spring semester after signing his National Letter of Intent with the Gators. Rashada's father, Harlen, suggested at the time that the relationship between his son and the school soured between the early signing period and the beginning of January. 
Rashada eventually requested a release from his NLI with Florida. The school granted that request on Jan. 20 as rumors of issues involving name, image and likeness agreements persisted. The Pittsburg, California, native originally committed to Miami in June 2022 over Florida, LSU, Ole Miss and Texas A&M but flipped his choice to the Gators in November 2022.
Chris Singletary, national recruiting analyst for 247Sports, provided this scouting report on Rashada.
Owns a frame and build that can add ample weight and strength. Has the mold to add at least 20 pounds of muscle easily. As he matures and gets stronger it will benefit his durability, long-term ability, and development. Stands tall in the pocket with the mobility to avoid the rush and buy time to make plays under pressure. Poised and does a nice job making plays off platform. Mechanically displays a smooth, effortless throwing motion. Gets the ball out quickly, generating power from his lower body to have the ball snap out of his hand. Does a good job changing speeds and adding touch on throws when need be, to either fit the pass into tight windows or to complete throws over defenders.
Rashada choosing Arizona State shouldn't necessarily come as a surprise. Harlen Rashada played defensive back for the Sun Devils in the mid-1990s, and first-year coach Kenny Dillingham isn't exactly a stranger to the family, according to 247Sports director of recruiting Steve Wiltfong
"New head coach Kenny Dillingham recruited Rashada when he was the offensive coordinator at Oregon and has a long-standing relationship with the blue-chip signal-caller and his family," wrote Wiltfong. "The Sun Devils did not sign a quarterback this senior class but did land former Notre Dame starter Drew Pyne from the transfer portal."
Rashada threw for 5,687 yards and tossed 67 touchdowns during his high school career, was a finalist at the Elite 11 camp and played in the Under Armour All-America Game.
Best NFL Jersey Shop – #Jaden #Rashada #commits #Arizona #State #Fourstar #exFlorida #signee #joins #Sun #Devils #class
Publish Date:2023-02-02 00:27:58