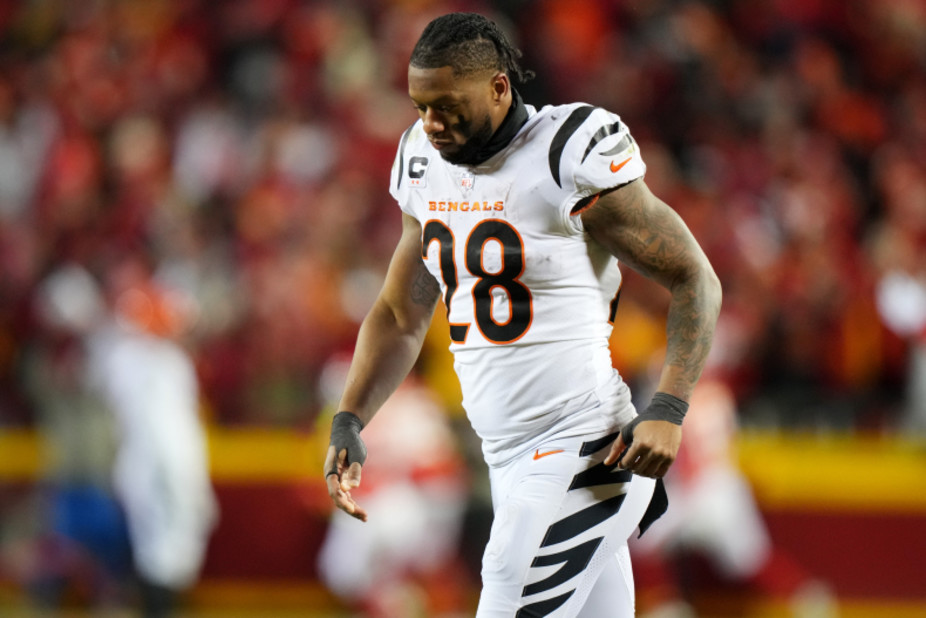 Last week, a teenager was struck by a bullet after a shooting occurred outside Cincinnati Bengals running back Joe Mixon's home.
It was later revealed that a group of kids were playing a game of "Nerf wars" outside Mixon's home and that Mixon's sister, Shalonda Mixon, was a suspect in the shooting.
Shalonda and her boyfriend, Lamonte Brewer, have since been charged with crimes and indicted by a grand jury as a result. Per WCPO, Brewer was indicted on one count of felonious assault, one count of tampering with evidence and two counts of having a weapon under disability. Shalonda Mixon has been indicted on one count of tampering with evidence and one count of obstructing justice.
Police do not plan to press charges on Mixon as a result of the incident. Peter Schaffer, Mixon's agent, relayed that news Thursday.
He also provided some context about the incident that had not been previously reported.
Schaffer released a statement in which he claims that Mixon had been receiving threats after his address was released to the public. As a result, when "a number of vehicles pulled up in front of Joe's house and blocked the street," per Schaffer, Mixon and his family became concerned.
Statement from #Bengals RB Joe Mixon's agent, Peter Schaffer, on the decision by the Hamilton County Prosecutor not to file charges against Mixon based on an incident at Mixon's house on March 6. pic.twitter.com/Qj7Z1jsnfw

— Tom Pelissero (@TomPelissero) March 16, 2023
"Threats against your life, cars blocking the streets, people running through the neighborhood with what appear to be firearms. Joe and his physical therapist felt threatened and feared for their safety and the safety of the small children in the residence," Schaffer wrote. "At this time, Joe called the Bengals director of security to have police dispatched immediately to the residence as he feared for the wellbeing of everyone in the residence. The physical therapist called 911 from a separate room. This 911 call recording has been made public and clearly shows the level of fear and concern in his voice from the situation as he was hiding behind a column in the house."
"Joe went outside for the purpose of trying to figure out what was going on outside the house. Joe had no intention to confront anyone, nor did he. He did not intend to threaten anyone, nor did he. He did not intend to shoot anyone, nor did he. He witnessed an individual carrying what appeared to be a rifle racing directly towards his property as the individual continued to bark instructions. What another individual discharged a firearm, Joe interceded to stop that person discharging a firearm."
Schaffer's statement acknowledges that "an immense tragedy was narrowly avoided in this instance."
The incident marked the second time in recent months that Mixon has come under legal scrutiny. An arrest warrant was issued for him on Feb. 2, alleging that he threatened a woman with a firearm, but the charges were promptly dropped.
We will continue to monitor the legal situation surrounding Shalonda Mixon and Brewer.
Best NFL Jersey Shop – #Joe #Mixon039s #Attorney #Releases #Statement #Shooting #Incident
Publish Date:2023-03-17 02:46:00