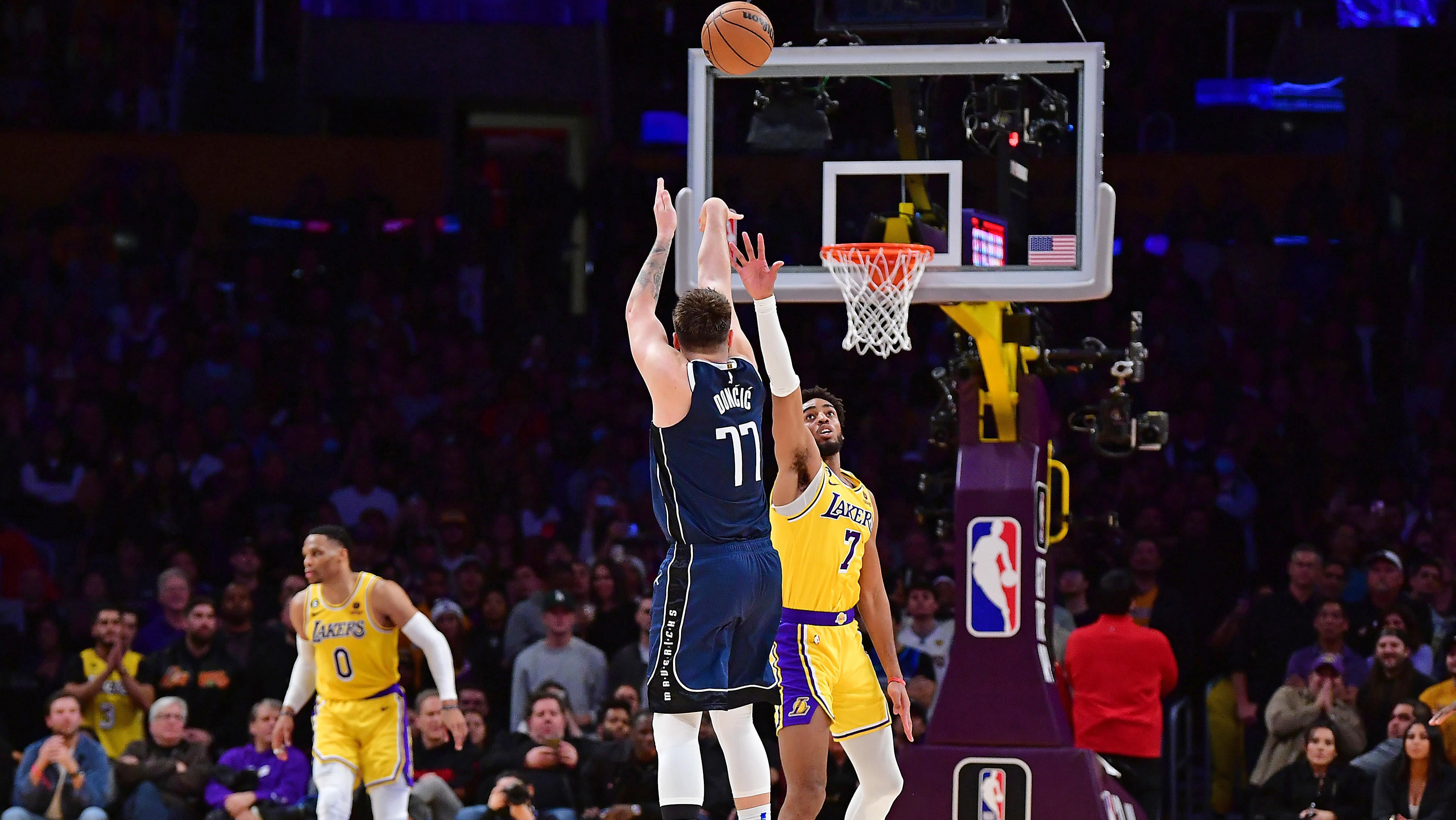 With 11.8 seconds to play in regulation on Thursday, the Lakers had a three-point lead against the Mavericks, who had possession on a side out. Darvin Ham had a decision to make. How was he going to instruct his team to defend Luka Doncic? Would he even choose to defend at all, or just foul immediately? He had a full timeout to consider his options. 
The Lakers had been blitzing Doncic for much of the second half. It put the kibosh on his scoring. He hadn't registered a bucket since the 5:22 mark of the third quarter, over a 17-minute drought. There's a poisonous rub to that strategy, of course. Commit a double team to Doncic, and you're leaving a shooter open. Nobody finds shooters like Luka. 
With a three-point lead, Ham decided he didn't want one of Dallas' many capable 3-point shooters to get an open look and opted to defend Luka straight up. That was his first mistake. Ham admitted as much afterward. 
"I'm kicking myself in the butt," Ham said. "I need to coach a little better in that instance. We should've blitzed [Luka]. Or at least forced him inside the 3-point line."
Ham is right on both points, and it's not hindsight to say that. Doncic isn't a good 3-point shooter according to statistics, but when the game is on the line, you can throw those numbers out. This dude is made of ice. He's done it too many times. You cannot give him a clean look at a game-tying 3 in that situation, which he is certain to get if he's being conventionally defended one on one. 
I say conventionally defended because Ham is also right on his other point. If you are going to defend Luka one on one, why is Dennis Schroder playing normal defense, which is to say between Luka and the basket? I've never understood why teams don't literally get behind shooters like Doncic in these situations. 
Look, he's inbounding the ball. He's virtually guaranteed to come to get it back immediately. Jump out high before that happens if you're Schroder, or if you're Russell Westbrook, who was sagging way off Doncic on the inbound, which in turn allowed him a free run at the dribble handoff in the first place, chase hard behind Luka, staying attached to him from the backside. 
The point is: Give Luka a red carpet to the rim and don't help down off shooters. Who cares if he scores in the paint? Two points don't hurt you. Do you know what does hurt you? This …
That tied the game, and it was, again, a predictable outcome. The instant that ball left Luka's hand, you'd be hard pressed to find anyone who didn't think it was going in. Of course, who's to say one of the other Mavericks wouldn't have made the same shot if Ham had decided to double Luka. Nobody knows. I would still take my chances with anyone other than Doncic, but even better, I wouldn't give anyone a chance at that shot. 
It's the dumbest part of NBA basketball in my book, that you can intentionally foul — committing an act that is in spirit, supposed to be a detriment to your chances of success — when you're up by three points to thwart the possibility of a game-tying shot before it is even attempted. Still, as they say, them's the rules. Schroder had plenty of time to foul Doncic before he was in position to go into the shooting motion. Not instructing his team to deploy this admittedly lame, yet statistically just maneuver was Ham's other mistake. He did not admit that one. 
"We weren't looking to foul," Ham said. "Felt confident in the five guys we had out there defending."
Different coaches feel differently about these situations. Some believe in fouling when up three; others don't. I don't get the don't-foul group. Three points tie the game. Not two. I know Luka missed a free throw on purpose not long ago and made the put-back to send the game to overtime, but that is a far less likely event than him simply hitting a regular step-back 3. 
To be fair, there was a decent chunk of time left. Let's say the Lakers foul at eight or nine seconds. And let's say Luka makes both (which would have been no guarantee; he had just missed two flagrant foul shots earlier in the quarter). Now the Mavs foul and the Lakers have to make two free throws of their own to go back up three or give the Lakers a chance to tie without needing a 3 coming back the other way. 
Was Ham really confident in the guys he had defending? Or was he not very confident in the Lakers' ability to make two free throws? These are worthy considerations, but in the end, you foul when it's under 10 seconds, and you're up by three. Especially when Luka Doncic is on the other team. 
But the Lakers didn't foul. And they didn't double either. They gave Doncic a clean look at the most comfortable shot in his vast arsenal. It cost them. Just to drive the point fully home, Luka went ahead and stuck another game-tying three with under a minute to play in the first overtime. 
What's the saying? You mess with the bull, you get the horns? Well, Luka is the bull. The Lakers chose to mess with him, and they got what they had coming. 
Best NFL Jersey Shop – #Lakers #mistakes #defending #Luka #Doncic #close #regulation #Darvin #Ham #admitted
Publish Date:2023-01-13 15:49:19