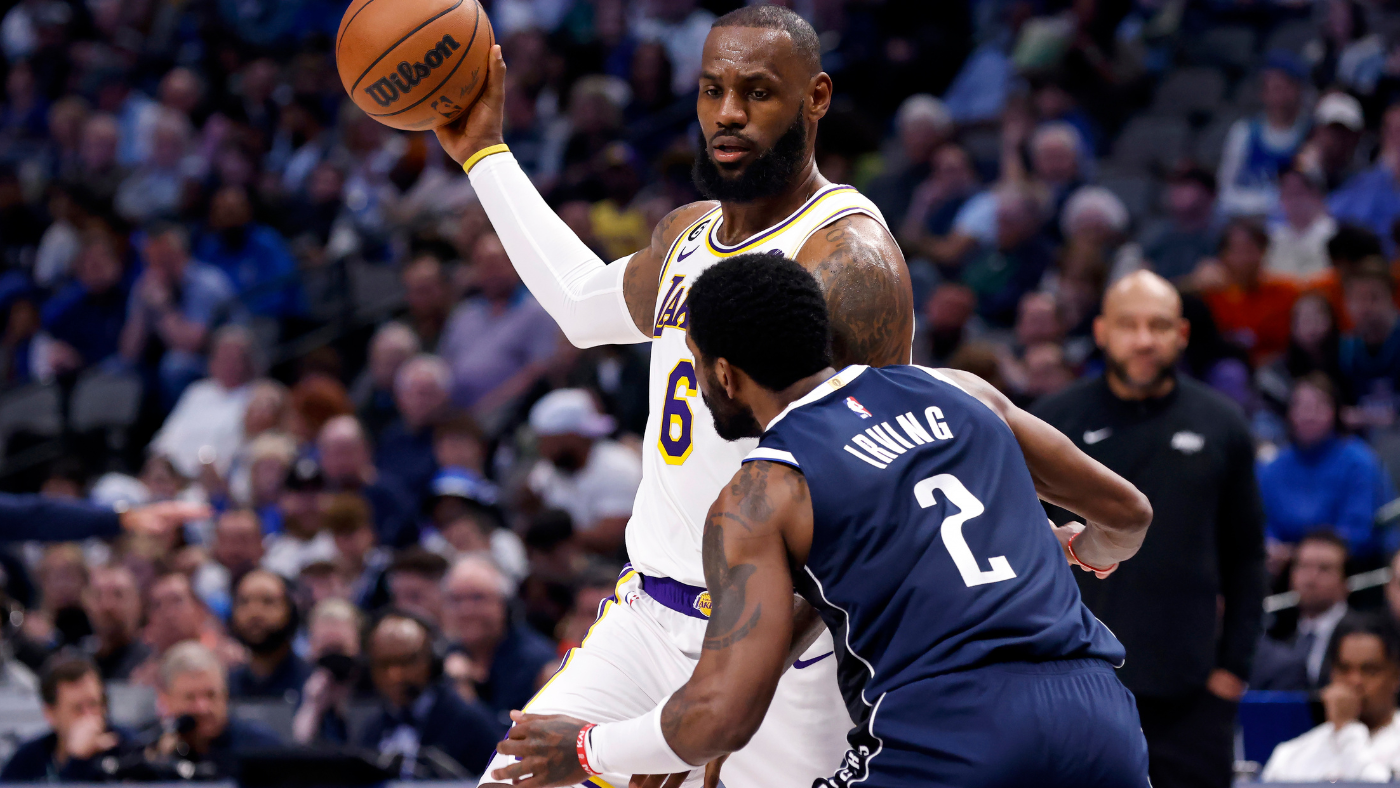 The Los Angeles Lakers may have lost to the Houston Rockets on Wednesday (without LeBron James and Anthony Davis), but, according to The Athletic's Jovan Buha, they're pleased as pie with their current roster. So pleased in fact, that they do not currently plan on pursuing Kyrie Irving in free agency this summer. 
During an appearance on "The HoopsHype Podcast with Michael Scotto," Buha said:
This group has really meshed well together. This is my third season on the beat, this is the best chemistry and just vibes I've seen around the team. I think you see it during the games, just the bench interactions, and you feel it in the locker room. There's just like a levity in there. So I do think the Lakers are going to largely run this back with most of the impending free agents that they have. 

[…]

From what I've been told, they're not going to be pursuing Kyrie Irving this offseason. Of course, that could change. We'll see how the rest of the regular season plays out. We'll see what happens in the postseason if they make it. But to my knowledge, and [from] what I've been told, the Kyrie ship I think has sailed. And again, you never want to say never — that could easily change. But as of right now, their plan is to run this back.
The Lakers reportedly tried to acquire Irving from the Brooklyn Nets in February. They offered the since-traded Russell Westbrook and two future first-round picks, according to ESPN, but it was not enough. The Nets sent him to the Dallas Mavericks, and, shortly thereafter, Los Angeles packaged Westbrook, Damian Jones and Juan Toscano-Anderson with its top-four protected 2027 pick and a 2024 second-round pick in a trade that returned D'Angelo Russell, Jarred Vanderbilt and Malik Beasley.
Irving will be a free agent in July. In theory, the Lakers could create about $30 million in cap space in the offseason, but that is considerably less than the approximately $47 million starting salary that Irving will be eligible for. More importantly, signing him would require them to relinquish all their upcoming free agents and waive every player on a non-guaranteed contract. It is understandable that Los Angeles, having just dumped a future pick to assemble a reasonably balanced roster, is not in a hurry to throw just about all of its role players away.
The Lakers have gone 9-5 since Russell, Vanderbilt and Beasley arrived, even though James has only played in three of those games (all wins). It remains unclear how much upside there is for this group if and when James returns, but, even before the new guys had played a game, an Irving-James reunion seemed like a long shot. In January, when the front office traded three second-round picks for soon-to-be restricted free agent Rui Hachimura, it signaled that Los Angeles was not planning to operate as a cap-space team. The bigger trade at the deadline confirmed it. 
By operating as an over-the-cap team, the Lakers can potentially extend or re-sign Russell, pick up Beasley's $16.5 million team option and bring back restricted free agent Austin Reaves, unrestricted free agent Lonnie Walker and Hachimura. They can also add a player using what will likely be the taxpayer midlevel exception. Even if they decide they need to shake things up at the end of the season, this route gives them much more flexibility to make moves than the other one. 
As Buha noted, the Lakers' plans today won't necessarily be their plans a few months from now. If Irving and James are sufficiently motivated to team up again, there are ways for them to do so. The moves Los Angeles has made, though, do not suggest that the front office is counting on it. 
Best NFL Jersey Shop – #Lakers #rumors #Front #office #doesnt #plan #pursue #Kyrie #Irving #upcoming #NBA #free #agency
Publish Date:2023-03-17 04:53:41