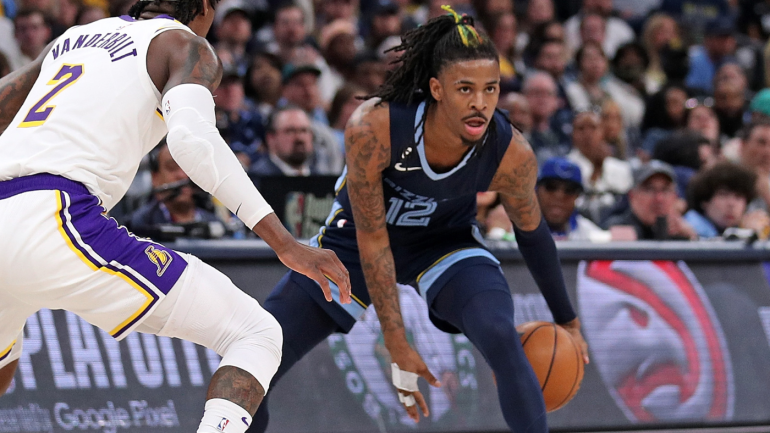 Getty Images
The Memphis Grizzlies came within around seven seconds of tying their first-round series against the Los Angeles Lakers on Monday. Leading for most of the fourth quarter, they simply couldn't keep LeBron James away from the basket as he made a game-tying layup over Defensive Player of the Year Jaren Jackson Jr. with 0.8 seconds left to force overtime. The Lakers won the game there, and now, with four games in the books, they hold a 3-1 lead over the No. 2-seeded Grizzlies. 
The Lakers can clinch the series and a trip to the second round on Wednesday. But the Grizzlies—owners of the NBA's best home record this season at 35-6—won't go down without a fight. Here's everything you need to know as they try to stave off elimination.
(2) Memphis Grizzlies vs. (7) Los Angeles Lakers
Date: Wednesday, April 26 | Time: 7:30 p.m. ET
Location: FedExForum — Memphis, Tennessee
TV channel: TNT | Live stream: TNT app
Odds: Grizzlies -4; O/U 221.5 (via Caesars Sportsbook)
Latest Odds:
Memphis Grizzlies
-4.5
Storylines
Lakers: Los Angeles has a nasty habit of playing with its food before eating it. The Lakers lost a game to Houston late in the regular season, and nearly blew a critical win over the Utah Jazz as well. This series would've ended in a sweep had the Lakers merely taken care of business in Game 2, which Ja Morant missed. Instead, it's 3-1, and given Memphis' home dominance this season, finishing the series will be no easy task. Yet the Lakers badly need to end this thing as quickly as possible. The more rest they can get for James and Anthony Davis, the better. The Sacramento Kings and Golden State Warriors are currently fighting a war in Northern California for the right to face the winner of the Lakers-Grizzlies series, so if the Lakers can finish this series up on Wednesday, they'll gain a big early rest advantage.
Grizzlies: Ja Morant looked great in Game 3 with 45 points. How healthy is he after Game 4? That is less clear. The Grizzlies star shot 8-of-24 from the floor on Monday, and he took several hard falls, specifically on two drawn charges by James. Memphis may have won Game 2 without Morant, but they can't expect to take three in a row without their best player dominating. If Memphis gets Game 3 Morant the rest of the way? A comeback is possible. If not? The Lakers are headed to the second round.
Prediction
The Lakers have been the better team in this series, but they haven't done much to suggest that they can win this thing easily. The Grizzlies are so good at home and the Lakers are so good at making their life unnecessarily difficult that Memphis should take Game 5 and make this a series. The Pick: Grizzlies -4
Best NFL Jersey Shop – #Lakers #Grizzlies #Prediction #channel #watch #Game #online #odds #NBA #playoffs #live #stream
Publish Date:2023-04-27 06:45:22