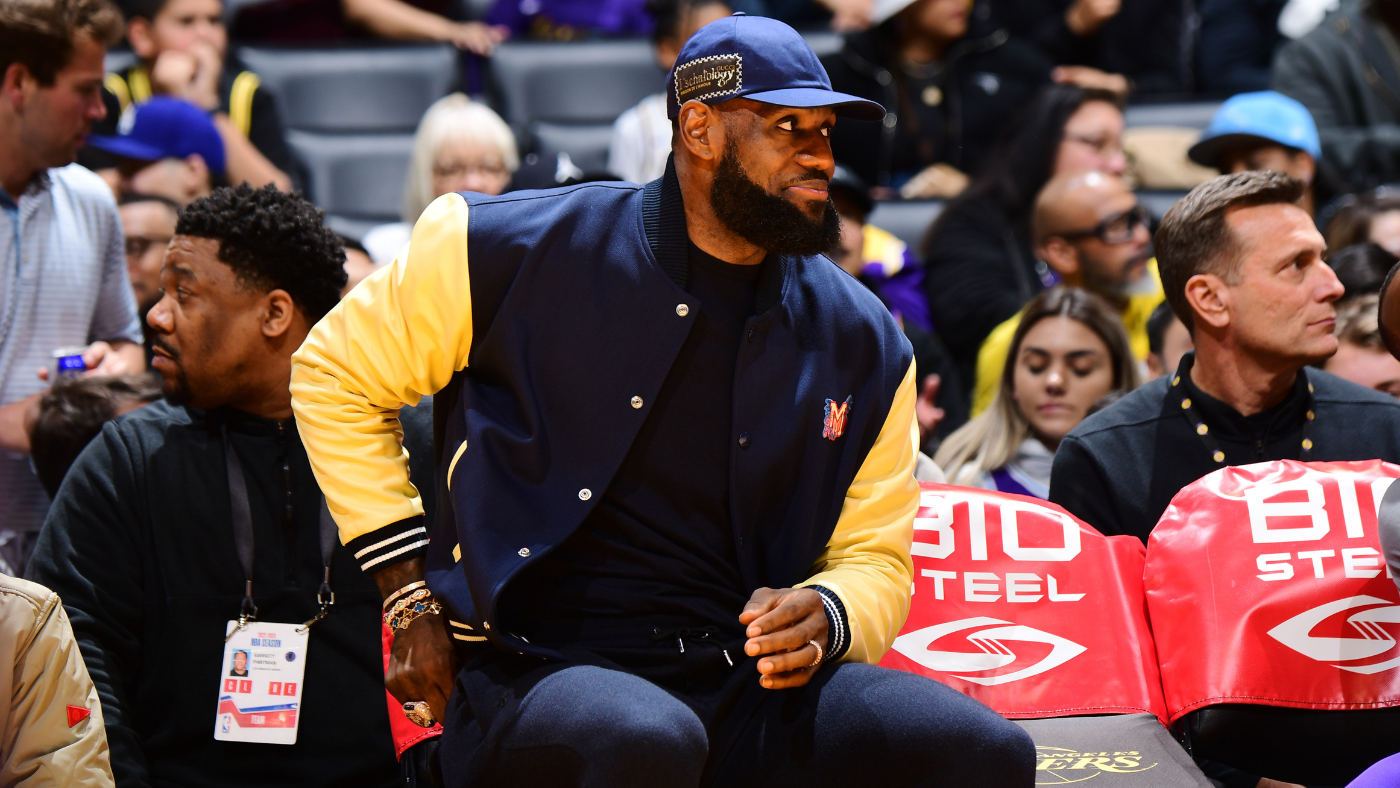 A couple of weeks ago, if you would've said the Lakers would win a game in which LeBron James didn't play and Anthony Davis scored eight points, you would've been dismissed as a lunatic. 
But that's exactly what happened Friday night. LeBron didn't play. Davis was doubled all night and held to eight points. And the Lakers defeated the Toronto Raptors 122-112 for their third straight win. 
"That we were able to come away with this win against a really good team with only eight from [Davis], that's a sign of growth," Lakers coach Darvin Ham said. "That's a sign of how deep and talented we are."
Since the new guys showed up after the trade deadline, the Lakers are 8-3. LeBron only played in three of those games, and D'Angelo Russell missed the last six before Friday. The Lakers are currently sitting in the No. 9 seed, but they are just one loss back of the No. 5 Clippers with 15 games to play. There is a legitimate shot here to climb above the play-in line and earn an automatic postseason berth. 
LeBron, for one, is loving what he's seeing from these new-look Lakers, as evidenced by the tweet he fired off after Friday's win. 
Love might be a bit much, but there is, indeed, a lot to like about this Lakers unit. Rob Pelinka did well to bring in four quality players who filled various glaring holes in Rui Hachimura (wing size), Russell (primary and secondary scoring), Malik Beasley (shooting) and Jarred Vanderbilt (top-shelf defender), and he did it while preserving one of his two coveted future first-round picks and potentially $32 million in cap space this summer. 
In essence, he gave the Lakers an honest chance to compete this year without going all-in at the potential expense of the next few seasons. And competing, the Lakers certainly are. 
Please check the opt-in box to acknowledge that you would like to subscribe.
Thanks for signing up!

Keep an eye on your inbox.

Sorry!

There was an error processing your subscription.

In James' absence, the prevailing sentiment has been that Davis dominating is the Lakers' only chance of winning. But that proved untrue on Friday. Sure, one game. Against a below-.500 Raptors team. At home. But still, you couldn't watch that game and not see the potential of this Lakers team to go on a late-season run just in time for LeBron to hopefully return. 
Russell finished with 28 points and made three huge momentum 3-pointers. Dennis Schroder added 23. Austin Reaves had 18. Hachimura 16. Vanderbilt chipped in with 16 as well, and his defense cannot be overstated; the Lakers have been the best defensive team in the league since he came aboard. 
ESPN's Brian Windhorst recently said that LeBron is "turning over every stone he possibly can from a treatment perspective to get that foot in position to return at some point this season." 
For James, knowing he would be coming back to a team that is playing this well and has an honest shot to not just get in the playoffs but to make some noise once there, can only serve as extra motivation. 
Best NFL Jersey Shop – #LeBron #James #hyped #hes #newlook #Lakers #love #team
Publish Date:2023-03-12 01:27:33