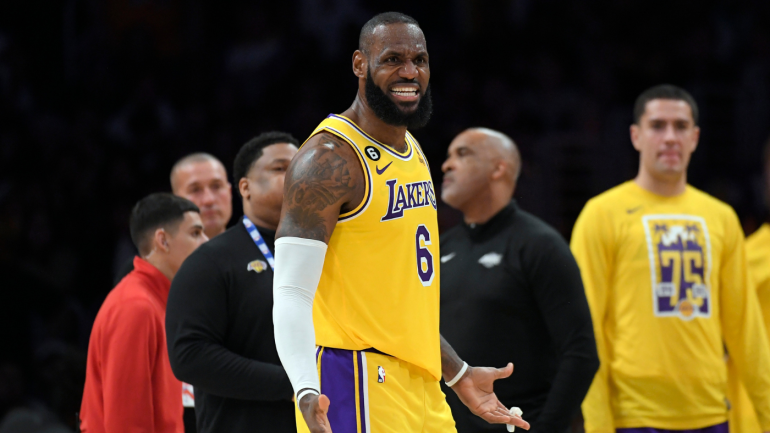 Getty Images
The Los Angeles Lakers made it clear after their 119-115 double-overtime defeat at the hands of the Dallas Mavericks Thursday that they did not agree with the way the game was officiated. At the end of regulation, Lakers wing Troy Brown Jr. was seemingly fouled on a game-winning 3-point attempt, but no whistle came.
"It looked clear as day that it was a foul," coach Darvin Ham said after the game. LeBron James was even firmer and made it known when he wasn't even being interviewed. "That's a f—ing foul," he said upon hearing reporters ask Brown about the play. On Friday, the NBA released its Last Two Minute Report on the game, and it stood by the call, which the official classified as high-five contact.
However, the officials did determine a different call was critically missed that likely would have swung the outcome of the game. With the score tied at 108 at the end of the first overtime, James attempted a game-winning layup that was blocked by Christian Wood. There was no call on the floor. However, the report indicates that James should have received a whistle.
In the background of the play, you'll notice one of the officials tripping and falling backward over a cameraman. Whether or not that impacted his ability to call a foul is not clear.
Please check the opt-in box to acknowledge that you would like to subscribe.
Thanks for signing up!

Keep an eye on your inbox.

Sorry!

There was an error processing your subscription.

Of course, the Lakers were not the only team to express frustrations with the officials. Even Mavericks owner Mark Cuban chimed in on Twitter about the lack of calls that Luka Doncic received. The report agreed, finding a whopping four incorrect calls that went against the Mavericks. They are as follows:
Wenyen Gabriel should have been called for an offensive foul against Christian Wood with roughly 1:39 remaining in regulation.
Russell Westbrook should've been called for a foul on Doncic off of the ball with 1:18 remaining in regulation.
A held ball should not have been called with 42 seconds remaining in regulation, though the Mavericks won possession in the end anyway.
James should have been called for an offensive foul on Spencer Dinwiddie with 1:47 remaining in the second overtime.
This report only covers the final two minutes of the fourth quarter and each overtime period. The truth of the game is that officiating was a problem well before it got to that point. At no point did the officials manage to get control of the game and rein in the physicality. The result was a slugfest that left both sides unhappy with the whistle.
Best NFL Jersey Shop – #LeBron #James #fouled #Christian #Wood #gamewinning #attempt #Thursday #Minute #Report
Publish Date:2023-01-14 07:08:43