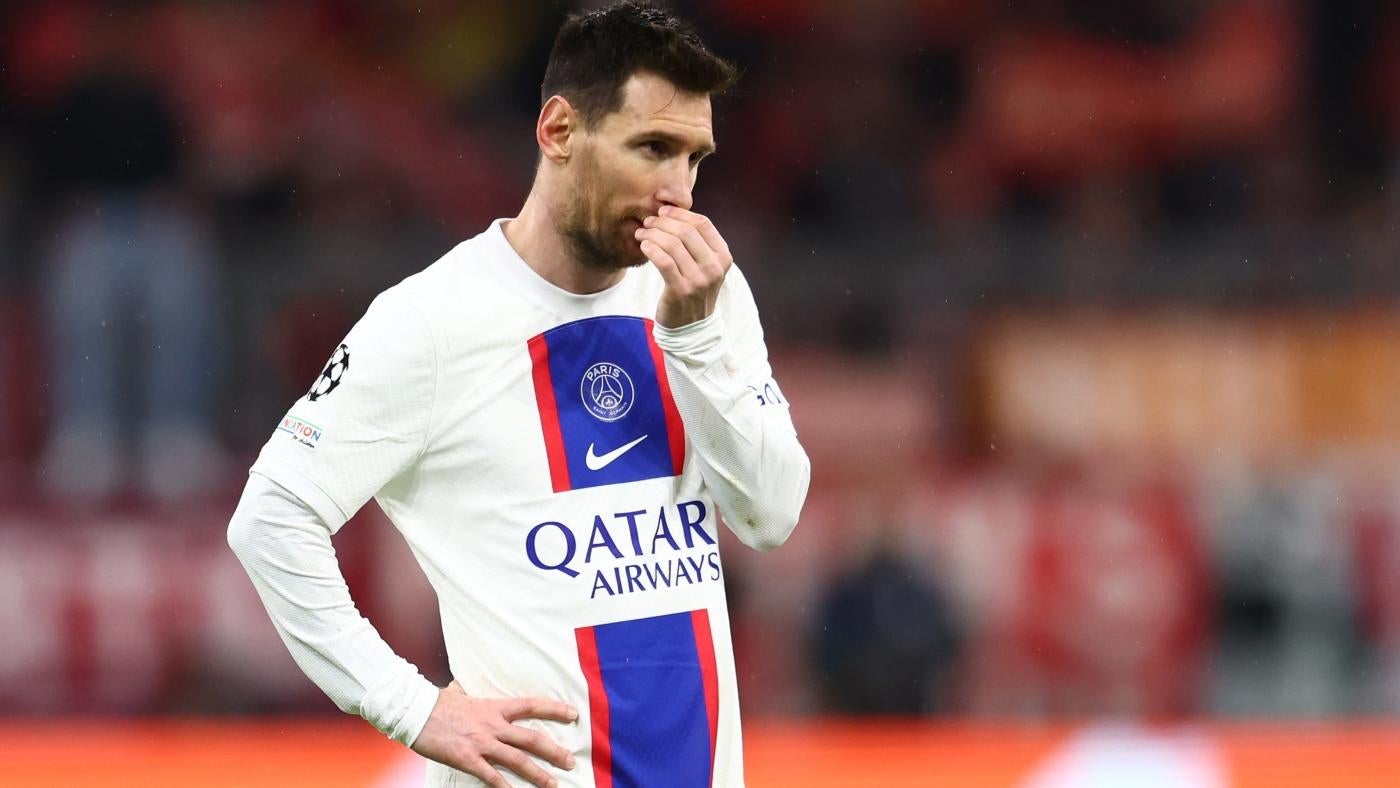 It is April and the January transfer window is long gone but Lionel Messi is yet to extend his Paris Saint-Germain contract. The Argentina international returned to club action with the French champions and his form picked up after a slow return post-FIFA 2022 World Cup success. However, PSG have since crashed out of the UEFA Champions League as well as the Coupe de France and their start to 2023 is their worst in over 20 years. Messi, 36 in June, and Les Parisiens were though to be close to new terms shortly after Qatar ended. No extended Parc des Princes deal has been announced yet, though, with rumors linking him with moves elsewhere regularly surfacing, and now further suggestions that Messi's time at PSG might indeed be coming to an end. Inter Miami, Barcelona, Newell's Old Boys, and even Saudi Arabia have been touted as potential destinations. So, where are we at with knowing where Messi might be playing his soccer beyond the end of this current season?
Let's look at what we know.
When is Messi's contract up?
The former Barcelona man's current deal is up at the end of this campaign, so he is into the final few months of his current contract which means that he is free to discuss potential moves with other clubs. It had been thought that PSG had an option to extend Messi's deal by an additional year but it appears that the Ligue 1 leaders would actually need to discuss fresh contractual details. You might recall that Messi receives part of his salary in cryptocurrency — a soccer first at the time — and terms such as those might need to be revised along with his basic pay and bonuses. The crypto aspect takes on greater importance when you consider that PSG reportedly need to slash their wage budget by 30% and could therefore consider letting one of Messi, Neymar, or Kylian Mbappe go. The French superstar is a non-starter, so for PSG to even keep Messi on his same current rate, they will presumably have to factor out the devalued crypto part of his salary which would actually add to the overall total with Milan Skriniar also coming in. Per L'Equipe in an article hinting at a summer exit, PSG want Messi to cut his current terms by at least a quarter which the player's entourage are not keen on with no clarity on what the project will look like next season and who will be overseeing it. RMC Sport have echoed similar while stressing that it will be up to the French giants' Qatari owners to resolve the situation. According to Agence France Presse, a source close to the club has indicated that Messi is more likely to leave Paris than stay with the club's fans having played a significant part in that.
Why is it expiring?
Messi's form has been much better this term than in his first season as a player with the French capital outfit. The South American has been more productive and currently has 18 goals and 17 assists to his name with Les Parisiens. PSG went all-out to extend Mbappe's contract last year and have been limited financially since then so that is a significant economic consideration when debating Messi's future. However, as his dramatic late winner vs. Lille OSC and masterclass with Mbappe away at Olympique de Marseille proved recently in Ligue 1, the goat has still got it. Given that the first meeting between Messi's entourage have taken place and been led by his father, there is clearly still interest to keep him at Parc des Princes beyond this summer. CBS insider Fabrizio Romano told House of Champions recently that PSG's is the only firm offer Messi currently has in his hands. However, Romano has repeatedly emphasised that Messi and his entourage want to know more about the club's plans for next season which is currently unclear — reports such as RMC Sport in France say PSG are already looking for Galtier's replacement.
Is Messi happy in Paris?
Despite a difficult adaptation period to life after Barca and Catalonia, Messi has been happier than in his early days in France. Not only is his family settled but the man from Rosario was playing some of the best soccer of this later period of his career. Given how year two has gone overall, it is no surprise that both PSG and Messi were open to a third campaign together. That does not automatically mean that there will be one, though. Champions League and Coupe de France failure has raised major questions over the French giants' project and who should be overseeing it. According to L'Equipe, Galtier has the upcoming games against OGC Nice and RC Lens to potentially save himself until the end of the season with an eventual change likely this summer unless a replacement cannot be found. A return to Barcelona or Argentina could appeal while a new adventure entirely should not be ruled out just yet. Childhood club Newell's were lined up to be his final club — if he ever goes home as a player. Recent scenes greeting him as he tried to eat in Buenos Aires and unfortunate events in his native Rosario could make Argentina impractical for family and safety reasons though.
Might he go?
Of course, that is a possibility. At the end of the day, Messi is free to speak with other clubs who could put in an offer which the French giants would be powerless to prevent. However, 36 in a few months, the Argentine arguably only has one or two more moves left and one of those potentially being a return to childhood club Newell's Old Boys suggests that his next one will take him out of Europe. Is Messi ready to leave the UEFA Champions League just yet when he is still building a strong case for an eighth Ballon d'Or? That much is far from certain. Winning a FIFA Best award this week probably adds to the feeling that he still has a lot left to give at the top level which some mooted destinations are not. Gerardo Romero has claimed that Messi does not want to stay with PSG and is open to a Barca return which would require conditions to be met in order for it to happen. Given the change in tone around PSG since their loss to Bayern, it is no surprise that speculation has stepped up a notch. "There is Leo's position and the club's position," clarified PSG head coach Galtier last week. "There are discussions going on between the two parties. As for what Messi will decide, or what the club will decide, that is not for me to say — it is confidential."
FC Barcelona 
Former club Barca and Major League Soccer franchise Inter Miami have been strongly linked with moves but both present major hurdles. The Catalan giants remain in financial turmoil which was the reason why Messi was forced to leave Camp Nou in the first place. Messi was back in Barcelona recently, but his father Jorge doubts a return despite Xavi keeping the door "open" for Messi. "I would love for Leo Messi to return," said Xavi again last week. "It is a topic we are working on, but it does not just depend on me. It depends on Lionel's happiness and whether he wants to return. It is not the right time to speak about that, but I would be the first one to be very happy." Barca vice president Rafa Yuste also joined in and confirmed: "We have been in contact with Leo's camp. He knows how much we appreciate him and I would love for him to come back. For sure, Messi loves Barca and the city, so we hope to find the right conditions to continue his history here."
Inter Miami
David Beckham's MLS franchise are very much in transition and would probably need a few more high-profile names in order to make the sporting aspect of any potential as attractive as the lure of the Miami lifestyle. One of those could be Sergio Busquets who has been heavily linked with the move which was not denied by head coach Phil Neville recently: "I am not going to deny (it and say) there is no truth in the speculation that we are interested in Lionel Messi and Sergio Busquets. Since I joined Miami, I think we have been linked with Dani Alves, Robert Lewandowski, Willian, Cesc Fabregas, Luis Suarez. All of them you can rattle off." It has also been noted by the likes of the Miami Herald that Miami's No. 10 and No. 5 shirts are currently available — Messi and Busquets' habitual jersey preferences. Coincidentally, Inter Miami single-game tickets for July, August, and September games are "in the works" according to the franchise website and Ticketmaster who tell visitors to "check back!" Commissioner Don Garber has even been talking up MLS' ability to get 'flexible' in order to bring Messi to the U.S.
Al-Hilal
Emerging as a credible potential option for Messi's future is a Saudi Arabian option. Not only is the Argentine already a tourism ambassador for the country, the Roshn Saudi League now houses old rival Cristiano Ronaldo at Al-Nassr. According to Romano, powerhouse Al-Hilal have tabled an offer in excess of $438 million per year in salary despite the player's desire to continue in Europe. Barca could yet rival that with sentimentality as they wait on financial fair play (FFP) clarity before making an offer. PSG's project could also change for something which offers Messi a more serious chance of competing for continental glory one last time. However, the lucrative Middle Eastern payday option is now well and truly on the table.
What is likeliest?
Reading between the lines, another year or so in Europe still appears to be the most probable solution for Messi's future right now. However, the speculation keeps going up a few notches and is now close to fever pitch regarding Miami and MLS. If it is literally a question of where he plays his soccer next season, then it makes little to no sense to potentially only move somewhere else for a single campaign when his PSG move needed his second term to hit form. Talks between Messi's camp and PSG have taken place and could yet result in an agreement for Messi to continue with the French champions for at least one more year. However, both sides are in a period of reflection which could enable the likes of a Barca, an Inter Miami, or other, to steal in. An extension of one to two years would be music to Ligue 1's ears given his importance in potentially helping to secure a new and improved international and domestic TV deal. 
Best NFL Jersey Shop – #Lionel #Messi #AlHilals #monster #bid #PSG #deal #doubtful #Inter #Miami #interested #Barcelona #contact
Publish Date:2023-04-05 04:22:07