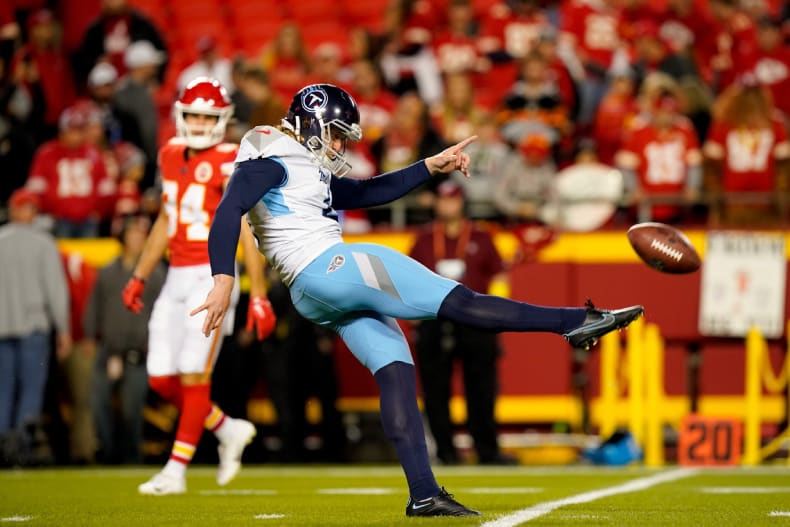 In 1940, Sammy Baugh set the NFL record for season-long per punt average. 
His 51.4 yards per punt mark sat atop league history books for a whopping 82 years.
Baugh's record appeared to be safe – until Titans' punter Ryan Stonehouse started his NFL career this season. 
According to NFL insider Dov Kleiman this Friday, Stonehouse averaged 53.1 yards per punt this year, breaking Baugh's long-standing record and doing so as an undrafted rookie. 
Stonehouse's jersey and cleats are now headed to the Pro Football Hall of Fame.
Pretty cool.
The Tennessee punter spoke to Titans' Online writer Jim Wyatt about his historically significant season earlier this week. 
"It's surreal, honestly," Stonehouse said. "It's the last thing I was expecting. But it's such a cool honor. Going undrafted, and kind of having the odds against you, to be able to do something that hasn't been done for 80-something years, it is such a big honor to me. And to break it from a guy like Sammy Baugh, it's special."
Per the 2022 National Football League Record & Fact Book, Baugh's 1940 record was the oldest single-season record in league history. 
Congratulations to Ryan Stonehouse for setting the new NFL record for season-long punting average.
Best NFL Jersey Shop – #NFLs #Oldest #SingleSeason #Record #Broken #Year
Publish Date:2023-01-14 00:47:39