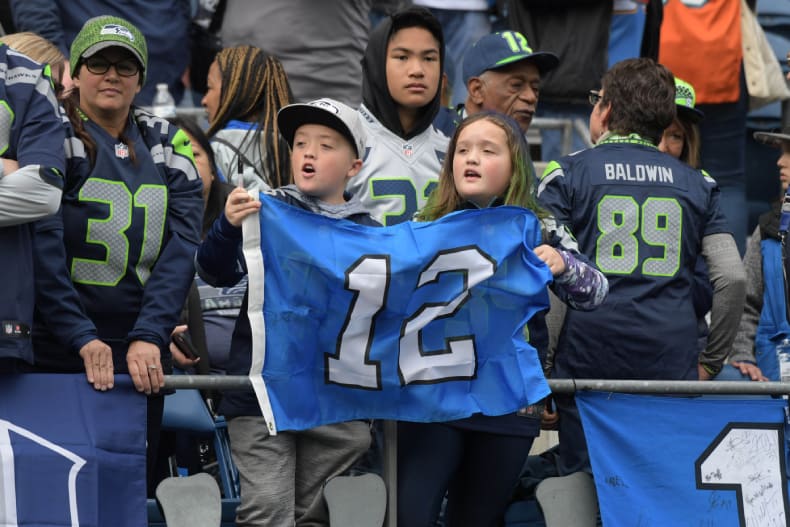 The Lions and Seahawks both entered Week 18 with a shot to make the postseason. 
Sitting at 8-8, Seattle needed a win over the Rams in the 4:00 p.m. ET window plus a Packers loss to qualify for a Wild Card berth. 
Detroit, on the other hand, entered their Week 18 matchup requiring a Seahawks loss to remain in postseason contention. 
The problem?
The Lions played the Packers on Sunday Night Football, which came after the Seahawks game. Following Seattle's 19-16 overtime victory against the Rams, it appeared to many that Detroit had nothing to play for. 
Many were wrong. 
Detroit took down Green Bay 20-16, and while they didn't make the playoffs themselves, their win over the Packers vaulted the Seahawks into the Wild Card round. At the time, Lions' Nation wanted nothing to do with the Seahawks and the '12s,' an understandable feeling given that Seattle's win effectively knocked Detroit out of the playoffs. 
Over the past few days, however, that sentiment has changed. 
According to a tweet from the Lions this Friday, the Seahawks organization and its fans have donated nearly $20,000 to the Detroit Lions Foundation in celebration of their win over the Packers. 
In spirit of all the fun Seattle will have in the playoffs this year, the Seahawks' organization attached witty remarks to several of their donations. 
Here are some of the best:
$12 in honor of '12s' and Seahawks fans everywhere
$2016 in honor of the final score Sunday, Lions 20 – Packers 16
$30 in honor of Jamaal Williams, the Lions' running back who broke Barry Sanders' single-season franchise rushing touchdowns record last week
$313 in honor of Detroit Lions fans
Several '12s' shared hilarious descriptions for their donations, as well. 
One Seattle fan donated in honor of "Dan Campbell's guts on fourth down." 
Another member of Seahawks Nation described their donation with the line, "In honor of the Lions, who showed true grit and the competitive spirit in defeating the Packers. I now have another NFC team to cheer on to greatness."
If this week's display of charity from the Seahawks brings you a sense of déjà vu, you're not crazy. 
Bills fans flooded Andy Dalton's charity with donations after he and the Bengals sent Buffalo to the postseason in similar fashion by defeating the Ravens in 2017. 
Buffalo, Cincinnati, Baltimore and Seattle will each make appearances in the 2022-23 Wild Card round this weekend. 
While the Lions won't be participating in the playoffs themselves this year, their foundation has certainly been rewarded. 
Best NFL Jersey Shop – #Seahawks #Reward #Lions #PlayoffClinching #Win #Huge #Donation
Publish Date:2023-01-14 07:41:33