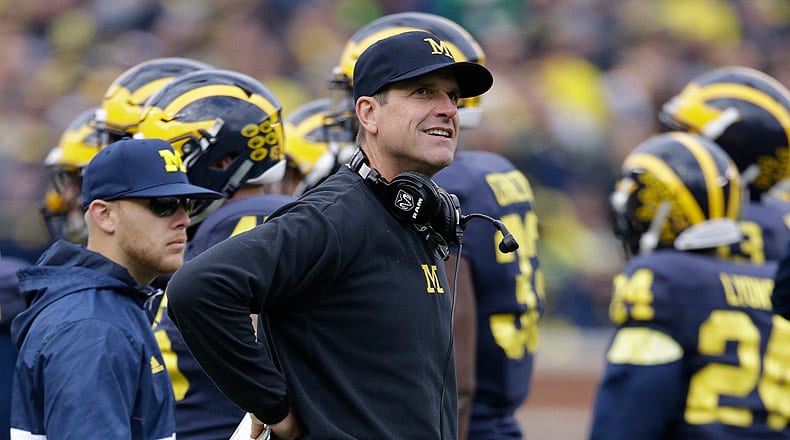 The drama between Jim Harbaugh and Michigan has captivated the football world over the past couple weeks.
After leading the Wolverines to a second consecutive Big Ten championship and appearance in the College Football Playoff, Harbaugh has flirted with a return to the NFL. He even interviewed with the Denver Broncos on Monday, reportedly for more than two hours.
But the latest odds suggest he will end this saga where he started: coaching Michigan.
According to the sportsbook OddsChecker, as posted by Denver sports radio host Benjamin Allbright, Michigan is listed as the favorite to retain Harbaugh for 2023 with odds of -140.
The Indianapolis Colts are listed as the second-favorite at +300 and the Broncos are next at +400.
Harbaugh has ties to the Colts franchise, having played there from 1994-1997. However, the fact that the Colts are listed ahead of the Broncos is a bit of a head-scratcher, as Harbaugh has not received an interview with the Colts.
Regardless, the tide has seemed to shift lately toward Harbaugh returning to Michigan for a ninth season.
On Thursday, Michigan president Santa Ono released a statement that both he and Michigan athletics director Warde Manuel want to see Harbaugh continue to coach the Wolverine football team. Harbaugh then responded with a statement of his own thanking Ono for his support.
Then, on Friday, Harbaugh was spotted at the annual Michigan high school coaches' clinic wearing a UM hoodie. 
There has been quite a bit of speculation, fueled by a report from NFL Network last week, that Harbaugh would end his dalliance with the Broncos if Michigan offers him a new, long-term contract. 
However, Pete Thamel of ESPN recently indicated that the school is unlikely to do so until the NCAA infractions case facing the football program is cleared up. Harbaugh is reportedly facing a Level I, or highest-level, violation. 
Harbaugh signed a contract extension prior to the 2022 season that runs through 2026 and pays him more than $7 million a year.
The biggest remaining variable that looks like it could shake up the situation is the Broncos' coaching search. If the franchise offers Harbaugh the job, he might not be able to turn down a return to the NFL, where he went 44-19-1 across four seasons with the San Francisco 49ers. Some reports this week have indicated that Harbaugh is at least on the short list of the Broncos' top candidates.
There likely won't be a resolution in Denver until midway through next week, at the earliest. Adam Schefter reported Thursday that the Broncos plan to interview both Sean Payton and Raheem Morris on Tuesday.
Between now and then, all eyes will remain on Harbaugh for further indication as to where he'll be coaching in 2023.
Best NFL Jersey Shop – #Updated #Odds #Jim #Harbaugh #Coach #Season
Publish Date:2023-01-14 08:04:43