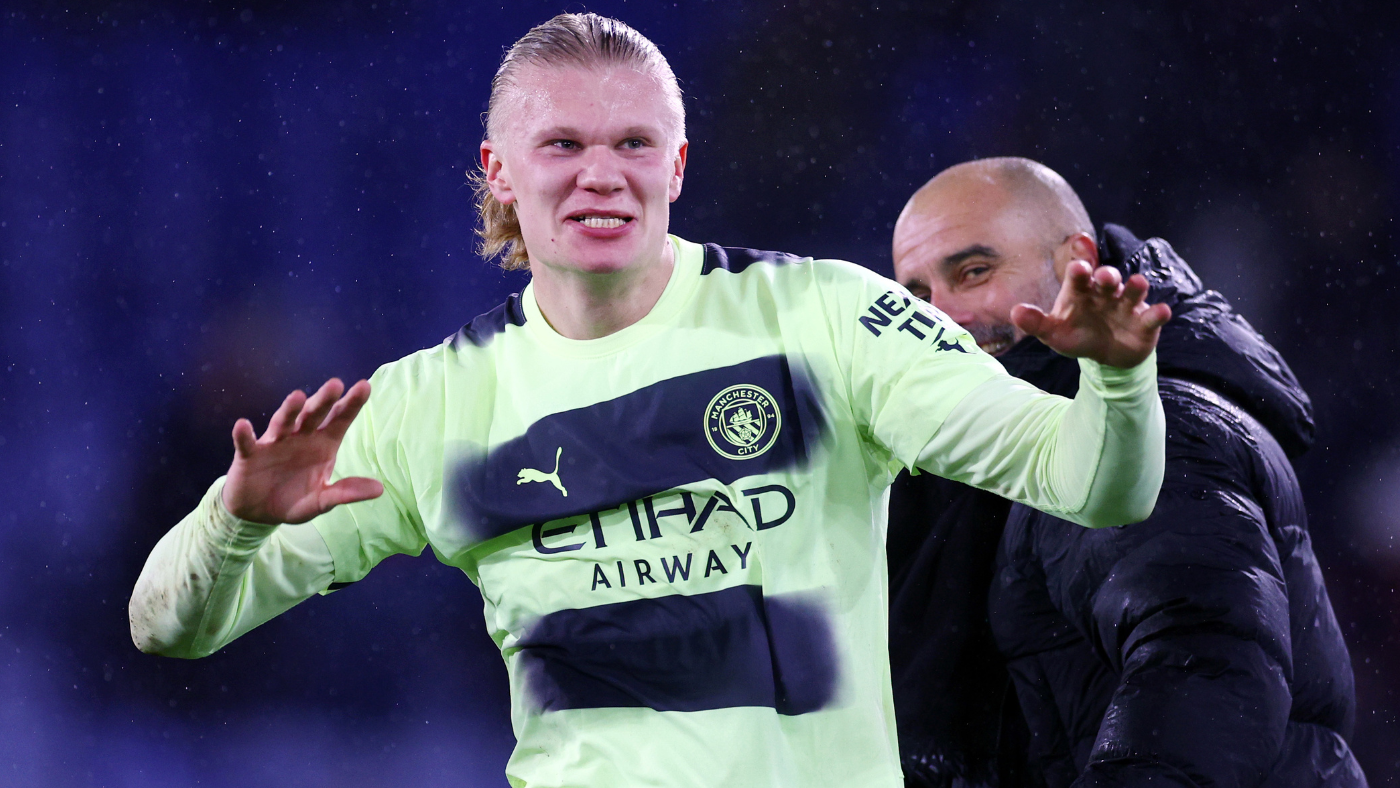 It's that time of year. Time to get your brackets set and your picks made, the same way you do every March. I am, of course, talking about the fact that the last four teams will qualify for the Champions League quarterfinals this week meaning we'll all have UCL brackets ready to go after the draw on Friday. I'm Mike Goodman, this is the Golazo Starting XI newsletter and we're here to get you set for your Champions League week
New to the Golazo Starting XI newsletter? Get yourself the best deal in soccer and subscribe now to ensure you receive updates three times a week.
---
📺 Champions League on Paramount+
All times U.S./Eastern.
Tuesday
Man City vs. Leipzig, 4 p.m. ➡️ Paramount+
Porto vs. Inter, 4 p.m. ➡️ Paramount+
Wednesday
Napoli vs. Frankfurt, 4 p.m. ➡️ Paramount+
Real Madrid vs. Liverpool, 4 p.m. ➡️ Paramount+
⚽  The Forward Line
Why City need to go for the jugular
It is Manchester City's lot in life to be very good and also to have their approach, tactics and strategy nit-picked to death. That's what happens you have the wealth of a nation-state behind you, Pep Guardiola patrolling the sidelines and a trophy cabinet with no Champions League silverware in it. But this really could be City's time to shine … if they can get out of their own way.
Manchester City's problem is that in the biggest matches, Guardiola tends to play conservatively rather than let it rip and go for the jugular. Of course, what "conservative" means differs from team to team. In City's case, the result is a team that is desperate to have the ball and less concerned than it usually is about using the ball to score. Take the first leg of City's tie against Leipzig. This is a team that averages just over two xG per match in the Premier League and takes over 16 shots. City managed just over one xG and 12 shots in the first leg, but completed 635 passes, despite being "only" averaging 575 passes completed per match. More possession, less attacking.
Put all that together and you can understand why in our Champions League picks this week, Chuck Booth has Guardiola's side winning but not blowing out Leipzig despite being the obvious better team.
Booth: "Goals will come at a premium with the teams coming into the match on level footing. City know that if they aren't careful, RB Leipzig will have no issues hitting them on the counter, but one goal from [Erling] Haaland will be enough to see the match out. Pick: Manchester City 1, RB Leipzig 0."
Booth raises the point that Guardiola certainly seems to have on his mind when he crafts these highly controlled strategies. You keep teams from counterattacking by keeping the ball. It's just that at some point in every season, City will get carried away by being too preoccupied with not exposing themselves defensively and forget that they're the best attacking team in the world — with Erling Haaland — and can basically score at will. Eventually, City are going to have to try and win some games 3-1 if they want to win the tournament. Playing everything this close to the vest is just asking to have some bad breaks go your way. It may not happen this week, but eventually City need to start going for the jugular or once again they'll find themselves being nit-picked to death as they fall short of Champions League expectations.
Sponsored by Paramount+
🔗  Midfield Link Play
Serie A clubs having fantastic UCL season
Inter and Napoli have a chance to make it three teams from Italy in the Champions League's final eight (Roma and Juventus are both sitting pretty to make the quarterfinals of the Europa League as well). If that happens, then Italy would be fielding the most teams in the quarterfinals of any nation (barring Liverpool pulling off a miracle comeback and moving through alongside City, which would give the Premier League three teams as well). It's a remarkable accomplishment for Serie A, a league that has not fielded a UCL quarterfinalist since Atalanta in 2019-20.
And now let's get to some links:
🔗 Arsenal won't stop believing. They just keep marching to a title as Gabriel Jesus returns, writes James Benge.
🔗 It's time for Tottenham to move on from Harry Kane if they can get a big check from Manchester United, writes Booth.
🔗 Check out all of our Champions League picks for the week.
🔗 Barcelona are in some very, very hot water over payments to a referee's private company.
🔗 Roma completely lost the plot this weekend with Marash Kumbulla seeing red in a 4-3 loss to Sassuolo.
🔗 It's official, the 🏔️ Utah Royals are heading back to the NWSL.
🔗 Before the Champions League kicks off, check out our Power Rankings 📈 from Benge.
🔗 With Chelsea's form turning around, Booth ranks how their winter signings are doing.
🔗 Attacking Third: Orlando Pride are next up on the NWSL season preview list 📝.
🔗 House of Champions: It's a 🇪🇺 Champions League preview extravaganza.
🔗 Don't forget we've got CBS Sports Golazo Network premiering April 11  
🔗 And remember, all of your soccer needs — from Champions League to Serie A to NWSL and so much more — are available on Paramount+. 📺 You can try one month free by using the code: ADVANCE.
💰  The Back Line
💵 Best bets
All odds courtesy of Caesars Sportsbook and all times U.S./Eastern. SportsLine has you covered with this weekend's best bets.
Champions League: Man City vs. Leipzig, Tuesday, 3 p.m. 
💰 THE PICK: Under 2.5 (+130) — We talked about it early in the newsletter, Pep Guardiola sacrifices his team's electric scoring ability for increased control in big spots. City are pretty big favorites to advance, and they should be, but with the match 1-1 coming in, neither side will look to take chances here, with City banking on eventually freeing the big man in the box for Haaland to deliver the goal they need.
Champions League: Porto vs. Inter, Saturday, 3 p.m.
💰 THE PICK: Inter (+160) — The loss Inter suffered to Spezia on Friday was a giant fluke. Somehow they conceded on goal from three open play shots, while also conceding a penalty and missing a penalty of their own. Inter are fine, and they're better than this season's version of Porto.
Best NFL Jersey Shop – #Manchester #City #jugular #Champions #League #Serie #great #European #season
Publish Date:2023-03-13 23:01:02