If your favorite team is looking for a dominant offensive tackle in the first round of the 2023 NFL Draft, Tennessee's Darnell Wright should be near the top of their list.
A versatile, athletic, and battle-tested blocker with a track record of success against top competition, Wright has been steadily climbing up the draft boards in recent weeks, and could find his way into the top 10 selections Thursday night.
Despite having offers from other powerhouse programs like Alabama, Wright chose to continue his football career in Knoxville, stepping into a storied history as a member of the Vols.
"It was really just the culture of football there," Wright says of his decision to sign with Tennessee. "It speaks for itself. The program really sells itself. Everybody in the whole town loves Tennessee. All of our sports are good, but we're known for football. That's probably the main reason."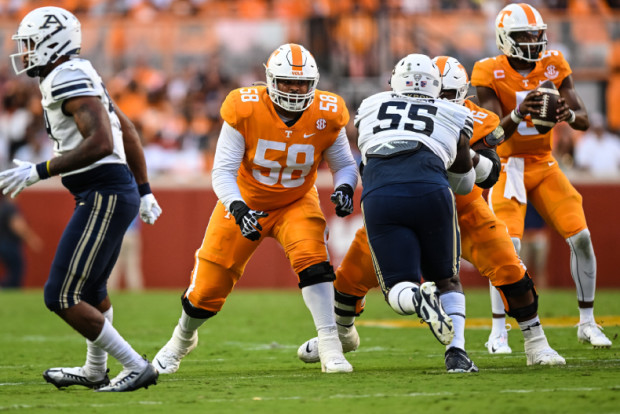 Wright says his time in Knoxville has prepared him well for making the jump to the next level.
"Everybody is expected to be a professional in everything they do, both on and off the field," he says. "You're held to a professional standard. So, I think that'll be an easy transition to the NFL for me, because it won't be anything different that what I was expected to do here. You could say the style of plays was different, with the tempo and all that, but that's all just football. We can adapt to that. The standard of professionalism was always the same."
One of the largest feathers in Wright's cap was a dominant performance against Will Anderson Jr. of Alabama, widely regarded as the best overall prospect in this year's draft class.
"It was just another game, with another player," Wright says of his matchup against Anderson. "Just went through my process, broke him down like any other player I would break down. Just executed the game plan."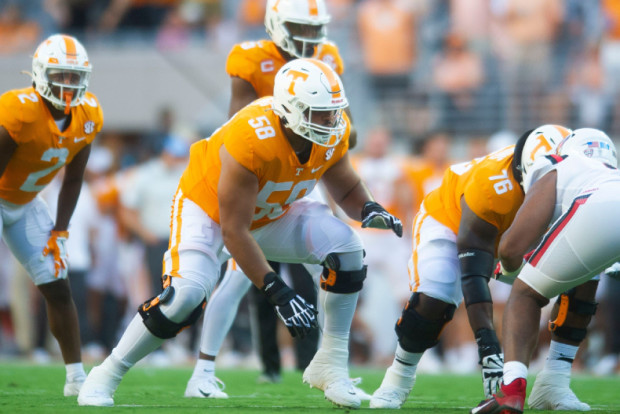 Wright, who spent the predraft process training with other top prospects at the state-of-the-art facilities at Exos in Phoenix, says he'll continue to trust his own process at the next level That said, he'll keep picking the brains of the more experienced players around him to keep improving his game in the pros.
"I'm definitely gonna get with the older guys and see what they do," Wright says. "Everybody has their own way that they break things down. I think I've gathered this throughout the years that I've played, just learning from the older guys and taking what they've given me. I'm gonna do the same thing at the next level, talk to the older guys, and see what they do. If it helps me, it helps me. I'll have my way that I break it down either way, but I'll try to keep doing it that same way, and just keep learning. That's the biggest thing, just keep learning."
Speaking of those veteran tackles, Wright has one in particular whose game he tries to emulate on the field.
"Trent Williams, because he's a freak athlete, and he can do whatever he wants," Wright says.
Wright continued his learning process this offseason with a trip to the Senior Bowl, giving him a chance to shine against some of the other top prospects in the country, while getting hands-on experience with NFL coaches, and in front of league scouts and executives all week in Mobile.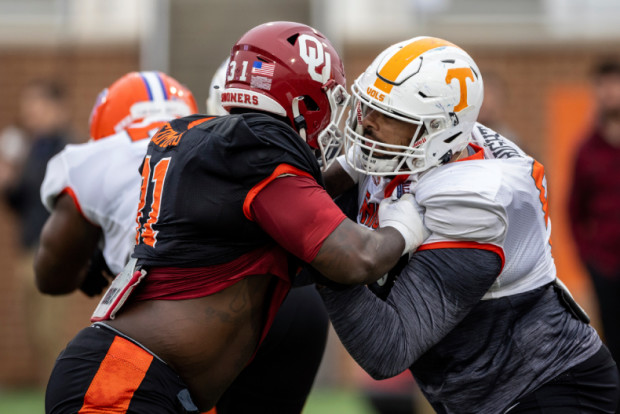 "It was great," Wright says of the experience. "I just got to learn from all these different people. Every time I was around, I was just trying to take something away from them, because I knew they would just drop little nuggets. I was just trying to gather as much as I could. It was a good experience, because you get a preview of what you're going into."
Playing against top competition in the SEC, Wright has experience at a wide range of different positions, including both tackle spots, and even inside at guard. That versatility should allow him to make an immediate impact at the next level, regardless of where his new team wants him to line up.
"I don't really see myself playing a particular position. I just want to get on the field. Even if I have to play center," Wright says with a laugh. "I don't care. You can go back and watch my film; I think I can play both tackle spots at a high level. But I can play guard, as well. Or center. It would just take some time to learn it. Whatever it takes."
While some might think that playing left or right tackle can be interchangeable, Wright acknowledges the challenges that come along with switching sides on the edge of the offensive line, but also how you can prepare yourself to navigate them successfully.
"Are you right-handed? If you start writing with your left hand, will it be better or worse? It's basically like that," Wright says. "But if you've been doing them both for a long time, you kinda become ambidextrous. There are also strengths and weaknesses. Like, if I'm on the right side, I'm right-handed, as well. I know my right hand is going to be very accurate when I punch. But when I'm on the left side, my left hand isn't my dominant hand, so it might not be as accurate, but any inside move is gonna get caught with my right hand. So, you can play to your strengths and weaknesses. There's a lot that goes into it, but you've just got to keep both of them sharp."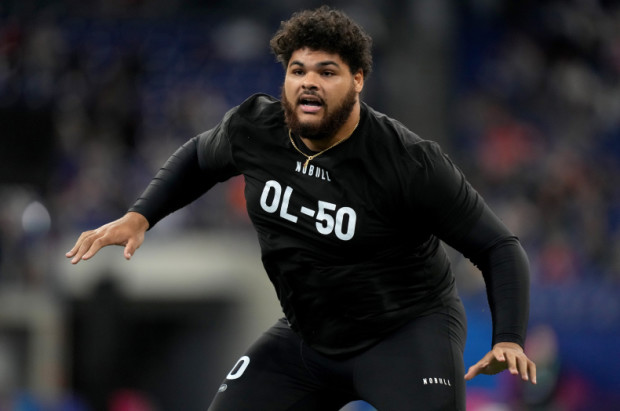 What's an NFL team getting when they draft Wright?
"Somebody who's gonna do whatever it takes for team," he says. "I feel the most comfortable in a team setting. I don't like to do interviews and stuff like this. Obviously, I know it's part of it, but I just like to be with the guys. I'm very much team-oriented. I don't talk much, but I will say something when it needs to be said, so I think that hold a lot of credibility. A lot of people, they can just talk and talk and talk, but it kinda gets blurred out. But when I say something, I think it holds a lot of credibility because I don't say a lot. They're getting a hard worker, and someone who's gonna put the team first. I just want to win. It's the best feeling.
When he does get that call on draft weekend, Wright knows it'll be an exciting milestone, but that the work will just be getting starter as he opens another chapter in his football story.
"It'll be happy, and it'll feel like a good step achieved, but there's still a long, long journey to go," Wright says. "It'll be good, but it won't be the end."
Best NFL Jersey Shop – #Meet #Darnell #Wright #Tennessee039s #Massive #Mauler #Prospect
Publish Date:2023-04-27 04:43:53