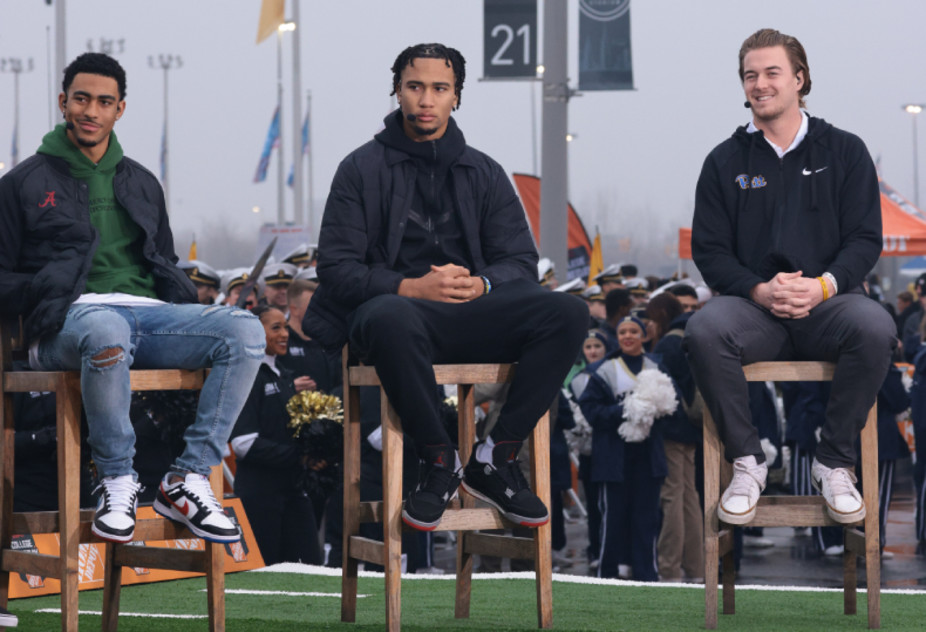 A seismic shakeup hit the NFL Draft on Friday when the Carolina Panthers traded with the Chicago Bears to obtain the No. 1 overall pick.
As a result, the Panthers move up from the ninth selection and will get first dibs of the loaded quarterback class.
While the team has not yet given an indication of which signal-caller it prefers, quite a few bettors apparently believe they know the answer. DraftKings saw its odds for who will be picked first overall on April 27 shift shortly after news of the trade broke, with Ohio State's C.J. Stroud supplanting Alabama's Bryce Young as the favorite.
Stroud is listed with -175 odds to hear his name called first, per Pro Football Focus.
Stroud to Carolina? 👀

New first overall pick favorite:

CJ Stroud -175 via @DKSportsbook pic.twitter.com/VCetc0Z9oY

— PFF Bet (@PFF_Bet) March 10, 2023
Young is now listed as the second favorite with a line of +175. Anthony Richardson of Florida is third at +550.
Stroud and Young have long been the two most buzzy names to be the top quarterback picked in the draft. Young led Alabama to a 23-4 record across two seasons as the Crimson Tide's starter behind center. He threw for more than 8,000 yards and 80 touchdowns during his college career and won the 2021 Heisman Trophy. Stroud, meanwhile, went 22-4 with Ohio State and threw for a total of 85 scores across the past two seasons.
Richardson, who started just 12 games at Florida, leapt into the discussion to go first overall with a dynamic showing at the NFL Combine, during which he measured at 6-foot-4 and 244 pounds and set multiple combine records for quarterbacks.
The chief concern about Young among NFL teams has been his size. Young measured 5-foot-10 and weighed in at 204 pounds in Indianapolis.
NFL Network draft analyst Eric Edholm is among those who believe the Panthers are slightly leaning toward Stroud, but he acknowledged that could change.
I don't know who the Panthers prefer

Young and Stroud are believed to be the two who have favorites in the building

I think they'll play this like the 49ers did at No. 3 a few years ago

But if I had to guess right now: Stroud

Just a guess

— Eric Edholm (@Eric_Edholm) March 10, 2023
The Panthers have until April 27 to decide which player to select.
Considering the massive haul they gave up, which includes two future first-round picks and wide receiver D.J. Moore, there's considerable pressure on new head coach Frank Reich and the front office to make the right choice.
Best NFL Jersey Shop – #Quarterback #Betting #Favorite #Pick #Blockbuster #NFL #Draft #Trade
Publish Date:2023-03-11 07:43:21