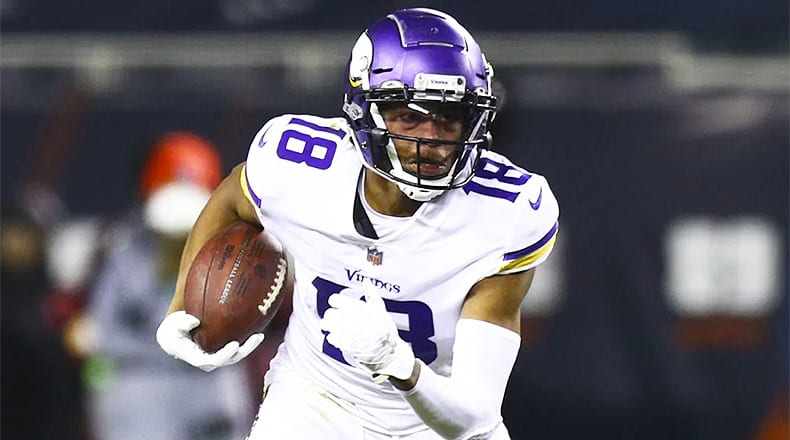 The New York Giants and Minnesota Vikings will meet in Minneapolis for the second time in 22 days when they face off Sunday afternoon in the Wild Card Round. These two met on Christmas Eve with the home team holding off New York 27-24 in a thrilling contest. Minnesota got the victory when Greg Joseph nailed a 61-yard field goal with no time left. The matchup saw a combined 798 yards of offense and three lead changes.
Related: Expert Picks for Every "Super Wild Card Weekend" Game 
New York is unusually rested for a wild-card team. Before the season began, no one expected the Giants' Week 18 matchup to be meaningless for a good reason. But since they were already locked into the No. 6 seed, they had the opportunity to rest starters in a 22-16 loss to the Eagles. New York's second- and third-stringers were still able to hang tough with Philly as Davis Webb made his first career start. The Giants limped a bit down the stretch going 3-5-1 after their Week 9 bye, but a playoff spot is worth celebrating under first-year head coach Brian Daboll.
The Vikings will also be more rested than usual since they used their starters for only a half in last week's 29-13 victory over the Bears. Minnesota got two rushing touchdowns from Alexander Mattison as well as three field goals from Joseph on their way to the victory. The defense held Chicago to 259 yards of total offense — a season-low for this much-maligned defense — but it was Nathan Peterman under center instead of Justin Fields, so take that with a grain of salt. The win moved them to 8-3 since a Week 7 bye, and it was their first by more than a touchdown since Week 1.
NFC Wild Card: New York (9-7-1) at Minnesota (13-4)
Kickoff: Sunday, Jan. 15 at 4:30 p.m. ET
TV: FOX
Live Stream: fuboTV (Start your free trial)
Spread: Vikings -3
Tickets: As low as $162 on SITickets.com* 
Three Things to Watch
1. Will New York "Die Hard" again?
As mentioned, these two met on Christmas Eve so both teams have some recent game film to go off of. Both signal-callers found a ton of success in that matchup, with Daniel Jones throwing for 334 yards and a touchdown while Kirk Cousins had 299 yards and three scores. That was actually Jones' second-highest output of the season, trailing only his 341 yards against the Lions in November. Obviously, New York would like to use the ground game more, especially since Saquon Barkley averaged six yards per carry in their last matchup. Defensively, the Giants have to try and slow down Justin Jefferson, who racked up 133 yards on 12 receptions. Ironically, it was tight end T.J. Hockenson who actually surpassed the wideout with 13 receptions on 109 yards and two touchdowns. It's understandable if Jefferson beats you, but you can't let the supplemental pieces do more damage.
2. Was the regular season a mirage?
The Vikings set an NFL record by going 11-0 in one-possession games and managed to easily win the NFC North despite having a negative (-3) point differential. They are actually one of four teams in the postseason with a negative point differential, which is odd. Can Minnesota's luck in close contests continue, or will the clock strike midnight on Sunday? Their quarterback is only 1-2 in three postseason starts. Cousins lost with Washington in 2015 to the Packers while he managed to beat the Saints in 2019 before losing in the Divisional Round to the 49ers. His numbers aren't terrible, but you'd expect more than just three touchdowns in 116 pass attempts. Cousins has historically struggled in prime-time games, holding an 11-18 record with a 94.8 passer rating compared to a 63-48-1 record with a 98.6 mark in all other regular-season games. On the flip side, the Giants are 14th against the pass and have allowed 54 more yards per game on the road than they do at home.
3. Was the regular season a mirage (Part II)?
The Giants went over their preseason win total by Week 10 when they started the year out 7-2. As mentioned above, though, the bottom dropped out a bit as they finished with just two wins and a tie over the last month plus of the regular season. Brian Daboll and his staff have done a masterful job with this talent-depleted roster that entered the season with a question mark at quarterback who was playing for his future and a talented running back with recent injury issues. They don't have a true No. 1 wide receiver, which allows opponents to dedicate more bodies to the ground game. Still, with all those issues, the Giants nearly won the first meeting because Minnesota is 31st defending the pass and 20th against the run. Can Daboll put together another great game plan and get this team the victory?
Final Analysis
Something's got to give between a defense that stops nobody and an offense that shouldn't strike fear into anyone. Vegas thinks this is essentially an even contest with most of the three-point edge having to do with Minnesota's home-field advantage. This contest should be close much like the regular-season matchup, but Justin Jefferson will be the difference once again as New York can't slow him down. Daboll deserves Coach of the Year votes, but his team falls short on Sunday.
Prediction: Vikings 28, Giants 24
— Written by Matt Josephs, who is a part of the Athlon Sports Contributor Network. Follow him on Twitter @MidMajorMatt.
*Price as of publication.
Best NFL Jersey Shop – #NFC #Wild #Card #Prediction #York #Giants #Minnesota #Vikings #Meet
Publish Date:2023-01-14 05:00:00