Over the last several weeks, there has been some monumental movement in the NFL Draft betting markets. That includes who will be the first pick, how many quarterbacks will go, and so on. Yet over the last few days, with the draft days away, the odds are starting to settle, it's so time for my favorite NFL Draft bets.
There are a number of bets I like, but to keep things simple and appeal to all sorts of gamblers, I will have my "Lock," my best "Value" bet, and a fun "Long Shot."
And we're on the clock, so let's go…
2023 Best NFL Draft Bets
The Lock: Will Anderson Jr. First Defensive Player Drafted (-450)
Will Anderson with the MASSIVE sack 😤

cc: @AlabamaFTBL pic.twitter.com/m92LvoyQu7

— FOX College Football (@CFBONFOX) September 10, 2022
There is no need to make this complicated. Safeties are never the first defensive player drafted, so we can cross them off the list. Front seven, usually edge rushers are almost always the first defensive player drafted, but sometimes there is a CB or two who jumps up like when Micah Parsons saw Pat Surtain II and Jaycee Horn go before him in the 2021 draft.
But I expect this draft to look more like 2017 when Myles Garrett was the first defensive player off the board or 2019 when Nick Bosa went second overall. As much as I love the top three CBs in this draft, I can't see them going ahead of either Will Anderson Jr. or Jalen Carter. And the books agree, setting double the odds of any CB going after either of those two options.
Carter could end up being the best defensive player from this draft, and I know some coaches are drooling at the chance to have him anchor their defense. And that might be true, but Carter comes with a lot of "excess baggage" due to some of his off-field activity. But Anderson might be just as good.
Anderson had 34.5 tackles for a loss along with 17.5 sacks among his 102 total stops in 15 starts in his sophomore year. He finished fifth in Heisman voting, won the Bronko Nagurski Trophy (given annually to the country's top defensive player), became an All-American honors, and was named the SEC Defensive Player of the Year. All he did this past year was repeat winning all those honors while notching 51 tackles, including a team-high 17 for a loss with 10 sacks and one interception in 13 starts.
That's pretty good. I simply cannot see a GM with a defensive need grabbing any other defensive player before Anderson.
Best Value: First Drafted Tight End: Michael Mayer (+150)
Jack Coan finds a seam to Michael Mayer for the pair's SECOND TD of the first half 🎯☘️ pic.twitter.com/njYS4mJuNQ

— ESPN College Football (@ESPNCFB) January 1, 2022
I love the fact that we are getting better than even money here on a player I expect to be the first TE off the board. We are getting that value though because Dalton Kincaid could ruin this bet.
Many experts have Kincaid going ahead of Michael Mayer, including Mel Kiper Jr. in his latest mock draft. However, when Kiper released his mock draft after the Combine, he had Mayer going 15th as the first TE off the board.
This makes no sense to me given that there have been no workouts or football being played since then. I can't help but feel this is a situation where Mayer's game is being over-analyzed, while Kincaid, who didn't test this offseason, is still in the "ascending" phase of analysis.
Don't buy the "white noise." Grab the value.
Fun Long Shot: Seattle to Draft Jahmyr Gibbs: (+10000)
Buccaneers Hosting Alabama RB Jahmyr Gibbs For Visit https://t.co/Fyg1YRpgK2 pic.twitter.com/bH4s1v9P51

— NFLTradeRumors.co (@nfltrade_rumors) April 12, 2023
Especially in the fantasy football circles, there is an overabundance of focus on where Bijan Robinson is going to land. While I do agree that Robinson is going to go before Jahmyr Gibbs, this is a fun lottery ticket.
We know Pete Carroll loves RBs and can't have too many of them. While he is not foolish enough to take the universally seen second RB on the board at 5, could he take him later with Seattle's 20th pick? Or even 37th or 52nd overall in the second round, should he make it?
Much of this will depend on where Robinson goes. But at 100-to-1, I'm willing to take a chance on the following proposed scenario.
Let's assume that only one RB goes in the first 14 picks. That back will be Robinson. I started with 14 because New England owns that pick. And we know how much Belichick loves to trade back, so a team could easily trade up to that spot to grab Gibbs. But I don't feel like a team is going to trade up to New England's spot to grab Gibbs. Following me so far?
We then have the Packers at 15, who with Aaron Jones and Dillon have zero need for a running back and too many needs elsewhere.
At 16 is Washington, who like Green Bay has plenty of needs and already has both Brian Robinson Jr. and Antonio Gibson.
At 17 is Pittsburgh, who has Najee Harris with Jaylen Warren backing him up and, again, too many other needs.
At 18 is Detroit. No way they are going to grab another RB in the first round.
Next up is Tampa Bay. Hmmm. The Bucs are definitely a possibility to grab a RB, but I think they either trade out of this spot or grab some defensive help or maybe even grab their QB of the future if Hendon Hooker is still there.
And that brings us to Seattle at 20. If Gibbs is sitting there at 20, I don't see Carroll passing on him. If nothing else, this bet will keep you engaged throughout Draft Night. At 100-1, why not make this bet?
— Written by Mark Strausberg, a member of the Athlon Network Contributor, who despite his youthful exuberance and good looks has been playing fantasy sports before Wildcats or Hoosiers even made it to VHS. Got a fantasy sports question or thought? Hit him up on Twitter @MarkStrausberg.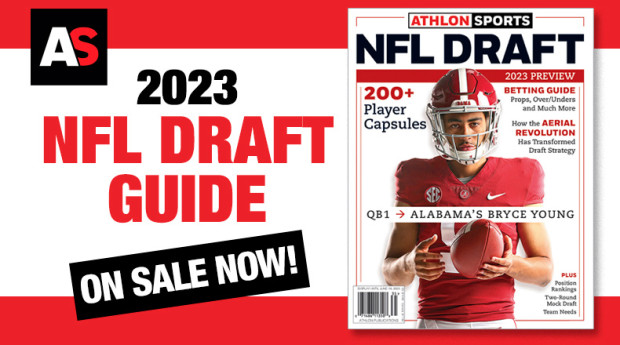 Best NFL Jersey Shop – #NFL #Draft #Bets #Week
Publish Date:2023-04-22 03:41:32