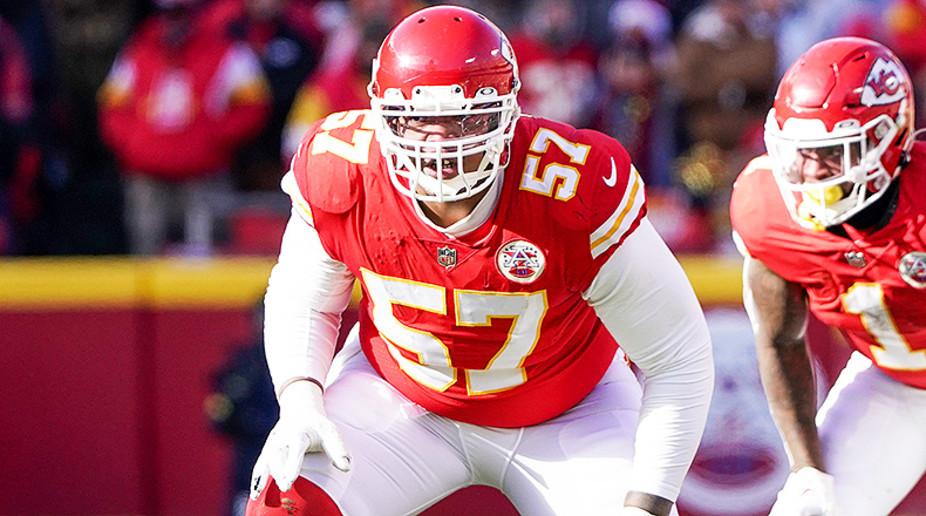 NFL free agency starts in earnest on March 15 with the beginning of the league's new year, although the offseason is already in full swing.
Derek Carr, who would have landed No. 2 on this list, has already signed with the Saints after his release from the Raiders, and the Panthers traded up for the No. 1 pick to draft their next franchise quarterback.
Plenty more big names will be on the move — Aaron Rodgers, anyone? — but free agency allows teams to address their needs before the draft kicks off. And while one name sticks out above the rest, there is plenty of help available, especially on the offensive line and in the secondary.
For now, we've removed the players who have received exclusive franchise tags from their respective teams. It's possible that they play for a new team next season, but realistically only via trade. However, one player on a non-exclusive tag could well be on the move.
Let's break down who the top free agents are and where they could land.
1. Lamar Jackson, QB, Ravens
It's no exaggeration to say that Jackson may be the best free agent ever. There's a reason 26-year-old former MVPs never hit the market, so it's a bit puzzling how the Ravens let him hit the market like this. Any team can sign him to an offer sheet, and if the Ravens choose not to match, have him at the mere cost of two first-rounders. There's a whiff of collusion with how many QB-needy teams immediately said they weren't interested in giving Jackson the high-guarantee contract he wants and deserves, but he'll eventually get a hefty contract, even if it's not as generous as Deshaun Watson's.
Prediction: Ravens. Half the league should pursue him, but it's hard not to expect Baltimore to match any offer he gets.
2. Orlando Brown Jr., OT, Chiefs
It's a bit of a surprise that the Chiefs didn't use another franchise tag on Brown, who instantly became the top offensive lineman on the market. He'll likely wind up making more than his $19.99 million franchise tag would have been, and he'll be an asset to whoever signs him, as he's missed just one game in his five-year career.
Prediction: Chiefs. Kansas City paid out the nose in draft picks to bring Brown in, so it's hard to see them letting him leave — unless the Bears overpay.
3. Javon Hargrave, DT, Eagles
Hargrave has been a late bloomer, making his first Pro Bowl at 28 in 2021 and then racking up a career-high 11.0 sacks this past season. In fact, he ranked third among defensive tackles with a 17 percent pass rush win rate. He may be less productive away from the stacked Eagles defensive line, especially since he just turned 30, but he's still one of the best interior pass rushers.
Prediction: Seahawks. Seattle needs a boost to its pass rush along the defensive line and enters free agency with the 11th-most cap space.
4. Jessie Bates III, S, Bengals
Safety isn't necessarily a key position teams value, but Bates is one of the best in the league and just turned 26. He's excellent in coverage — his 51.4 percent completion rate allowed ranks 16th among 270 qualified defenders and has 14 interceptions across five seasons. Bates is also quite durable (ranking third in snaps among defensive backs since 2018) and had a career-best year against the run in 2022.
Prediction: Cowboys. Jerry Jones loves making a splash, and Bates would be a big boost to an improving secondary that took a step back
5. James Bradberry, CB, Eagles
History isn't on Bradberry's side as a soon-to-be-30-year-old cornerback, but he had a great bounce-back season and is in for a payday. Ranking third in the NFL in passes defensed (17) and completion percentage allowed (45.3), Bradberry absolutely proved his one-year, prove-it deal. The question becomes how big of guarantees contenders are willing to shell out.
Destination: Patriots. Bill Belichick has gotten more aggressive in free agency lately and hasn't been one to shy away from aging defensive backs. New England needs to replace Devin McCourty and Jonathan Jones quickly.
6. Jawaan Taylor, OT, Jaguars
Although not quite a Pro Bowler, Taylor has been everything the Jaguars could have hoped for since they selected him in the second round of the 2019 draft. He hasn't missed a game and has been fairly penalty-free in recent years. Frankly, considering their lack of luck developing linemen, it's a surprise the Jaguars let him hit the open market.
Destination: Broncos. Denver has been looking for stability along the line for years — including the failed signing of Ja'Wuan Jones — but this would be a crucial signing as Sean Payton hopes to turn Russell Wilson's career back around.
7. Jamel Dean, CB, Buccaneers
Dean is the best young corner on the market — he'll turn 27 in October — and has the size (6-foot-1) that teams are looking for to match up with most receivers. He's very consistent, with just one missed tackle last season, and has racked up seven interceptions and 41 pass deflections in four seasons.
Prediction: Lions. Dean figures to land with an up-and-coming team with cap space, and Detroit is one of the best fits, especially considering they finished 30th in pass defense and last in total defense.
8. Tremaine Edmunds, LB, Bills
Off-ball linebackers may lack the value they once had, but Edmunds is an elite enough athlete to be an outlier. One of the league's great tackling machines with at least 100 in every season of his five-year career, Edmunds improved drastically in coverage last year as well. His age (25) is an added bonus, and teams will be able to use him as a swiss army knife in any defensive front.
Prediction: Steelers. Pittsburgh is familiar with his brother, Terrell, who also happens to be a free agent, and needs to replace Devin Bush Jr. and Robert Spillane.
9. Lavonte David, LB, Buccaneers
Based solely on play for the upcoming season, David would rank much higher on the list. Even at 33, his play hasn't fallen off yet, especially in coverage where he routinely ranks as one of the top two or three best off-ball linebackers. However, he's unlikely to get the kind of guarantees or length that other defenders will get, although a durable 2022 after an injured 2021 helps.
Prediction: Eagles. Philadelphia is in win-now mode and could use a win-now piece like David, especially with their two starting linebackers hitting free agency. It would take some cap maneuvering, but the fit is hard to beat.
10. Mike McGlinchey, OT, 49ers
McGlinchey is one of the best right tackles in the ground game, having ranked fifth in the league with an 81 percent run block win rate last season. Injuries have prevented him from living up to his potential as a former top-10 pick, but if he can continue to make strides in pass protection, it's easy to see him making a Pro Bowl.
Prediction: Jets. While the 49ers would like to retain him, there's some familiarity — and need — with former San Francisco staffers in New York. The Bears could be a fit as well if go on a big spending spree.
11. Jimmy Garoppolo, QB, 49ers
Garoppolo isn't the type of quarterback to take a team to the Super Bowl on his back. But he's competent enough to get a team to the playoffs and not lose a game for them. Plenty of contenders look weak at QB, and he's really the only starting-level signal-caller on the market (other than Jackson, whose Ravens can still match any offer), so there's potential for a desperate team to overpay here.
Prediction: Raiders. An Aaron Rodgers-Davante Adams reunion might be nice on paper, but this is a more affordable option for Las Vegas. Plus, head coach Josh McDaniels has a long-standing relationship with Garoppolo.
12. Bobby Wagner, LB, Rams
Very much in the same boat as Lavonte David, Wagner continues to churn out results with at least second-team All-Pro nods in each of the past nine seasons. His release is more due to the Rams' cap situation rather than him having a down year. Expect another contender to make the leap and quickly upgrade their defense.
Prediction: Bills. If Buffalo can't retain Tremaine Edmunds, they'll need to make another big move to bolster the defense. Expect other contenders like the 49ers and Vikings to be in the running as well.
13. Jordan Poyer, S, Bills
Age and injuries will likely limit his guarantees, but Poyer has been among the best safeties in coverage when healthy. Opposing quarterbacks only have a 60.1 passer rating against him, which ranks eighth-best among qualified defenders. With 22 picks across his six seasons in Buffalo, Poyer can add big-play potential to any defense.
Prediction: Giants. There's familiarity here with Joe Schoen and Brian Daboll coming over from Buffalo, and New York has a very young secondary that could use an experienced veteran to bolster its playoff chances.
14. C.J. Gardner-Johnson, CB, Eagles
As teams move to nickel defense on a majority of downs, versatile DBs like Gardner-Johnson become even more valuable. Don't expect him to pick off a league-leading six passes again next season, but he's a disruptive force who can really get under the other team's skin, which is a skill in its own right. He could wind up playing slot corner or safety this fall.
Prediction: Bengals. The Eagles will surely try to re-sign him, but Cincinnati has far more cap space and will be motivated to improve its secondary, especially with how many of the league's top passers are in the FC.
15. Dre'Mont Jones, DT, Broncos
For teams looking for a younger, cheaper version of Javon Hargrave, Jones will look very appealing. He ranked sixth among defensive tackles last season with a 16 percent pass rush win rate and tied career highs with 6.5 sacks and nine TFLs in just 13 games. His versatility is an added bonus, as he could be a 3-4 defensive end or 4-3 defensive tackle.
Prediction: Bears. Chicago ranked dead last with 20 sacks last season and lacked much interior push, which Jones could help solve.
16. Marcus Davenport, DE, Saints
Davenport might have gotten a big payday if he hit free agency after his nine-sack 2021 campaign, but his production fell off a cliff in '22. Although injuries continue to be a problem — he has missed at least three games every season and topped out at 532 snaps in 2019 — his upside is tremendous, as illustrated by his first-round pedigree.
Prediction: Texans. A rebuilding team like Houston can afford to take a big swing, and who better to try to fulfill Davenport's potential than new head coach DeMeco Ryans? The Texas native would also only be three hours away from his San Antonio home.
17. Odell Beckham Jr., WR, Free Agent
Speaking of boom-or-bust players, OBJ is the quintessential lottery ticket. No player this side of Lamar Jackson has as much game-changing ability, and he's just two years removed from putting up 1,000 yards on the lowly Browns. Of course, in those two intervening years, he burned bridges on the way out of Cleveland, tore his ACL in helping the Rams win a Super Bowl, and sat out all of 2022 recovering. It's hard to know what he'll be in 2023, but there is other-worldly potential.
Prediction: Cowboys. This connection makes too much sense, especially with how the Dallas offense took a step back following the Amari Cooper trade. Still, every aspiring contender from the Bills and Ravens to the Rams and Chargers should be looking.
18. Cameron Sutton, CB, Steelers
Teams can never get enough cornerbacks, and Sutton is one of the more underrated DBs in the league. Teams completed just 47.9 percent of passes against him in coverage last season, which is the seventh-lowest mark, and he tied for sixth with 15 pass defenses. With the ability to play inside or out, Sutton figures to finally cash in after playing on a two-year, $9 million deal.
Prediction: Titans. After ranking dead last in pass defense last season, Tennessee could use a veteran boost in the secondary, and this would be a homecoming of sorts for the former Volunteer.
19. Jakobi Meyers, WR, Patriots
Meyers had trouble finding the end zone in New England — in fact, he set a record with more than 1,500 yards over three seasons before his first TD — but he's excelled in the slot and in contested-catch situations. Although Meyers lacks top-end speed or size, he's the most consistent option in a thin wide receiver market.
Prediction: Panthers. After trading DJ Moore, the Panthers have no stability in the wide receiver room. Presumably, they'll add a receiver in the draft to help out the No. 1 pick, but a solid veteran like Meyers (who played at NC State) will be necessary — even if he can't be the No. 1 receiver they need.
20. Dalton Schultz, TE, Cowboys
Schultz struggled at the start last season while playing on a franchise tag — he only brought in 57 of his 89 targets for 577 yards. Still, though, he's the top tight end on the market, and top tight ends tend to get paid. The Jaguars tagging Evan Engram — and free agency coming before a tight end-heavy draft — certainly helps him in that regard.
Prediction: Chargers. Los Angeles seems likely to move on from veteran Gerald Everett, and Schultz would be an immediate upgrade. New offensive coordinator Kellen Moore will put him to immediate use with Justin Herbert.
Best NFL Jersey Shop – #NFL #Free #Agency #Top #Players #Predictions #They039ll #Sign
Publish Date:2023-03-13 22:45:26