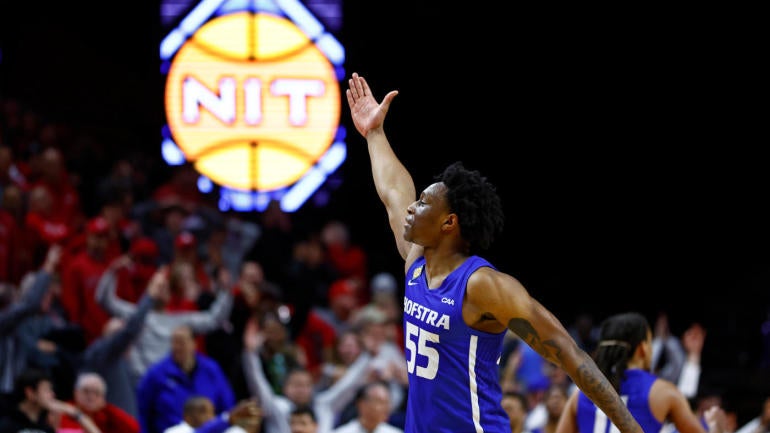 Getty Images
Two former NBA All-Stars will face each other in a coaching matchup Saturday during the second round of the NIT as Vanderbilt and Jerry Stackhouse host Michigan and Juwan Howard. Though both programs hoped to make the NCAA Tournament, they put the disappointment of missing the field behind them with impressive first round victories as the 32-team tournament began earlier this week. 
The Commodores knocked off Yale 71-62 on Tuesday, and Michigan beat Toledo 90-80. Stackhouse and Miller won't be the only former NBA players coaching Saturday as Cincinnati travels to play Hofstra and coach Speedy Claxton. In two seasons at his alma mater, Claxton has posted a pair of 20-win campaigns. The Pride knocked off Rutgers on the road Tuesday to begin their NIT journey.
While an NIT appearance marks a consolation prize of sorts for programs that harbored at-large hopes for an NCAA Tournament bid entering Selection Sunday, it's a momentous occasion for others. 
The event will culminate with semifinals on March 28 in Las Vegas and a championship game to follow on March 30. Historically, the event's semifinals and final were contested at Madison Square Garden, but the NCAA announced in January that Las Vegas would host those games this season with Indianapolis landing the event in 2024. Here is a look at the full bracket.
2023 NIT key dates
First Round: March 14-15
Second round: March 18-19
Quarterfinals: March 21-22
Semifinals: March 28 (Orleans Arena in Las Vegas)
Championship: March 30 (Orleans Arena in Las Vegas)
All times Eastern
2023 NIT schedule
First round
No. 1 Oklahoma State 69, Youngstown State 64 
No. 2 Sam Houston 58, Santa Clara 56 
No. 3 North Texas 69, Alcorn State 53 
Eastern Washington 81, No. 4 Washington State 74 
No. 1 Oregon 84, UC Irvine 58
No. 2 Liberty 62, Villanova 57 
No. 3 Wisconsin 81, Bradley 62 
UCF 69, Florida 49    
Hofstra 88, No. 1 Rutgers 86 
No. 2 Colorado 65, Seton Hall 64 
Utah Valley 83, No. 3 New Mexico 69
No. 4 Cincinnati 81, Virginia Tech 72 
Morehead State 68, No. 1 Clemson 64 
No. 2 Vanderbilt 71, Yale 62
No. 3 Michigan 90, Toledo 80
No. 4 UAB 88, Southern Miss 60
Second round
Eastern Washington at No. 1 Oklahoma State | Sunday, 2 p.m. (ESPNU) 
No. 3 Sam Houston State at No. 2 North Texas | Sunday, 4 p.m. (ESPN+) 
No. 4 Cincinnati at Hofstra | Saturday, 2 p.m. (ESPN+) 
 Utah Valley State at No. 3 Colorado | Sunday, 9:30 p.m. (ESPNU) 
Morehead St. at No. 4 UAB | Sunday, 3 p.m. (ESPN+) 
No. 3 Michigan at No. 2 Vanderbilt | Saturday, Noon (ESPN) 
No. 3 Liberty at No. 2 Wisconsin | Sunday, Noon (ESPN2) 
UCF at No. 1 Oregon | Sunday, 7:30 p.m. (ESPNU)
Best NFL Jersey Shop – #NIT #bracket #tournament #schedule #dates #times #seeds #Oklahoma #State #Oregon #host #secondround #games
Publish Date:2023-03-17 20:00:26