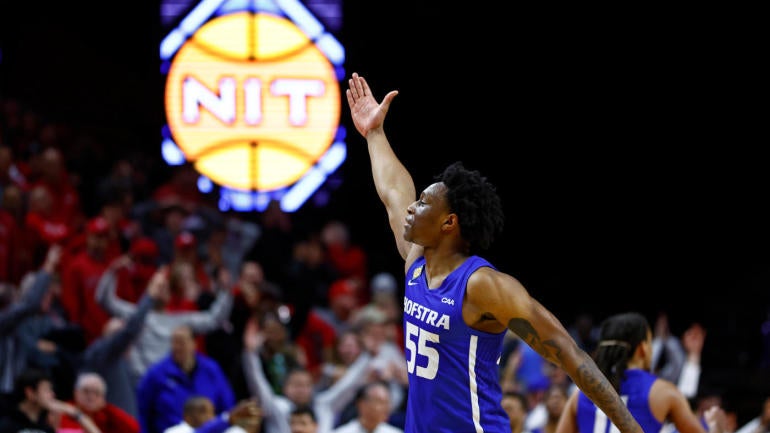 Getty Images
Second-round action of the NIT concludes Sunday with six games as the field gets whittled down to just eight teams in the quarterfinals. Among those in action will be No. 1 seed Oklahoma State, which is playing host to Eastern Washington after winning 69-64 at Youngstown State in the first round.
The Cowboys had to play YSU on the road because of an arena conflict at home and should be relieved to be returning to the friendly confines of Gallagher-Iba Arena. Oklahoma State beat NCAA Tournament teams such as Iowa State, TCU and West Virginia at home this season and came up just short of missing the Big Dance themselves.
However, the Pokes will have their hands full with an Eastern Washington team that won 18 consecutive games at one point during the regular season. The Eagles faded late and missed out on the Big Sky's automatic bid to the NCAA Tournament by suffering a stunning loss against Northern Arizona in the conference tournament. But they got back on track with a win at Washington State in the first round of the NIT on Tuesday.
While an NIT appearance marks a consolation prize of sorts for programs that harbored at-large hopes for an NCAA Tournament bid entering Selection Sunday, it's a momentous occasion for others. 
The event will culminate with semifinals on March 28 in Las Vegas and a championship game to follow on March 30. Historically, the event's semifinals and final were contested at Madison Square Garden, but the NCAA announced in January that Las Vegas would host those games this season with Indianapolis landing the event in 2024. Here is a look at the full bracket.
2023 NIT key dates
First Round: March 14-15
Second round: March 18-19
Quarterfinals: March 21-22
Semifinals: March 28 (Orleans Arena in Las Vegas)
Championship: March 30 (Orleans Arena in Las Vegas)
All times Eastern
2023 NIT schedule
First round
No. 1 Oklahoma State 69, Youngstown State 64 
No. 2 Sam Houston 58, Santa Clara 56 
No. 3 North Texas 69, Alcorn State 53 
Eastern Washington 81, No. 4 Washington State 74 
No. 1 Oregon 84, UC Irvine 58
No. 2 Liberty 62, Villanova 57 
No. 3 Wisconsin 81, Bradley 62 
UCF 69, Florida 49    
Hofstra 88, No. 1 Rutgers 86 
No. 2 Colorado 65, Seton Hall 64 
Utah Valley 83, No. 3 New Mexico 69
No. 4 Cincinnati 81, Virginia Tech 72 
Morehead State 68, No. 1 Clemson 64 
No. 2 Vanderbilt 71, Yale 62
No. 3 Michigan 90, Toledo 80
No. 4 UAB 88, Southern Miss 60
Second round
SATURDAY
No. 4 Cincinnati 79, Hofstra 65
No. 2 Vanderbilt 66, No. 3 Michigan 65 
SUNDAY
No. 3 Liberty at No. 2 Wisconsin | Sunday, Noon (ESPN2) 
Eastern Washington at No. 1 Oklahoma State | Sunday, 2 p.m. (ESPNU) 
Morehead St. at No. 4 UAB | Sunday, 3 p.m. (ESPN+) 
No. 3 Sam Houston State at No. 2 North Texas | Sunday, 4 p.m. (ESPN+) 
UCF at No. 1 Oregon | Sunday, 7:30 p.m. (ESPNU)
Utah Valley State at No. 3 Colorado | Sunday, 9:30 p.m. (ESPNU) 
Best NFL Jersey Shop – #NIT #bracket #tournament #schedule #dates #times #Vanderbilt #advances #win #Michigan
Publish Date:2023-03-20 00:30:27