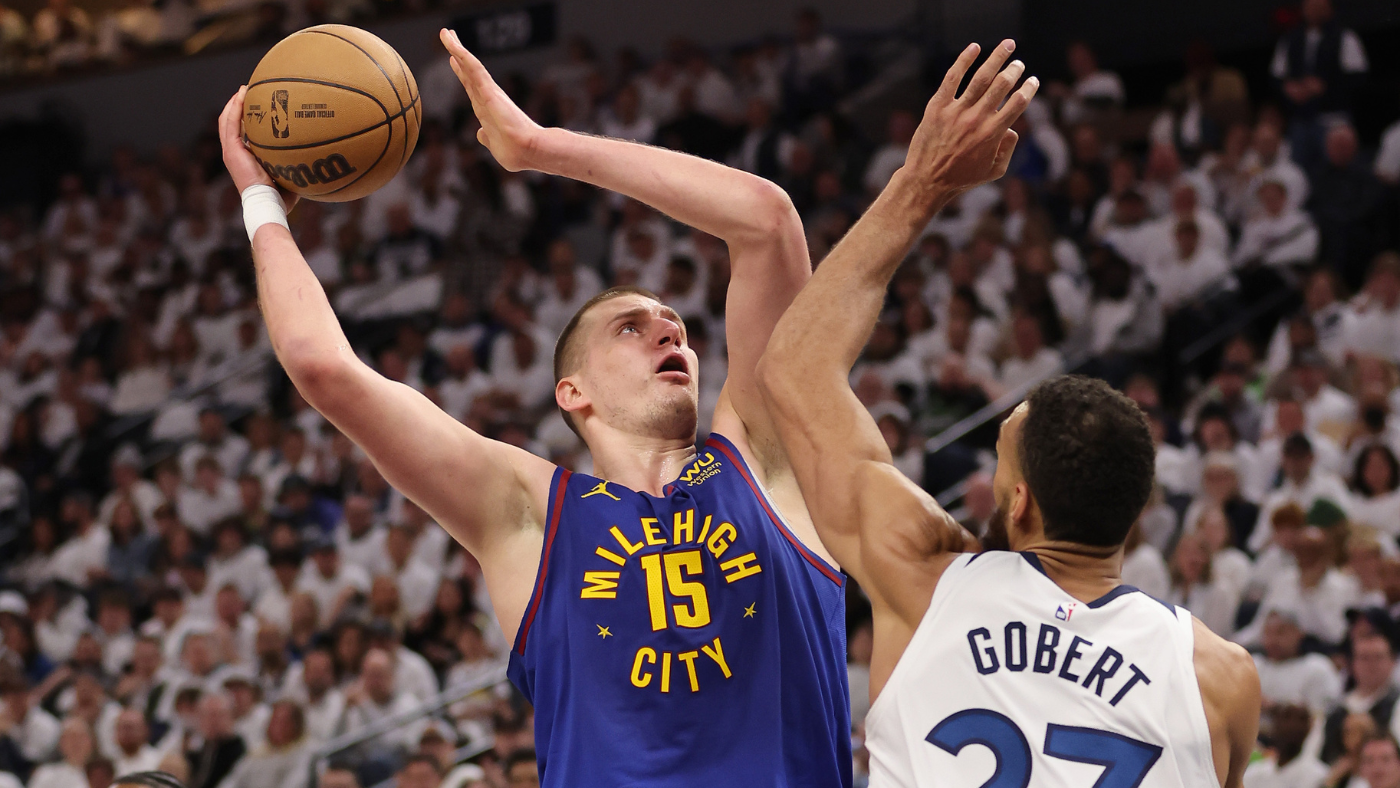 The top-seeded Denver Nuggets are one win away from advancing to the Western Conference semifinals after a workmanlike 120-111 Game 3 road win over the Minnesota Timberwolves on Friday night. The Nuggets resisted an early barrage from an energetic Wolves group, taking a lead in the second quarter that they would never relinquish en route to a 3-0 series lead.
Nikola Jokic inched closer to Wilt Chamberlain's record with his seventh-career playoff triple-double, putting up 20 points, 12 assists and 11 rebounds on 9-for-13 shooting, including 2 of 3 from 3-point range. Michael Porter Jr. was excellent, scoring a team-high 25 points on 4-for-8 3-point shooting, while pulling down nine rebounds.
The Nuggets received contributions from the entire roster, as all eight rotation players scored at least eight points, with six in double-figures. 
The Timberwolves continued to battle despite trailing for the entire second half, but their effort fell short as Denver pulled away in the final minutes. Anthony Edwards was spectacular with 36 points, seven rebounds and five assists, making 13 of his 15 free throw attempts. After scoring just 21 total points in the first two games of the series, Karl-Anthony Towns broke out for 27 points on 10-for-17 shooting, while Rudy Gobert added 18 points and 10 rebounds before fouling out late in the fourth quarter.
The Wolves now face the steepest of uphill climbs, as no NBA team has ever come back from a 3-0 deficit to win a playoff series. Game 4 is set for Sunday at 9:30 p.m. ET at the Target Center, as the Wolves attempt to avoid elimination and the Nuggets look to complete the sweep.
Here are a few takeaways from Friday night's game.
Denver runs deep
One of the question marks for Denver heading into the playoffs was its depth, but the reserves showed out in Game 3. Bruce Brown set the tone after entering the game in the first quarter, aggressively getting into the paint and creating transition opportunities with steals and blocks. He finished with 12 points, four assists and three rebounds, and tied Aaron Gordon as a team-high plus-11. With Nuggets coach Michael Malone riding a tight eight-man rotation with Gordon serving as the backup center, Jeff Green and Christian Braun combined for 17 points on 7-of-13 shooting to keep Denver in front while the starters sat.
Braun made a couple of smooth finishes, including this one over Edwards — which he led Edwards know about afterward.
The Nuggets obviously have their sights on a championship, and they're going to need their bench to show up consistently for that to happen.
Ant joins Kobe
Edwards has matured so quickly that you sometimes forget he's only 21 years old. With his 36 points on Friday night, Edwards joined Kobe Bryant with the second-most 30-point NBA playoff games before turning 22 years old.
He was Minnesota's only lifeline for much of the game as they attempted to chip into the Denver lead. Like most prolific scorers in the NBA, Edwards found a way to get his points despite his jump shot not falling. He went 3-for-11 from 3-point range, but made seven of his 11 2-point attempts and took 15 free throws. He was also active on the defensive end, showcasing his two-way ability with this incredible block followed by a coast-to-coast lay-in.
The Wolves may not win this series, but they have a true playoff No. 1 option for the foreseeable future.
MPJ the Barometer
With Jokic and Jamal Murray taken as consistent stars, the question for the Nuggets is generally which player will step up and be the third guy. Sometimes it's Gordon, sometimes it's Kentavious Caldwell-Pope, who had 14 points in Game 3, but often the burden falls on Porter. In Denver wins this season, Porter averaged 18.8 points on 45 percent 3-point shooting. In losses, he put up 14.8 points per game and shot 35 percent from deep.
At 6-10 with a true jump shot and a high release, Porter can essentially get his shot off whenever he wants, and he occasionally has trouble figuring out when to assert himself. Malone acknowledged as much prior to Game 3.
"The majority of his life, pre-NBA, the ball was always in his hands," Malone said. "He was the man. With us, he's out there with some really good players. He's really bought into and shown tremendous growth on offense regarding playing without the ball."
As much as Porter's offense contributes to Nuggets winning, his defense is equally as crucial. Porter has a tendency to get complacent on the defensive end, but when he's locked in — like he was in Game 3 — the Nuggets are very difficult to beat.
Best NFL Jersey Shop – #Nuggets #Timberwolves #Nikola #Jokic #dominates #Anthony #Edwards #joins #Kobe #Bryant #Denver #takes #lead
Publish Date:2023-04-22 13:20:04