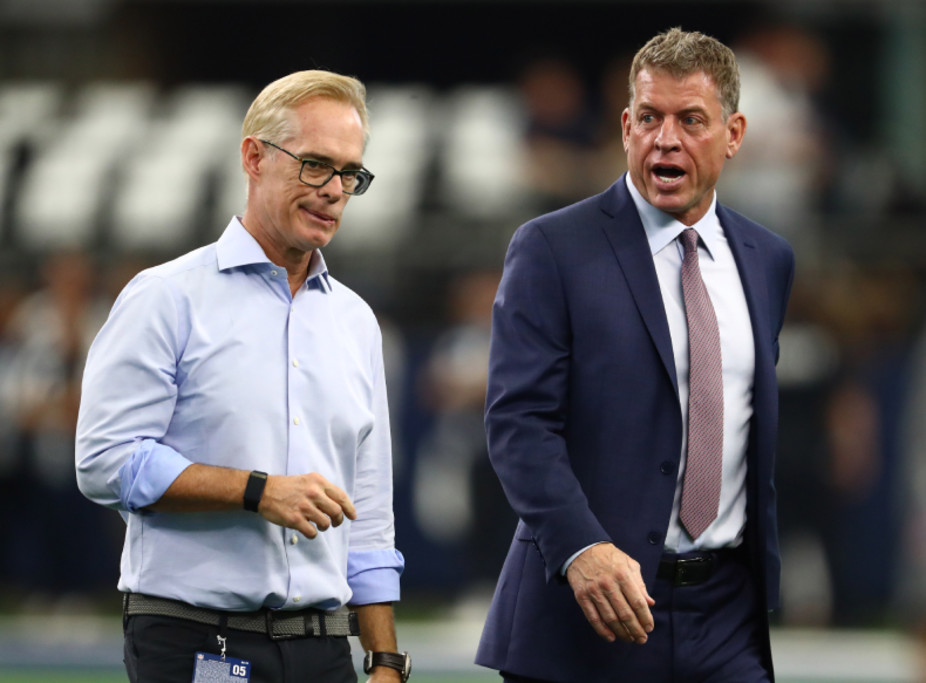 By all appearances, ESPN's poaching of Joe Buck and Troy Aikman from Fox in order to call Monday Night Football games paid off in 2022.
The network announced that ratings improved from recent seasons (at least through October) and the longtime broadcast duo drew praise for their performance, specifically how they handled Damar Hamlin's on-field collapse and the ensuing cancelation of the game between the Buffalo Bills and Cincinnati Bengals.
So some eyebrows were raised last week when ESPN announced that Monday Night Football producer Phil Dean and director Jimmy Platt were being removed from their posts and replaced by Steve Ackels and Derek Mobley, respectively.
According to Awful Announcing, Aikman might have had something to do with that.
While ESPN said in a statement that the decision to replace Dean and Platt was made solely by management, a lengthy story from the sports media website cites sources who claim that Aikman had some disagreements with the behind-the-scenes crew and might have been the reason for the change.
According to the story, the friction began when Aikman's telestrator didn't work properly during the first MNF broadcast of the season between the Denver Broncos and Seattle Seahawks. Aikman made his displeasure known on air.
Troy Aikman encounters his first telestrator issue of the night during his ESPN MNF debut. pic.twitter.com/mv3uDTYRIB

— The Comeback NFL (@TheComebackNFL) March 16, 2023
An unnamed source said the issue wasn't a faulty telestrator, but the fact that Aikman hadn't practiced with the model used by ESPN, which was different than the one he had become accustomed to with Fox.
That appears to be a theme, as multiple sources told Awful Announcing that Aikman didn't make much of an effort to integrate himself into the broadcast team or rehearse for shows.
From the story:
"Troy travels on his private jet on Monday mornings and flies home after the game," said a source. "He could not be further removed from the crew and I would confidently say that he knows maybe 10 people on a crew of like 150+ people."
"Never came to a camera meeting. No crew outings. Nothing. You'd think someone who is going into a long-term, big-money contract at a new network would come in and try to make it home. Not at all," said another source.
ESPN signed Aikman to a five-year, $90 million deal in order to lure him away from Fox, so the network is certainly going to do everything it can to make the former Dallas Cowboys quarterback happy. Perhaps the director and producer change will accomplish that.
But these reports certainly don't paint Aikman in the most favorable light. And now viewers will be on alert for any sign of strife during the 2023 MNF broadcasts.
Best NFL Jersey Shop – #Report #Friction #Troy #Aikman #Monday #Night #Football #Crew
Publish Date:2023-03-18 01:33:06