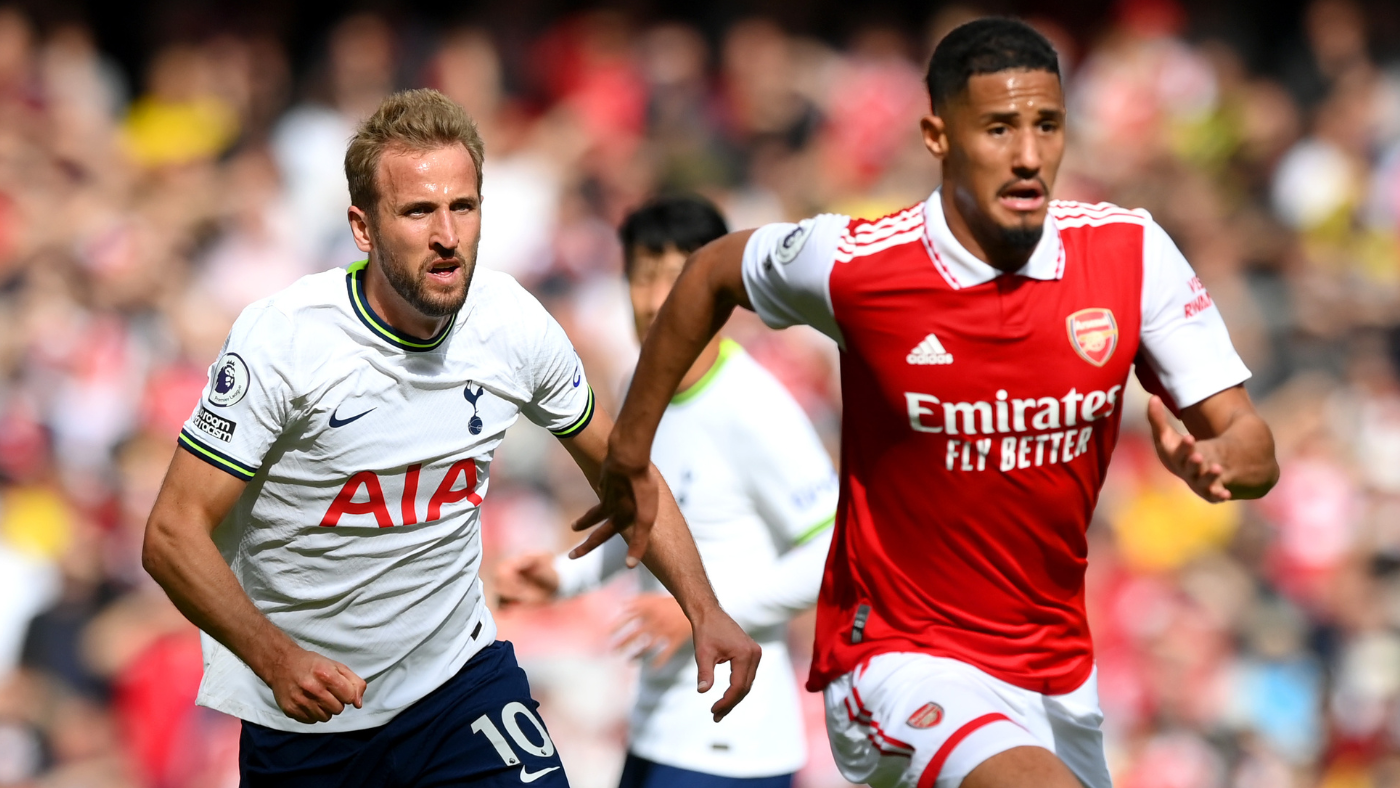 A massive weekend of soccer awaits. I'm Mike Goodman, and this is the Golazo Starting XI newsletter, and we're here to walk you through the weekend's biggest matches. From today's matchup at the top of the Serie A table, to derby weekend in the Premier League, to El Clasico in the Spanish Super Cup, the next few days have it all. So, let's get to it.
New to the Golazo Starting XI newsletter? Get yourself the best deal in soccer and subscribe now to ensure you receive updates three times a week.
Games on CBS Sports or Paramount+  (all times U.S./Eastern):
Serie A:

Napoli

vs.

Juventus

, Friday, 2:45 p.m. (Paramount+)
Serie A:

Lecce

vs.

AC Milan

, Saturday, 12 p.m. (Paramount+)
Serie A:

Inter Milan

vs.

Roma

, Saturday 2:45 p.m. (Paramount+)  
Serie A: Roma vs.

Fiorentina

, Sunday, 2:45 p.m. (Paramount+) 
SPFL:

Celtic

vs.

Kilmarnock

, Saturday 12:30 p.m. (Paramount+) 
SPFL:

Rangers

vs.

Aberdeen

: Sunday, 10 a.m. (Paramount+)
WSL:

Arsenal

vs.

Chelsea

, Sunday, 7 a.m. (CBS Sports Network)
WSL:

Manchester United

vs.

Liverpool

, Sunday, 9 a.m. (Paramount+)  
Notable games (all times U.S./Eastern):
Premier League: Manchester United vs.

Manchester City

, Saturday, 7:30 a.m.
Premier League: Tottenham vs. Arsenal, Sunday, 11:30 a.m.
Spanish Super Cup Final:

Real Madrid

vs.

Barcelona

, Sunday, 2 p.m.
⚽  The Forward Line
A weekend full of the biggest club showdowns
Serie A: Napoli vs. Juventus
It's a top-of-the-table clash. You don't need any more incentive than that. Napoli are threatening to turn this Serie A season into a cakewalk. They've got a seven-point lead atop Serie A and have been playing some of the most awe-inspiring soccer you'll see anywhere across the world. Their two closest competitors are a whopping seven points behind them in Milan and Friday's opponent Juventus.
It's miraculous that Juventus are even as close as they are though. Two months ago it looked like Max Allegri's side were set for a disastrous season, out of the Champions League and mired in midtable. But then, Allegri pulled off one of the greatest reversals you'll ever see. Here's Francesco Porzio breaking down how it happened.
Porzio: The Italian coach, despite multiple key players injured, decided to shift from a four-man defense to a three-man defense, and from that moment on Juventus didn't concede a single goal in Serie A.

The soccer they play is not particularly entertaining, that's for sure, but at least results are coming and this is what matters for Allegri. With Paul Pogba and Dusan Vlahovic still injured and Angel Di Maria not in his best condition, Allegri counted on the comeback of Federico Chiesa and some unexpected key players. Brazilian defender Danilo became a regular starter and he was also the captain during the last Serie A game against Udinese when he scored the winning goal a few minutes before the final whistle. 
Premier League: Manchester Derby, North London Derby
These two matches need no introduction. They're probably the two biggest geographic intra-city rivalries in the Premier League. What makes them interesting right now is how intertwined they are. Arsenal and Manchester City are the only two real title contenders with the Gunners up five point on Pep Guardiola's side and Manchester United are up three points with a game in hand on Tottenham in the all-important fourth-place race as the sides chase Champions League qualification. Both these matches have huge implications for the most important races of the season.
But don't sleep on the rest of the Premier League slate either. The weekend has relegation battles with 20th place Southampton and 18th place Everton facing off as well as 19th place Wolves and 17th place West Ham. Then, surprisingly there's Brighton hosting Liverpool a match that features two teams trying desperately to remain on the outskirts of the race for the top four. Liverpool are seven points behind Manchester United in fourth and Brighton are eight. If one team can collect all three points while both Manchester United and Spurs lose, they'd be right in the thick of the hunt.
Spanish Super Cup: Real Madrid vs. Barcelona
It's El Clasico. Enough said. Sure the Super Cup isn't a prestigious trophy (especially since the tournament which historically pitted the winner of La Liga against the winner of Copa del Rey was expanded to four teams and moved to Saudi Arabia) but whenever these two teams face off it's a spectacle worth watching.
🔗  Midfield Link Play
NWSL Draft does not disappoint
It was an eventful NWSL night to say the least. Alyssa Thompson went first as expected, but after that trades shook everything up with Gotham moving the number two pick to land Lynn Williams and things spiraling from there. Sandra Herrera gave Gotham an A- for their wheeling and dealing.
Herrera: The team began the day with the No. 2 pick, made a massive amount of moves with the

Current

, Racing Louisville, and

San Diego Wave FC

— and still left with a top-five selection. The club acquired USWNT forward Lynn Williams from the Kansas City Current in a trade for the No. 2 slot, then selected Jenna Nighswonger in the No. 4 spot after a trade with Louisville. The clubs' move earlier in the week to acquire Yazmeen Ryan also sets them up nicely for 2023. 
Make sure you check out the rest of Herrera's grades here.
Let's get to some more links:
💰  The Back Line
Best bets
We went two for two on Wednesday, including calling AC Milan's upset at the hands of Torino. Let's keep it rolling. All odds courtesy of Caesars Sportsbook.
Napoli vs. Uventus, Friday, 2:45 p.m. ET on Paramount+:
💰 THE PICK: Over 2.5 goals (+105) — Juventus have been playing some low-scoring soccer lately with 1-0 wins in three of their last four matches. But, the expected goals tallies in those games have all been significantly higher. Eventually, the ball will start flying in the net more, both for and against them. And if any team is good at making the ball fly in the net it's Napoli. Expect Juventus' run of five straight Serie A shutouts to come to an end. Follow SportsLine's best bets here.
Tottenham vs. Arsenal, Sunday, 11:30 a.m. ET:
💰 THE PICK: Arsenal (+114) — This is a good price for the Gunners. Sure, Arsenal are on the road, and yes in the North London Derby anything can happen. But we're halfway into the season now and Arsenal have played like a title contender and Spurs have played like a team lucky to be in the top-four race. Arsenal are favored, but at longer than even odds to win, it's a line that's longer than it should be. Follow SportsLine's best bets here.
Best NFL Jersey Shop – #Rivalry #weekend #takes #center #stage #Clasico #Manchester #Derby #North #London #Derby #NapoliJuventus
Publish Date:2023-01-14 01:03:32