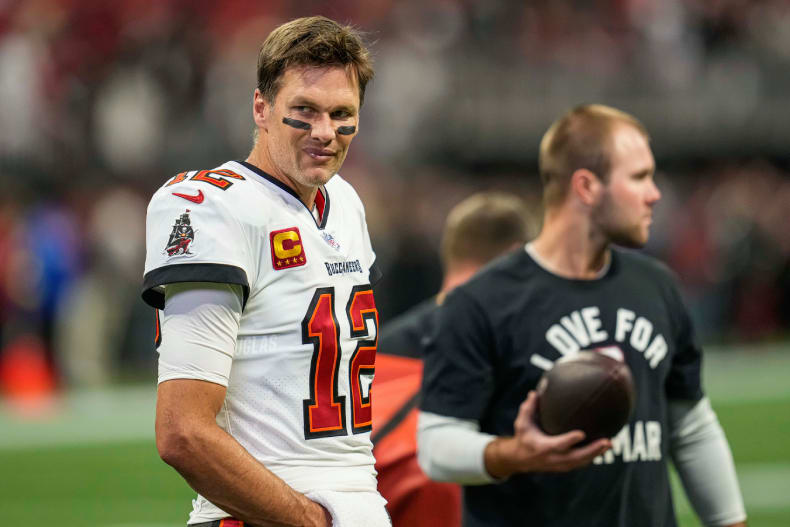 Tom Brady's NFL playing career is officially over. But there's no mystery as to what he'll do next.
Brady has already signed a massive 10-year, $375 million contract with Fox to become the network's lead NFL commentator. 
Given the network's financial commitment to Brady, some have wondered whether fans might see him in the broadcast booth during Super Bowl LVII on Feb. 12. However, Andrew Marchand, the sports media columnist for the New York Post who broke the news of Brady's deal with Fox, doesn't believe that's likely.
Following the news of Brady's retirement, Marchand wrote that Brady could appear on Fox's studio coverage prior to the big game. But he believes the network would be "stupid" to replace color commentator Greg Olsen with Brady or to insert Brady into the booth alongside Olsen and Kevin Burkhardt on such a prominent stage.
Marchand writes:
"As for this Super Bowl, which is on Fox, all indications are that network executives will not put him in the booth. They know it would be stupid and unwise with their $375 million investment to try a three-man setup for the first time with 100 million people watching. If Brady was unsteady, he would immediately create more questions as to why Fox is replacing Olsen with him. And that investment might quickly look poor."
The intrigue about whether or not Brady will unseat Olsen, who has won over quite a few fans during his two years as a full-time broadcaster, may actually extend beyond the Super Bowl, as well.
Marchand writes that Brady could take a "gap year" before taking over for Olsen on the Fox A team. He also wrote that "there have been some feelings from important people in the business" that Brady might back out of his deal with Fox and never call a game for the network. The cost of doing so for Brady is currently unclear.
Perhaps it shouldn't be a surprise with someone as famous as Brady, but as Marchand notes, we've immediately transitioned from speculating about whether or not he would continue his playing career to what his broadcasting venture will look like — or whether it will happen at all. 
Best NFL Jersey Shop – #Sports #Media #Analyst #Fox #Stupid #Put #Tom #Brady #Super #Bowl #Booth
Publish Date:2023-02-02 01:09:17