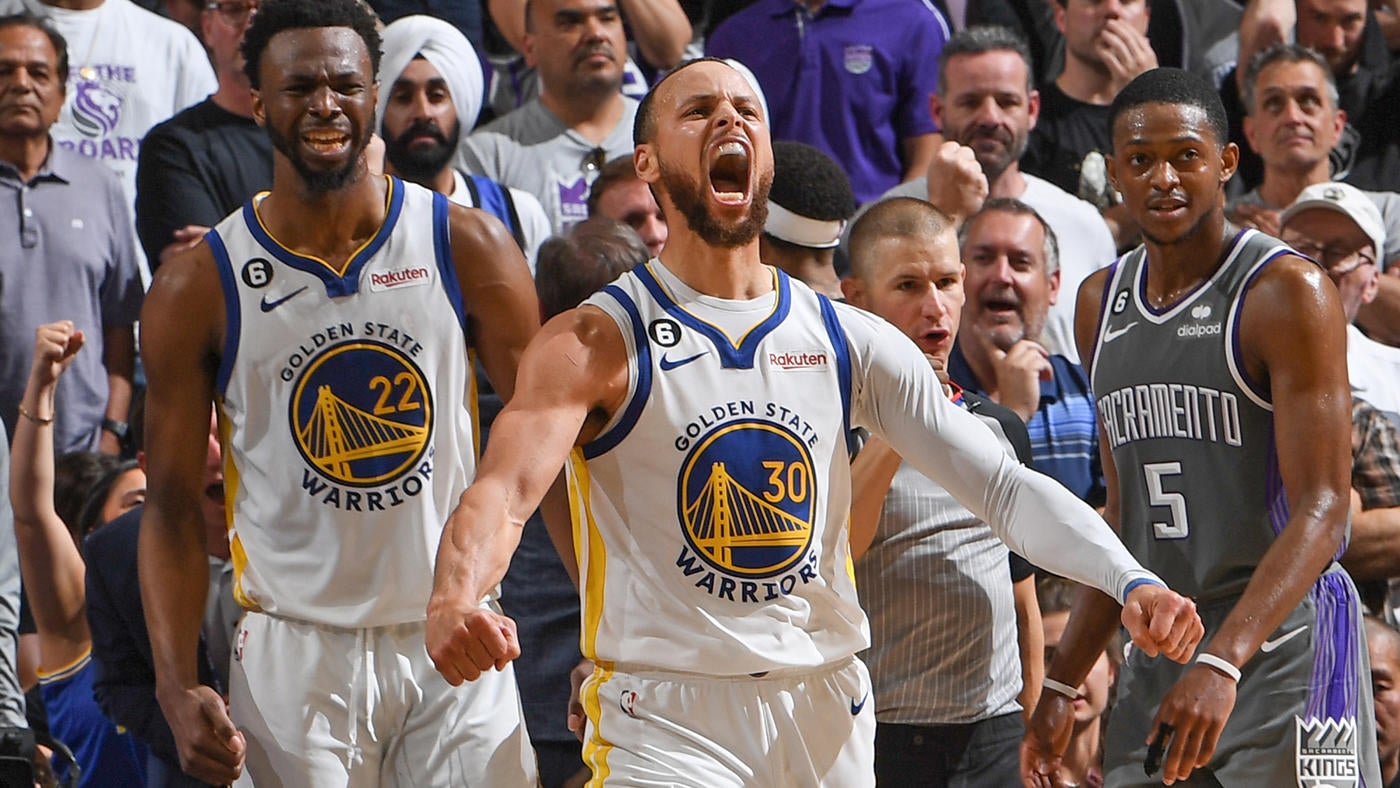 SACRAMENTO — "You complete me."
The famous line at the end of Jerry Maguire was uttered as a grand romantic gesture, but it also applies to so many other aspects of life. When a part of you is missing, it's impossible to feel fulfilled — with a constant nagging, aching longing to realize your potential by bonding with the missing piece.
For basically the entire 2022-23 season, the Golden State Warriors were in dire need of completion. Picked by many to win the Western Conference, they sputtered their way to a mediocre record with a horrendous road performance on par with the worst teams in the NBA. Every time it looked like they were ready to make a run a player would get hurt, or go into a slump, or, in Andrew Wiggins' case, take a prolonged absence from the team for an urgent family matter.
On Wednesday, however, in a crucial Game 5 against the upstart Sacramento Kings in their frenzied, postseason-starved Golden 1 Center, we finally saw what can happen when the Warriors are complete.
"It's just a good feeling," Warriors guard Stephen Curry said after the game. "As much as we have accomplished, this is another good reminder of how hard it is to win, and what it takes to do it. And when you do it, there's no better feeling."
Klay Thompson's brazen shot-making. Kevon Looney's magnetized hands attracting every rebound within Sacramento County lines. Gary Payton II's ability to lock up the opponent's best guard while diving for athletic dunks and layups on the other end. Donte DiVincenzo's versatility and athleticism. The assertive, confident version of Wiggins. An offensively aggressive Draymond Green. The unpredictable change-of-pace that is Jordan Poole.
And of course, the consistent greatness and leadership of Curry.
When the buzzer sounded, with melancholy Kings fans already heading toward the exits, the Warriors had forcefully seized a 123-116 road win to take a 3-2 series lead, earning an opportunity to advance to the Western Conference semifinals with a win at Chase Center on Friday. The Warriors have now won at least one road game in 28 consecutive playoff series — the entirety of the Curry-Thompson-Green era.
After the Warriors stemmed an early 3-point barrage to whittle Sacramento's lead to just three points after the first quarter, the increasingly nervous Sacramento crowd sensed the impending disappointment, while Warriors coach Steve Kerr felt the momentum shifting their way.
From there, Kerr experimented with multiple lineup combinations, digging into his bag of tricks like a seasoned magician reading the crowd to figure out how to best wow them next. When Domantas Sabonis asserted himself inside, Looney was right there to pound and batter him into difficult shots. Sabonis, who prior to Wednesday's game collected the trophy for leading the NBA in rebounds, was out-boarded 22-10 by Looney, who joined esteemed names such as Wilt Chamberlain and Nate Thurmond in the Warriors record book with another herculean effort.
When De'Aaron Fox, arguably the best player in the series for the first four games, rattled off 17 first-half points and looked to be on pace for another 30-plus-point effort, Kerr turned to Payton, who helped hold the NBA's Clutch Player of the Year scoreless on six shot attempts in the fourth quarter. Payton, Wiggins, Green and DiVincenzo took turns attempting to slow, disrupt and harass Fox, holding him down collectively rather than individually.
"This is a different team than what we what we had all year. So what happened in November and December or January on the road has nothing to do with right now," Kerr said after the game. "The team you're looking at is the team that won the championship last year and won a ton of road playoff games. Our guys know how to do it, and they got it done tonight."
For so much of the season, Curry was the only reliable offense for Golden State, particularly down the stretch of close games. That changed in Game 5, when multiple players stepped up with the team's championship hopes in the balance.
First it was Green, whom his teammates dubbed "Draymond Nowitzki" after a silky smooth fadeaway jumper put the Warriors up by three with just under four minutes remaining. That was followed by an improbable jumper that Thompson sank while falling out of bounds to push the lead to five.
When the Kings cut the lead back down to three, it was Wiggins who shook off Curry and called his own number, confidently attacking rookie Keegan Murray and hitting a fadeaway jumper of his own that served as the knockout blow.
"That's the biggest part of how we need to finish games," Curry said after the win. "Everybody being a threat and everybody being assertive and decisive about what they're trying to do."
If we had a hard time believing that the Warriors could win the title this season, it's because, for most of the year, we haven't been watching the Warriors. The team you saw on Wednesday night is what Golden State is supposed to be — deep, confident, devastating — and the result shows the rest of the NBA that they are more than capable of repeating as champions.
"It shows you how deep our team is and how dangerous we can be," Looney said of the Game 5 win. "We've got to keep building that chemistry, keep coming together. It's only been a few games with everybody back, but it's been a lot of fun. We've shown what we can do."
Best NFL Jersey Shop – #Warriors #finally #complete #displaying #renewed #championship #potential #galvanizing #Game #win #Kings
Publish Date:2023-04-27 15:32:08