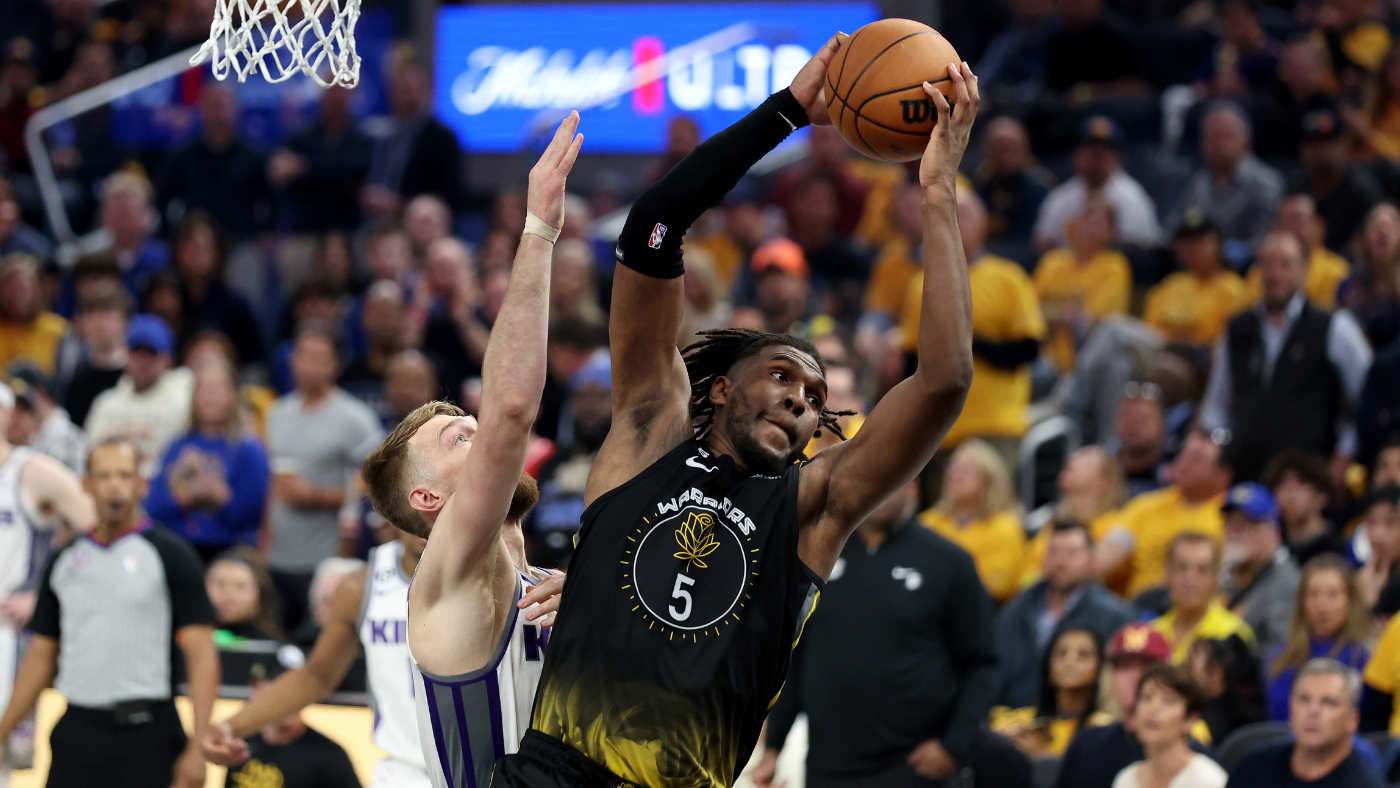 I've been half-joking for a while about the Warriors building a Kevon Looney statue. I'm joking anymore. This guy has become a Golden State hero who's had as much to do with keeping this dynasty rolling in the post-Durant years as anyone not named Stephen Curry. 
He did again on Thursday night. 
Playing without Draymond Green (suspended) and Gary Payton II (sick), the Warriors kept themselves in the series against the Sacramento Kings with a 114-97 win in Game 3, and there is no chance it happens if not for Looney's 20 rebounds, nine of which were on the offensive end, and overall hardhat effort as really the lone interior presence Golden State had to throw at Domantas Sabonis. 
"This is Loon, this is who he is, we've seen him in the playoffs for years now," said head coach Steve Kerr. "He's always locked into the game plan. He never makes mistakes. He rebounds like crazy. He makes the right decisions. The game is much simpler when Loon is out there for our guys."
Through the first two games, the Kings had won the battle on the offensive glass, 29-18. It was a major part of Sacramento's fast start to the series. On Thursday, the Warriors flipped that stat, 18-13. Looney had half those, finishing one shy of becoming just the sixth player in NBA history to record at least 10 offensive and defensive rebounds in multiple playoff games, having already done so in a 22-board effort in the closeout game against the Memphis Grizzlies last year. 
Kerr attributed some of Looney's work on the offensive glass to Golden State's spacing. It's true. Kerr decided to start Jordan Poole in place of Green, and though Poole didn't shoot well again, his presence stretches the Kings' defense in a way that it does not with Green. Looney, after rolling toward the rim most of the night, took advantage of the extra interior room to do his work with Sacramento's wings occupied away from the hoop. 
Still, circumstances aside, offensive rebounding is about instincts and effort. Looney has as good a feel for Golden State's shooters as anyone out there, not just as an anticipatory passer and impromptu screener, but in terms of his nose for missed shots. Where are the shots coming from? Where are they likely to end up? From there, you can't teach effort like this:
I mean come on. The guy one-arm cradles an offensive board, then, from his belly, rolls a pass to Curry through a defender's legs for one of his nine assists. Here's another board, and another assist to Curry, which amounted to one of the bigger momentum buckets of the night to close the first half. 
"Sometimes as a rebounder you can just get in a zone, kinda like Steph and Klay with threes," Looney said, and what a quote that is. It's so true, too. When a rebounder like Looney gets his senses dialed in, that ball, much like they say about the basket for a shooter, starts to look huge. Everything Looney got his hands on stuck. Even as a viewer, you felt like like every ball in the air was his. 
"He's relentless," Curry said of Looney. "Like you say, I don't know what that probably feels like (being in a rebounding zone), but it's just the way you see the ball, angles, your effort, knowing it's going to be physical and you're going to get knocked around. But he's ready to take all that physicality. Then he has to guard a tough matchup on the other side.
"He knows how to be effective when he's out there. He's shown it plenty of times before, and it was huge," Curry continued. "Nine offensive rebounds is huge for us to give us extra possessions because we were getting pretty solid looks for most of the game. We just weren't hitting a lot of them, but he was giving us extra possessions and that got the crowd into it and gets the momentum on our side, and it's amazing to watch."
Transitioning from the rebounding, let's talk about Looney's aforementioned nine assists. If Looney is underrated overall, then his passing his pretty much an unknown to anyone who doesn't watch Golden State on a regular basis. He's a capable connector. With Green out, Looney assumed the playmaking and short-roll duties, distributing to shooters and cutters from the middle of the floor. 
How impressive was Looney's combination of rebounding and passing Thursday night? He became the fourth player in history to record at least nine offensive boards and nine dimes in a playoff game, joining Magic Johnson, Charles Barkley and Nikola Jokic. Those are MVPs. Looney will never take home that kind of hardware, but his value to the Warriors has become increasingly irreplaceable. 
First of all, the guy shows up every night. Two straight seasons he's played all 82 games. He understands and enhances an intricate offensive system, and as an undersized center at 6-foot-8, he is something of an immovable object as a post defender. Sabonis is an absolute tank down low, and he can't move Looney an inch in this series. 
Even with a running start, Sabonis still gets stood up:
There was a time when it looked like Looney's career in Golden State was going to come to a close. He came back in 2018 on a one-year, $1.5 million contract, basically a bottom-barrel deal that said more about Looney's lack of options elsewhere than it did how much Golden State valued him at the time. 
How lucky the Warriors were, and continue to be, to have a guy like Looney on such a team friendly deal. Last summer, after proving absolutely indispensable in Golden State's run to the 2022 championship, and after never making more than $5.1 million in a single season, Looney signed a three-year, $25.5 million contract to stay with the Warriors through 2025. Right about now, that is looking like maybe the biggest bargain in the league. 
Indeed, Kevon Looney is a stud. Flat out. He keeps his head down, reveling in the dirty work that has to be done to compete for, and win, championships. Thursday night wasn't for a championship, but it kept the Warriors, at least for the time being, in the hunt for one. Lose that game, and the season was over. The Warriors were not coming back from a 3-0 hole because, well, no NBA team ever has.
But Looney refused to let that happen. He was basically on his own against a blazing, downhill Sacramento attack and one of the most bruising big men in the game. He held down the paint, finished and extended possessions, and served as the facilitating hub for Golden State's movement in a game where nothing less than his best would've done. No Green. No Payton. No problem. Kevon Looney always shows up, He did it again on Thursday, and the Warriors are right back in this thing. 
Best NFL Jersey Shop – #Warriors #Kings #Kevon #Looney #Golden #State #legend #heroic #performance
Publish Date:2023-04-21 17:00:31